ArtsEmerson unveils the mysteries of Thadeus Phillips' 'Zoo Motel' online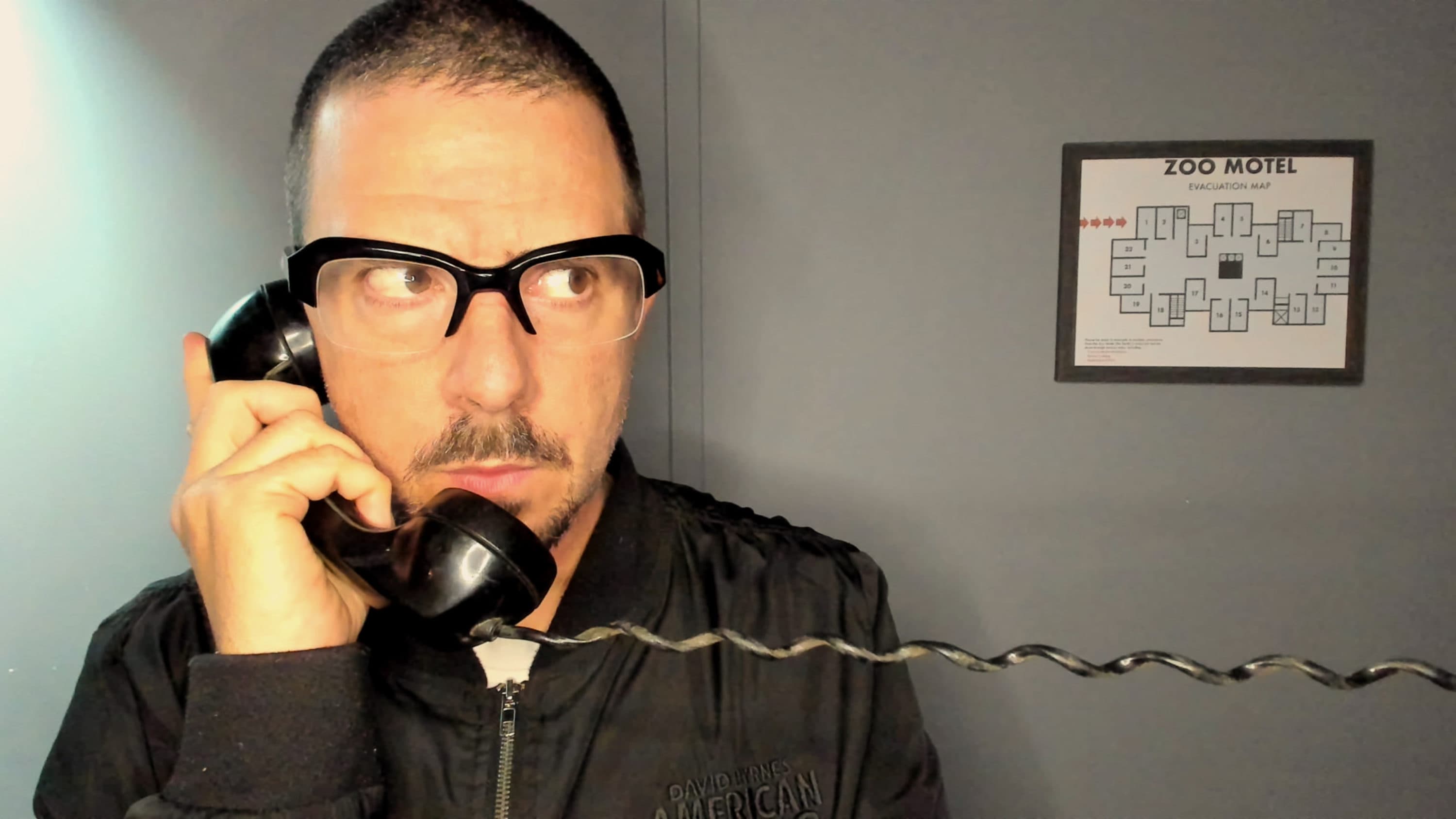 On the outskirts of Ōtsuchi, Japan, there's a wind phone built by garden designer Itaru Sasaki where users can have one-way conversations with the dead. Sasaki created it in 2010 after losing his cousin in a devastating tsunami. The wind phone is an unconnected rotary phone housed in a white, British-style phone booth which has become a place of solace for grievers.
If you could use the wind phone, creator and performer Thaddeus Phillips asks, who would you call?
This story is one of several that Phillips tells in "Zoo Motel," a live, virtual theater offering showing through Nov. 21 via ArtsEmerson. The interestingly peculiar production, directed by Tatiana Mallarino, seems to nod to the days of isolation at the height of the pandemic when thoughts of connecting again were like a far-off dream. The one-hour and fifteen-minute show performed in a small, confined space is billed as the world's longest-running live online theater show. Over time, the order of the show and the writing has changed, Phillips shares post-show. This is the final set of performances.
Before the show, the "Zoo Motel" team, which includes the night clerk and tech person (Newton Buchanan) from Philadelphia, sends its guests room keys, an evacuation plan/map, a brochure, and some branded stationery via email. I've got the keys to Room 10. One thing audience members should also have on hand is a deck of cards. Sadly, I couldn't find any playing cards, but I decided to look online for a digital deck and succeeded.
Phillips, creator of "17 Border Crossings," centered on his actual travel adventures at borders, and "Red-eye to Havre de Grace" about the final days of Edgar Allan Poe," is a natural storyteller. He aims to create visually inventive theater that embraces a variety of themes. That holds true for "Zoo Motel."
Phillips shows up in Room 18 — with its red walls, 3-D phone booth art and other tchotchkes — weary from traveling. While there, he lets the audience learn a little about his life and the world at large through tales about his family, magic tricks, and visuals.
There's a red book he carries titled "Theater Projects 2020" that he flips through, and the pages have giant red x's on them. Phillips is mulling over upcoming projects in the tiny hotel room while he figures out his travel plans, which were thwarted by the pandemic.
Phillips performs some successful magic tricks with the cards and pick-a-number-but-don't-tell-me-what-it-is kind of games. During this time, showgoers participate and shout out where they're from. There's Ellen and Richard from Boston and a person in Room 23 from Melrose. Phillips also delves into a few narratives on the "Zoo Motel" attractions list, from the wind phone to the Titanic and the Starlite Drive-In sign. The Starlite Drive-In movie theater operated for nearly half a century before closing in Montana. During the pandemic, the weathered sign was restored, and the theater resurrected. Another tale mentions the golden record — aboard NASA's "The Voyager" — a time capsule of sorts from 1977 containing the sounds and images of life on earth. There's a through-line of connection in all the stories, but the most poignant focuses on Abe Schiller, Phillips' grandfather who lived and worked in Las Vegas.
There's a bit of silence, too, not actual silence, but long, dialogue-free moments when the audience voyeuristically watches Phillips go about tasks in the room. He notices his door has disappeared, he flies on an airplane, puppets appear, and there's a mini-costume change. Visually though, a visit to the "Starlite Drive-In" is the coolest. Audiences get to peer into a tiny diorama of the drive-in with cars in the parking lot, lights and a working screen showing an old classic.
During the card segment, Phillips asks everyone to pick a "Ghostlight" card and that it "should represent someone in your life living or passed on." I choose the queen of hearts for my maternal grandmother. The same person I'd call on the wind phone. At some point, he asks guests to draw a certain number of cards. I draw the directed number of cards from the digital deck, and the first one was the queen of hearts. It was eerie. Somehow, even though I didn't have all the right tools, I still ended up in the same place with the other lodgers.
Once it ends, Phillips talks to guests and answers questions. He also encourages feedback through the online guest book where people from all around the world leave notes, drawings, cutouts and other musings about the experience.
The visual journey peppered with storytelling in "Zoo Motel" is the kind of thing many might have yearned for while we were sheltering in, unsure of what the future held. Now that the vaccine has rolled out and the world is opening back up, enticing people into watching theater online in the hopes of forging connections might be a little more challenging. Do we still need this?
As Phillips shares more about the play's innerworkings, I flip through the guest book and see an image of room key 10 next to a queen of hearts on "Zoo Motel" stationery. I suddenly feel tied to the mystery Zoomer who picked the same card as me, however many moons ago.
Maybe there's still a need for online connections after all.
---
ArtsEmerson's "Zoo Motel" is showing through Nov. 21.