Wind, wet, snow and chills all due this weekend
There's a lot going on in the weather over the next several days, including wild swings in temperature, some snow, heavy rain and strong winds.
On Friday evening, we see a large and intense ocean storm moving up into eastern Canada. It's so powerful it has prompted hurricane force wind warnings for parts of the Gulf of Maine. It's a good thing the storm missed us, or we would have had a major issue. The storm will serve to pull down Arctic air for the start of the weekend with plenty of wind.
Winds will be quite strong early Friday evening across the Cape and islands, where there could be some power outages and scattered tree damage. During the day Saturday it will remain windy, dragging wind chills to 10 to 20 degrees below zero across much of the region for most of the day. When you get up in the morning, actual temperatures will be in the single digits, and they will only rise to the mid-teens around greater Boston. It'll be even chillier across the northwest hills.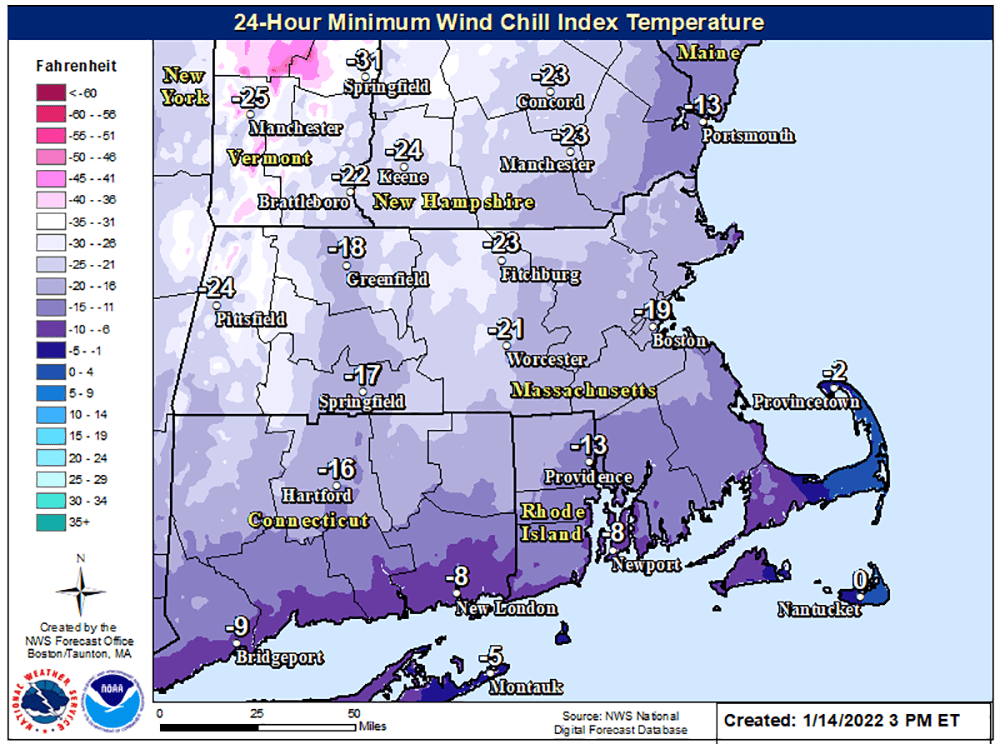 Our next weather system will dive south across the middle part of the country and then make the turn up the Appalachian chain Sunday night into Monday. This will bring significant amounts of moisture, much of it in the form of rain in Greater Boston, although there could be some brief snow at the onset. The precipitation begins early Monday and then overspreads the area as it changes to rain.
If there's any snow in Boston, right now it appears it will be insignificant. Far inland, areas could see a few inches, with the most up across Vermont and northern Maine and New Hampshire. This is a fast system, and by Monday afternoon it will just be cloudy and breezy.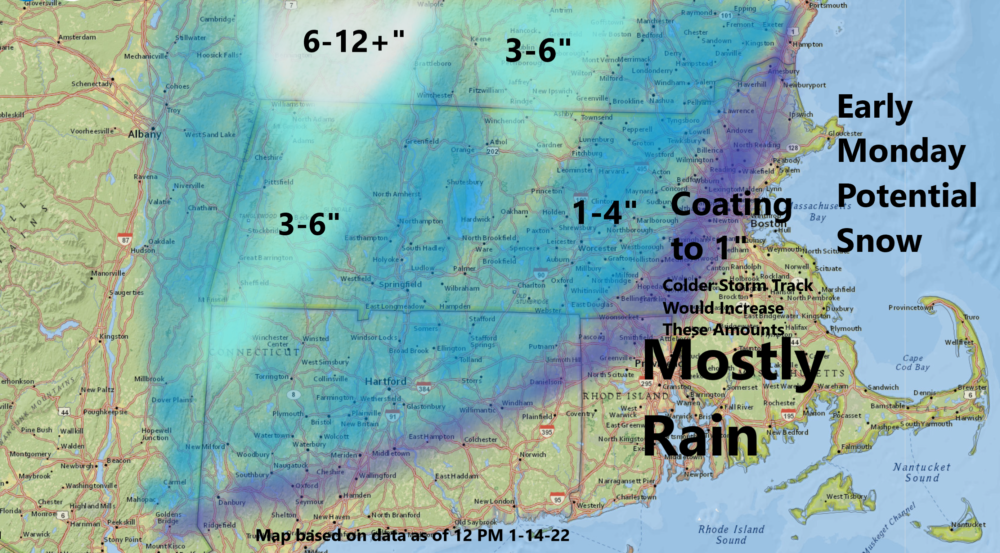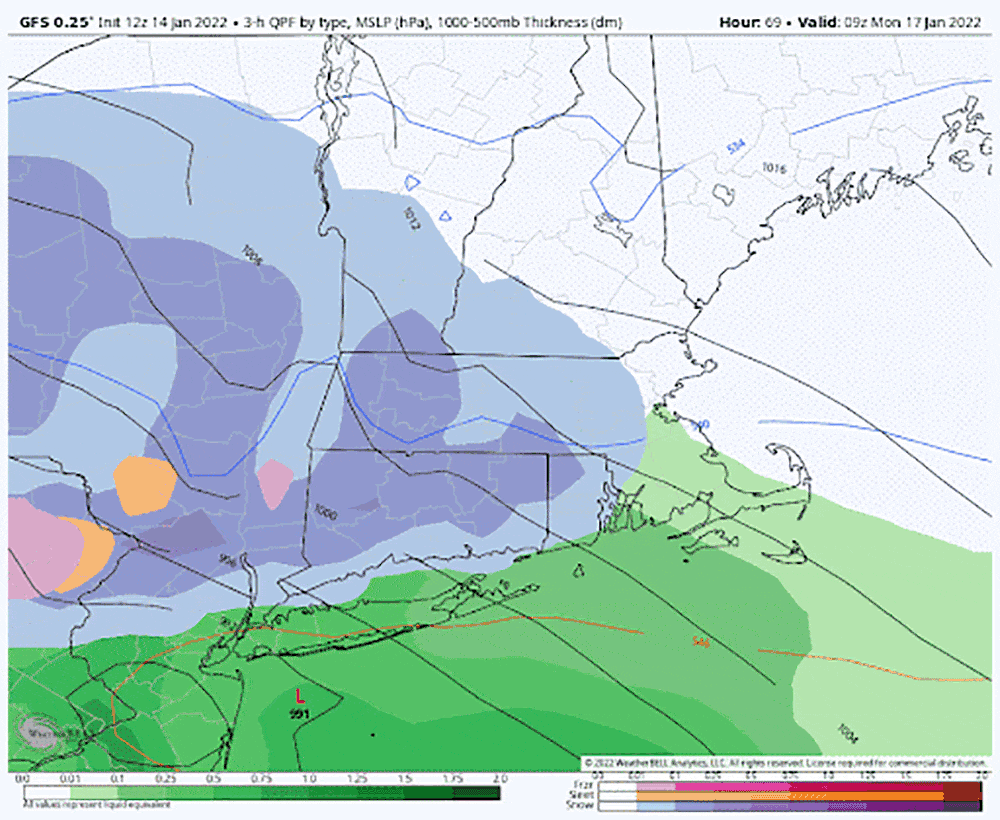 Temperatures will rapidly warm Monday in the pre-dawn hours and be above freezing for the entire day. Some areas could be in the 40s in the afternoon as the rain comes to an end. This storm will also bring a southeasterly flow of air, with strong gusty winds again a possibility. There's a chance some areas will see power outages as wind's gust near 50 mph over the Cape in the islands Monday.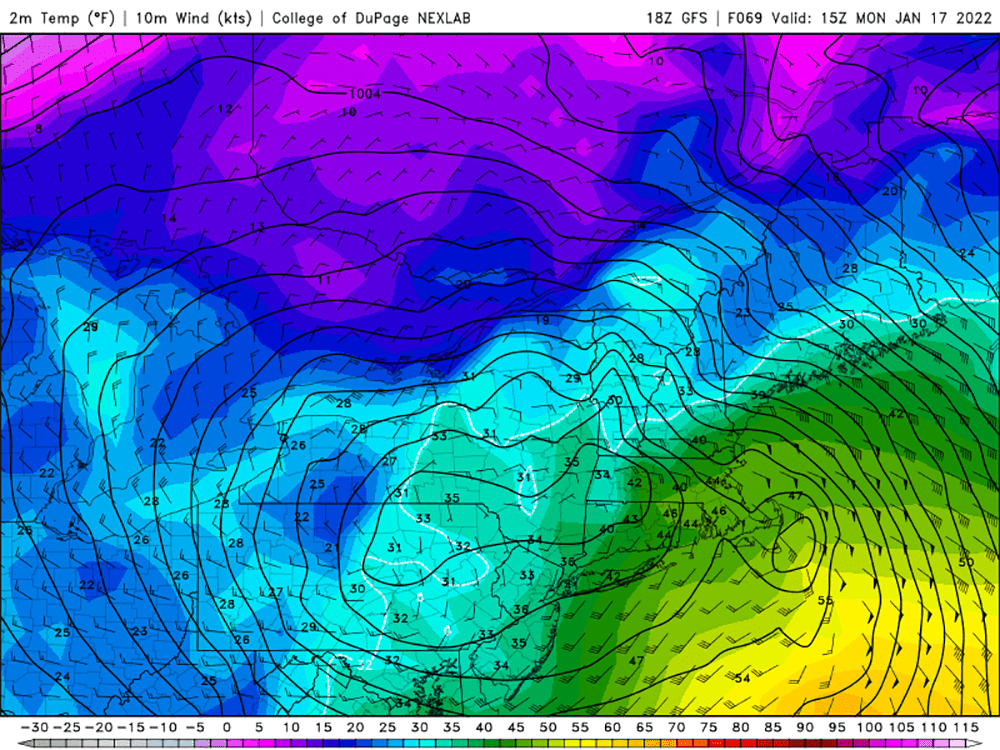 The weather calms down for Tuesday, with a return to sunshine and afternoon highs back to or even a bit above freezing. It will continue to be dry into the middle of next week.