A Brockton middle school opens new year focused on relationship-building
Resume
There was a lot of excitement in the air when staff and students at East Middle School in Brockton gathered for the first day of school last week.
The Brockton Public Schools, which enrolls roughly 15,000 students, was among the first large school districts in Massachusetts to start the new school year. While the last two-and-a-half-years of the pandemic created plenty of challenges, the mood on this Friday was mostly of relief and optimism among students and staff.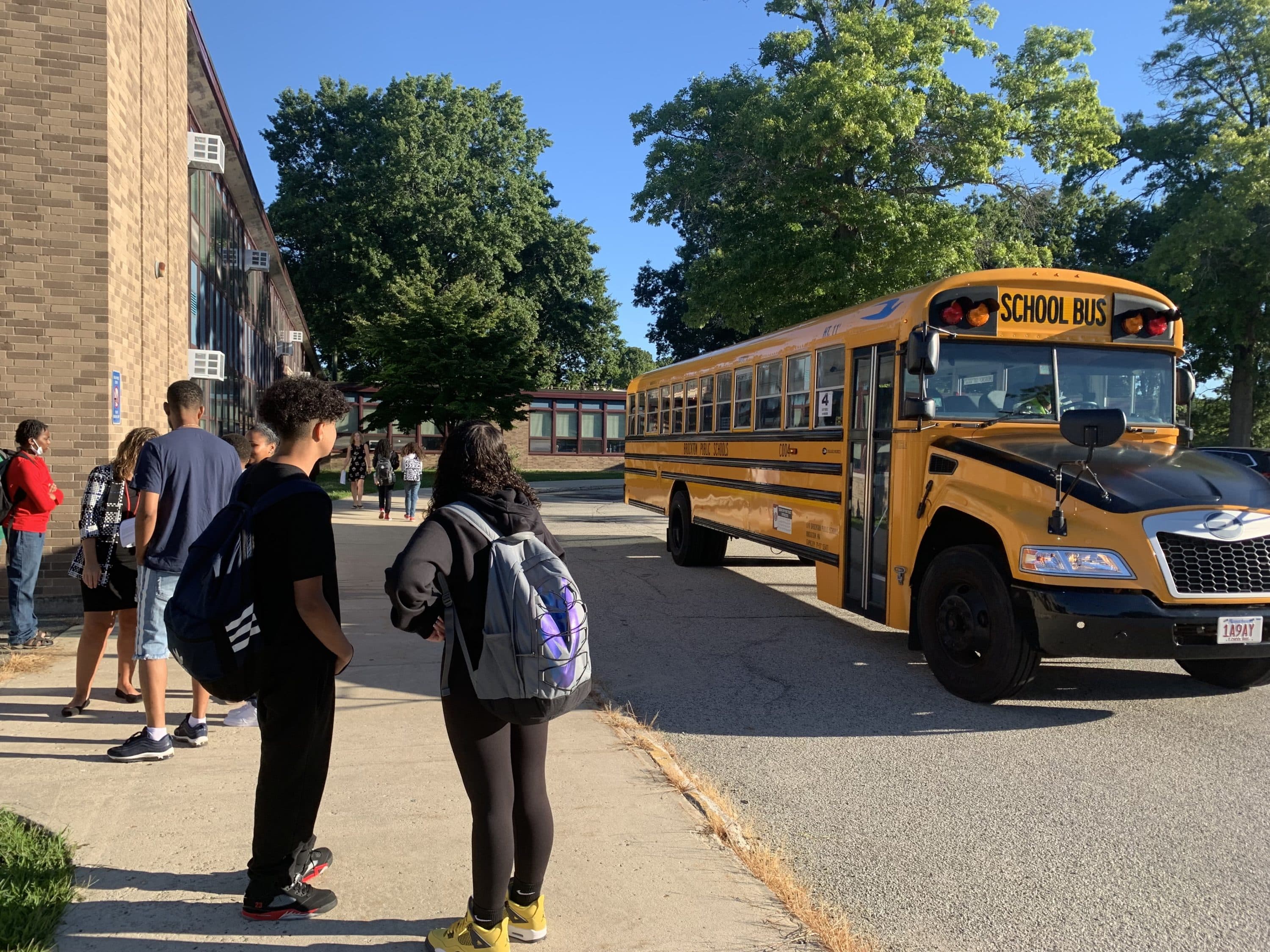 The sounds of excited greetings between students and staff at East Middle, a grade 6 to 8 school, were nearly constant. So were hugs and high fives.
"I'm feeling good," said 13-year-old Geisa Tavares.
"I'm excited that I get to meet new teachers and friends," added fellow 7th grader Leonardo De Pina.
And that feeling was reciprocated among staff.
"I feel like it's going to be the first normal first day of school in a while," said civics teacher Brian Cassell.
An academic strategy shift this year
In many ways, things at this school, located about 45 minutes south of Boston, did look pre-pandemic normal. There was no social distancing among students, and most weren't wearing masks. Though masks became optional in Brockton schools back in February, they continue to be optional at the start of this school year, except in school health rooms.
Cassell said he's relieved by that policy.
"It was definitely harder with new kids when they don't know you and they can't see half your face [wearing a mask], and I kind of have a mean set of eyes," he said with a laugh.
Even though visual signs of the pandemic are wearing off at East Middle School, the reality of learning setbacks is still driving a lot of decisions from school leaders on how to tackle the year ahead.
The school is in need of "focused/targeted support," according to a rubric created by the Massachusetts Department of Elementary and Secondary Education, and lags the state and district average in math and English language arts proficiency. More than 80% of kids come from low-income households and the school counts a high Black and Hispanic student population.
Principal Stephanie Spillane says classroom closures early on in the pandemic and hybrid learning caused a lot of students to fall further behind.
"Yes, they had some learning loss with the curriculum," explained Spillane. "However, it's our job to now bridge that."
To do that, Spillane says she's going to focus first on building positive relationships with students.
"I want the kids to understand that I care as much about them as their families do," she said.
Spillane added that one key shift will be to focus on accelerating student learning this year rather than simply remediate, or recover what was missed from past years.
This work will also be part of a larger district-wide effort to put a sharp focus on high-quality instruction. Those goals are part of the response to a 2020 district review by DESE that said the district was not making enough progress to improve student achievement.
But narrowing this proficiency gap is going to be a tough task. According to researchers with the Northwestern Evaluation Association, it's going to take the average elementary school student in the U.S. about three years to catch up to pre-pandemic levels of academic proficiency. That number is closer to five years for middle and high school kids.
Still, Karyn Lewis, a research director with the organization, says there are hopeful signs to be found in the data. In the 2021-2022 school year, kids began to learn at a pace that's more similar to pre-pandemic trends.
"We pulled out of the nosedive we saw in the 2020-2021 school year and into a place of stasis," said Lewis. "There were still incredibly significant challenges [last year] that districts schools teachers students all faced.
"So the idea that we saw any signs of improvement at all last year is good news."
Conditions at schools last year weren't exactly ideal. There were widespread school bus driver shortages. The Chelsea school district was among several in Massachusetts that had to call in the National Guard for help driving kids to school for a few months. Then the omicron variant surge in January caused major student and staff absences.
Many see this new school year as a chance to start off fresh and enjoy the small moments that mark the excitement on the first days back in class.
East Middle School's Katie Petinko, an English as a Second Language teacher, says she was thrilled to see her Brockton-based kids come to class with a lot of energy. Many of them were excited to hear her speak a few words in their native tongue of Haitian- Creole, or Portuguese.
"Je parle un peu de Français," she said. To which the kids returned an excited, "Ooo! That's French!"
About 35% of East Middle School students are English learners.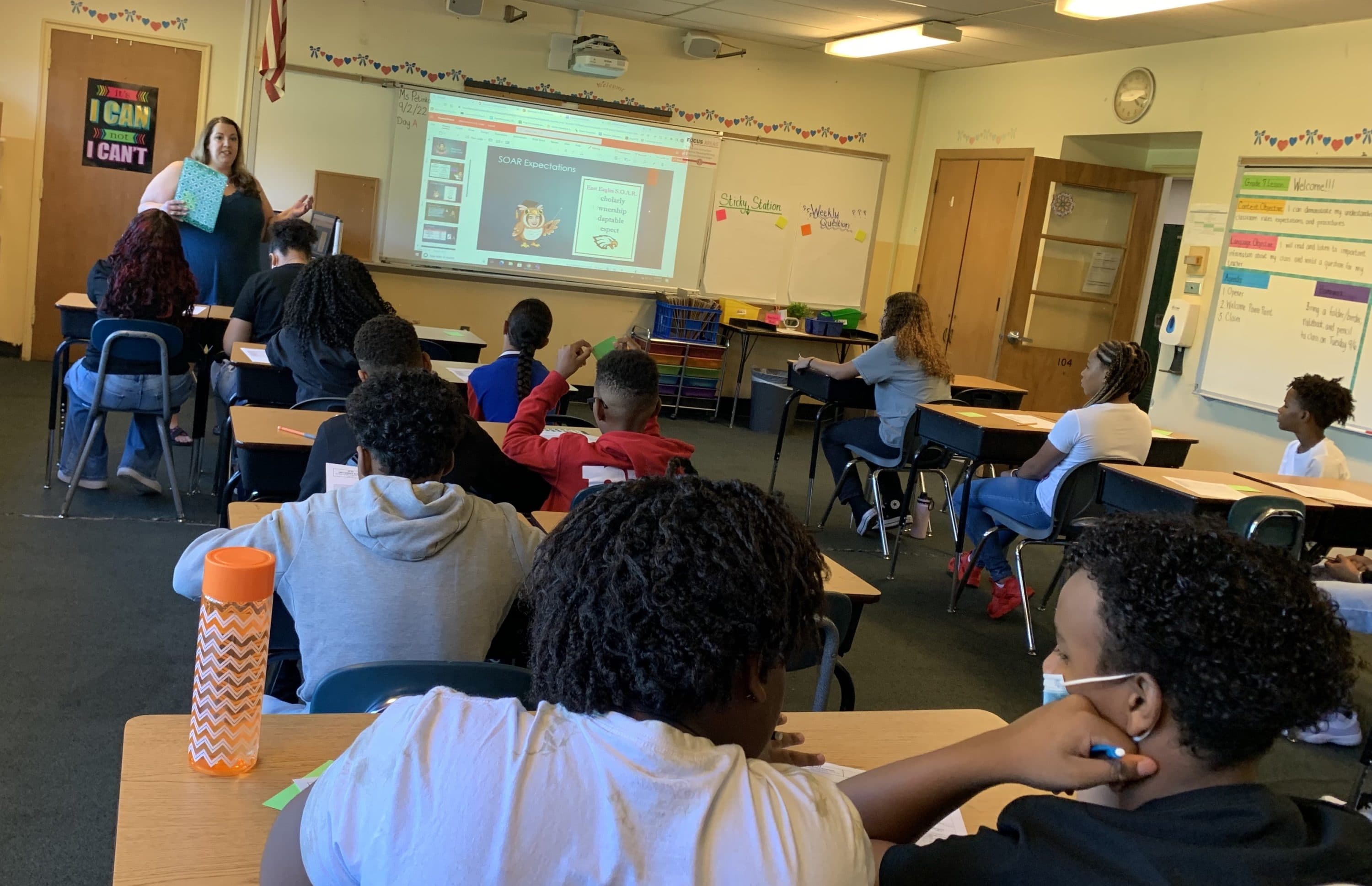 Petinko says she's feeling very optimistic about this new school year, mostly because her focus is back on teaching and meeting students' academic and emotional needs rather than being preoccupied with enforcing COVID safety rules.
"This year we were really able to get away from that, and really get back to the relationship building," she said. "I was able to do a lot more preparation and reflection around what kinds of things I want to try new this year and what were the things that worked from last year that I want to carry over. "
Petinko says she knows there will be bumps in the road this year, but for now she feels good about the way it's starting out.