5 things to do this weekend, including Ray Angry's orchestral debut and a virtual theater experience
The holiday season is just around the corner. Before we know it, it'll be a new year. To be honest, I hadn't been paying much attention to the quickly changing seasons until I noticed Christmas lights being put up around my neighborhood. While it's getting darker earlier and there is a definite chill in the air, I welcome these cozy months. If you're already feeling in the holiday spirit, head over to the Seaport to experience its transformation into "Snowport." There is a holiday market with gifts and homemade goods, a tree market and outdoor activities. This weekend, there are also a few special musical premieres. Iconic SNL band member Ray Angry's orchestral debut will be performed by the Lexington Symphony, and legendary duo Jason Moran and Alica Hall Moran will present the world premiere of their new show "Family Ball" at the ICA. Check out all of our weekend recommendations below.
Saturday, Nov. 19
Legendary pianist, producer, composer and member of the Grammy Award-winning hip-hop collective "The Roots," Ray Angry brings his orchestral debut to Massachusetts. His composition was commissioned and will be performed by the Lexington Symphony. Ray Angry is also a solo artist who straddles pop, R&B and jazz. He's also a member of the house SNL band and has produced and composed for dozens of high-profile artists and projects. "BLACK ATHENA~POWER" is an exploration of the divine feminine in three parts, including solos from the prolific percussionist Bashiri Johnson and rising flutist Coreisa Janelle Lee. Get there early for a pre-concert talk led by conductor Jonathan McPhee.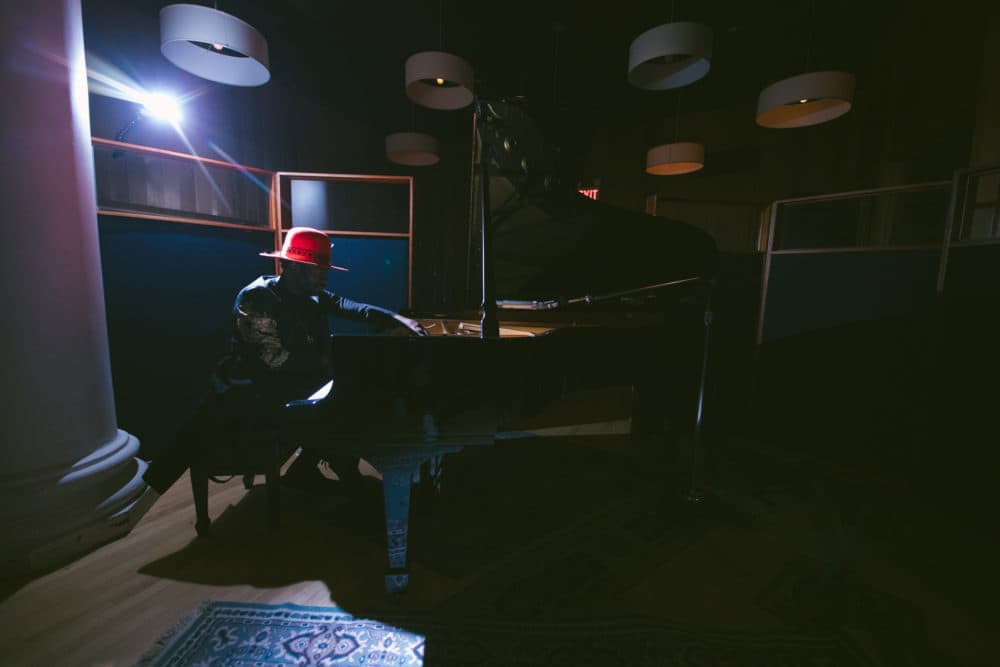 ---
Sunday, Nov. 20
The Doo Wop Project is a music collective made of six musicians who reimagine the classics and modern popular music. In their performances, they highlight the work of artists like Smokey Robinson, The Temptations and Maroon 5 by covering songs with a unique doo-wop sound. Many members of their group have performed on stages across the country and on Broadway. This weekend, they'll stop in Beverly for one night only as a part of their nationwide tour. If you can't make it this time, the group will perform in Pittsfield on Dec. 11.
---
'Snowport' at Boston Seaport
Through Saturday, Dec. 31
Things happen quickly this time of year. Next week, we'll officially be in the Holiday season with Thanksgiving. But the Boston Seaport is getting an early start. The neighborhood has been turned into a winter wonderland with holiday shopping, rooftop igloos and outdoor winter activities. The Holiday Market at Snowport is officially open, featuring over 120 local makers, food, a cocktail bar and a tree market. Next month, you can catch the annual Christmas tree lighting and a menorah lighting for Hanukkah.
---
Friday, Nov. 18-Saturday, Nov. 19
Grammy Award-winning pianist Jason Moran and his wife, iconic mezzo-soprano Alicia Hall Moran, will take to the stage at the ICA this weekend to perform the world premiere of their new show "Family Ball." The musical performance is a mix of jazz, opera and theater. It was composed during the pandemic and tells the story of their lives in love and art. It's an intimate look at the inner workings of a creative partnership, and the two musicians will bring audiences into their home via a rendering of their apartment on the stage. The show will be at the ICA for two nights before it tours around the country.
---
Through Sunday, Nov. 20
New York-based artistic director Christine Jones brings a unique opportunity to theater lovers through "Theatre for One." The theatrical experience highlights six micro-plays by female writers and performers from Kenya. It's a way to experience exceptional international theater that otherwise may be hard to access. The plays meditate on ancestry and civilization, the real and the surreal and our inner and outer selves. In each performance, the performer and an audience member will share a virtual space alone. Each audience member will have their own time alone in the performance, and afterward, audience members will join a virtual lobby where they can discuss what they've seen and experienced. [Read theater critic Jacquinn Sinclair's review here.]