From 'Big Party' to 'Toy Mania,' how 'Christmas In The City' kept the holiday spirit going despite challenges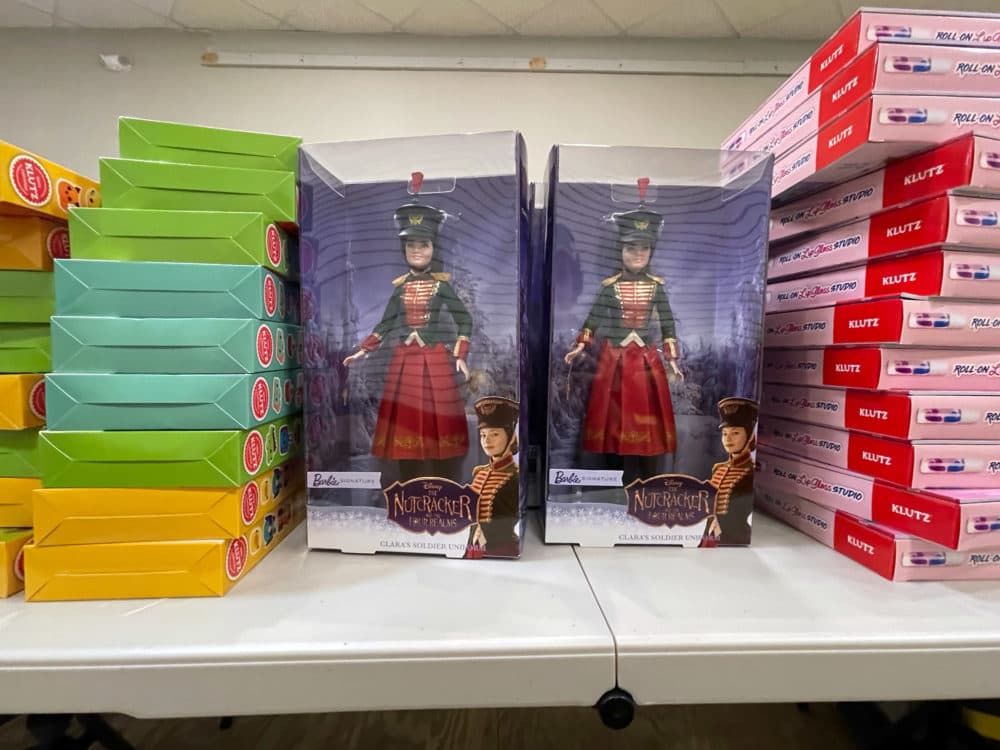 Three holiday seasons into the COVID-19 pandemic, a local charity is making a slow and steady comeback.
Now in its 33rd year of operations, Christmas in the City — based in Salem, N.H., but operating mainly in the Boston area — has learned that its strength lies in its ability to weather painful losses — and adapt to serve families in need.
Historically, the group's all-volunteer staff hosts "the big party": a Christmastime extravaganza for children and families experiencing homelessness, held at the Boston Convention and Expo Center. Attending families get access to a ride-and music-filled party with food and wrapped, age-appropriate toys for the kids.
But 2020 put that tradition on hold — and not only because the big party became untenable amid pandemic fears. In October of that year, Jake Kennedy, CITC's co-founder and leading light, passed away from ALS.
"Everything happened kind of quickly and at the same time — we were scattering," said volunteer program director Max Julien.
Julien sees the charity's response as a tribute to Jake Kennedy's perseverance. "When he was alive, there was no amount of snow, nothing [that] stopped him," she said. "So we decided, 'O.K., what do we do?'"

Volunteers came up with what they called "CITC: Delivered." During December of 2020, that meant "delivering it like FedEx," Julien said: simply dropping off gifts and hot meals at shelters around Greater Boston, and waving at kids through the windows.
This winter, the group worked with 38 shelters across Greater Boston, delivering 2,000 meals from local restaurants and a toy for every child.
At its core, Christmas in the City remains a Kennedy family affair: Jake's son, Chip, travels north to Boston to help out from North Carolina, where he now lives. But he gives a lot of credit to outside volunteers who helped the charity run while the family was taking care of Jake — and, later, mourning his loss.
This year, Julien, who works as a paralegal outside her volunteer work, oversaw another recent innovation: what she calls "Jake's Toy Mania," a way to distribute donated toys to Boston parents who pre-register and demonstrate financial need.

On a recent blustery Monday afternoon, volunteers worked out of an old abandoned storefront at 38 Bromfield Street near Boston Common. Toys were sorted by age and type. Tables were crowded with trucks, dolls, arts-and-crafts kits, and hats and clothes of different sizes.
Maria Lopes of Dorchester says she waited about 30 minutes to find gifts for her two children. "I got some socks, I got Barbie, I got some games," Lopes said. "I appreciate everyone that's here helping out — this is awesome."
Improvisations like Jake's Toy Mania feel more important than ever, given costs rising from inflation, Julien said, adding how parents out front wait patiently for their turn. "No matter where we do this, the volume of people is insane."
"We have parents who are waiting out in the cold just to come here to make sure they can get presents for their children," added Kennedy, "The amount of hard work and things that have to be overcome is unimaginable. We're so grateful that we get to serve people like that."
After three days of Jake's Toy Mania, there are still plenty of gifts to give away, which will stretch volunteers' work hours as late as Christmas Eve.
Chip Kennedy said the goal is resume the big party in time, he hopes, for the 2023 holiday season. "We want as much support as we can get to scale back up to that," he said. "And we want all the families we serve to know that we haven't gone anywhere."