S. Korea's Defense Chief Quits Over N. Korea Attack
South Korea's president ordered more troops to a front-line island and dumped his defense minister Thursday as the country grappled with lapses in its response to a deadly North Korean artillery strike.
Defense Minister Kim Tae-young had been criticized as being unprepared to handle the latest exchange of fire between the two Koreas and other incidents, such as the deadly sinking of a South Korean warship earlier this year in which Pyongyang was implicated.
Kim offered to resign after Tuesday's shelling of Yeonpyeong island that left four South Koreans dead — including two civilians. But President Lee Myung-bak kept him on the job until opposition lawmakers and members of Lee's own Grand National Party lashed out at the military, accusing it of responding too slowly to the North's barrage.
At an emergency meeting in Seoul on Thursday, Lee ordered reinforcements for about 4,000 troops on tense Yellow Sea islands, top-level weaponry and upgraded rules of engagement that would create a new category of response when civilian areas are targeted.
"We should not let our guard down in preparation for another possible North Korean provocation," Lee said, according to Yonhap news agency.
The North's bombardment of the tiny South-held island has alarmed world leaders, including President Obama, who reaffirmed plans for joint maneuvers with Seoul in the Yellow Sea starting Sunday.
The U.S.-South Korean drills involving aircraft carrier USS George Washington, although previously scheduled, are sure to infuriate North Korea. Pyongyang warned Thursday that its military would "launch second and third strong physical retaliations without hesitation if South Korean warmongers carry out reckless military provocations," though it made no specific mention of the war games.
The North's statement said Washington was to blame for South Korean artillery exercises earlier in the week near disputed waters, which prompted the North to respond with its artillery strike on Yeonpyeong.
Washington "should thoroughly control South Korea," it said. The warning was issued by the North Korean military mission at the truce village of Panmunjom and was carried by the country's official Korean Central News Agency.
The Obama administration, in turn, is increasing pressure on China to rein in its ally North Korea. The chairman of the Joint Chiefs of Staff, Adm. Mike Mullen, said Wednesday, "We really think it's important for the international community to lead, but in particular China."
But China resisted those calls.
China's first official statement on the clash was notable for its failure to condemn or even criticize North Korea. Instead, a Foreign Ministry spokesman urged both Koreas to show calm and restraint, and to engage in talks.
"We have always maintained that the relevant parties should, through dialogue and consultation, resolve disputes by peaceful means," Foreign Ministry spokesman Hong Lei said in the statement.
Later, Chinese Premier Wen Jiabao called on all sides to show "maximum restraint," adding that Beijing opposes military provocations of all forms.
Wen also urged the international community to work to ease tensions. He repeated Chinese calls for renewed six-nation talks aimed at persuading North Korea to dismantle its nuclear programs. Wen said those talks, involving the two Koreas, China, Russia, Japan and the United States, are the best way to ensure stability on the peninsula and its denuclearization.
Beijing is driven by its own strategic imperatives in dealing with its old ally, said Cai Jian of Fudan University in Shanghai.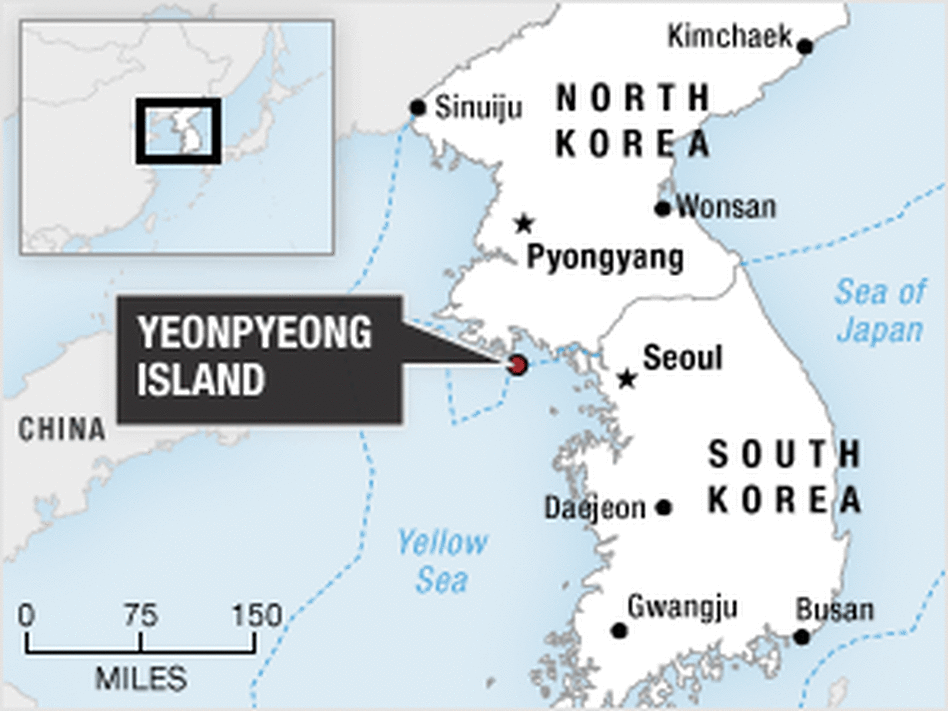 "China does not want to see North Korea descend into chaos and disorder during the power transition," Cai said, referring to the succession of Kim Jong-il's 27-year-old son, Kim Jong-un, who was unveiled to the world less than two months ago in a massive military parade. "China remains wary of criticism toward North Korea dealing with international and other incidents."
The death toll from the North's attack on Yeonpyeong rose to four Wednesday after the bodies of two men were discovered buried under rubble at a construction site — the first civilian casualties reported. Two South Korean marines also died, and dozens of people were injured.
A memorial in Seoul has been set up to honor the two marines, and a funeral was planned for this weekend.
In scenes reminiscent of the Korean War 60 years ago, dazed residents of Yeonpyeong island foraged through blackened rubble for pieces of their lives and lugged their possessions down eerily deserted streets strewn with bent metal after Tuesday's hail of artillery.
About 10 homes suffered direct hits and 30 were destroyed in the midafternoon barrage, according to a local official who spoke by telephone from the island just seven miles from the North Korean shore.
Officials in Seoul said there could be considerable North Korean casualties. North Korea's main Rodong Sinmun newspaper published a military statement accusing South Korea of triggering the exchange, but did not mention any casualties.
With reporting from Doualy Xaykaothao in Seoul and NPR's Louisa Lim on Yeonpyeong. Material from The Associated Press was used in this report.
Copyright NPR 2022.