Officials: Bin Laden Was Unarmed When He Was Shot
Osama bin Laden was not armed but tried to resist an assault by U.S. commandoes at the compound in Pakistan where he was hidden, the White House said Tuesday.
The statement came as other information surfaced about the daring assault that killed bin Laden. Among other details made public Tuesday, according to U.S. officials: One of bin Laden's wives tried to rush the commandos and was shot in the leg. High temperatures caused a lumbering helicopter carrying the raiders to make a hard landing. And as Navy SEALs swept through the compound, they handcuffed those they encountered with plastic zip ties and pressed on in pursuit of their target, code-named Geronimo.
Also Tuesday, the White House chief of counterterrorism said the White House is debating whether to release photos of bin Laden's lifeless body and expressed concern over how the al-Qaida leader was able to remain hidden so close to the Pakistani capital for so long.
John Brennan, the president's top adviser on homeland security, said the Obama administration was considering whether to release the photos to provide "visual proof" of bin Laden's death.
"We may release some photos, yes," Brennan told NPR. "There is not a question at this point, I think, in anybody's mind that bin Laden is dead.
"I know there are some people who are interested in having that visual proof. This is something we're taking into account, but what we don't want to do is release anything that might be either misunderstood or that would cause other problems," Brennan said.
Speaking at a White House briefing later Tuesday, press secretary Jay Carney said "there are sensitivities here."
When pressed by journalists, he added: "It's fair to say that it's a gruesome photograph."
But the Taliban cast suspicion on the announcement of bin Laden's death, saying they would not believe he was dead until they had seen proof or received confirmation from sources close to him.
"This news is only coming from one side, from Obama's office, and America has not shown any evidence or proof to support this claim," Taliban spokesman Zabiullah Mujahid said in a statement emailed to journalists. "On the other side, our sources close to Osama bin Laden have not confirmed or denied the news."
The photos of bin Laden show a bullet wound above his left eye, according to The Associated Press, which cited an unnamed U.S. official. The administration also was discussing whether to release video of bin Laden's swift burial at sea.
Carney said the bin Laden family was located on the second and third floor of the compound and that the al-Qaida leader was not thought to be armed, but that "many other people were armed in the compound."
"It was a highly volatile firefight," he said.
Asked who made the decision to kill rather than capture bin Laden — the president and his advisers who were monitoring the operation in real time, or the SEAL team inside the compound — Carney said that the people in the White House situation room were observers.
"Once it began, it was up to those conducting the operation to carry it out," he said.
The U.S. Navy SEALs who raided bin Laden's compound in Abbottabad, 35 miles north of the capital city of Islamabad, netted potentially crucial al-Qaida records as well as the body of the global terrorist leader, according to the official cited by the AP. The team came away with hard drives, DVDs, documents and more that might tip U.S. intelligence to al-Qaida's operational details and perhaps lead the manhunt to the presumed next in command, Ayman al-Zawahiri.
"We're going through whatever material we were able to grab," Brennan told NPR. "I don't want to go into details at this time because of the operational sensitivities associated with any of that material, but suffice it to say that we are putting a priority on exploitation of this material."
Pakistani Involvement Questioned
The U.S. assault early Monday local time has proved an embarrassment for Pakistani authorities as bin Laden was revealed to be hiding out in a city with a strong Pakistani military presence. Questions persisted in the Obama administration and grew in Congress about whether some elements of Pakistan's security apparatus might have assisted bin Laden in Abbottabad.
Brennan — who said Monday that it was "inconceivable" that the al-Qaida leader could have survived and remained "hidden in plain sight" for so long without some kind of a support network — said Tuesday that it would be "premature" to rule out some degree of complicity within the Pakistani establishment.
"We're not accusing anyone at this point, but we want to make sure that we get to the bottom of this," he said.
In an op-ed published Monday by The Washington Post, Pakistani President Asif Ali Zardari denied suggestions that his country's security forces may have sheltered bin Laden and said their cooperation with the U.S. helped pinpoint the al-Qaida leader.
Asked about the Zardari article, Brennan said, "He's the president of Pakistan and yet there are military commanders who retain quite a bit of control over their forces and a degree of independence."
NPR's Julie McCarthy, who interviewed people living near the Abbottabad compound, reported that many residents said they had been curious about the enormous structure and who lived in it.
"But there's also a culture here that if someone doesn't engage ... you don't keep pressing them with questions, you just let them be," she said.
When Monday's raid took place, the neighbors said they heard two explosions.
"After the first explosion, they heard a lot of screaming that sounded like children," McCarthy reported from Abbottabad. "That was followed by a second explosion, and the neighbors reported after that, that they heard no more screaming."
At least four people were reportedly killed in the assault, including bin Laden's adult son, Khalid, and an unidentified woman.
Twenty-three children and nine women were in the compound at the time of the assault, and the survivors were turned over to Pakistani authorities, said a U.S. official who asked not to be identified.
The Trail To Bin Laden
The information that ultimately led to bin Laden's capture originally came from detainees held in secret CIA prison sites in Eastern Europe. There, agency interrogators were told of an alias used by a courier whom bin Laden particularly trusted, officials said.
It took four years to learn the man's real name, then years longer before investigators got a big break in the case, these officials said. Sometime in mid-2010, the man was overheard using a phone by intelligence officials, who then were able to locate his residence — the specially constructed $1 million compound with walls as high as 18 feet topped with barbed wire.
U.S. counterterrorism officials considered bombing the place, an option that was discarded by the White House as too risky, particularly if it turned out bin Laden was not there.
Instead, Obama signed an order Friday for the team of SEALs to descend on the compound via four helicopters.
Within 40 minutes, the operation was over. The SEALs flew out minus one helicopter, which malfunctioned and was destroyed. Bin Laden's remains were flown to the USS Carl Vinson, prepared for burial in accordance with Islamic practices and then lowered into the north Arabian Sea.
Bin Laden's death came 15 years after he declared war on the United States. Al-Qaida was also blamed for the 1998 bombings of two U.S. embassies in Africa that killed 224 people and the 2000 attack on the USS Cole that killed 17 American sailors in Yemen, as well as countless other plots, some successful and some foiled.
NPR's Julie McCarthy reported from Abbottabad, Pakistan, for this story, which contains material from The Associated Press
Photos: binladen compound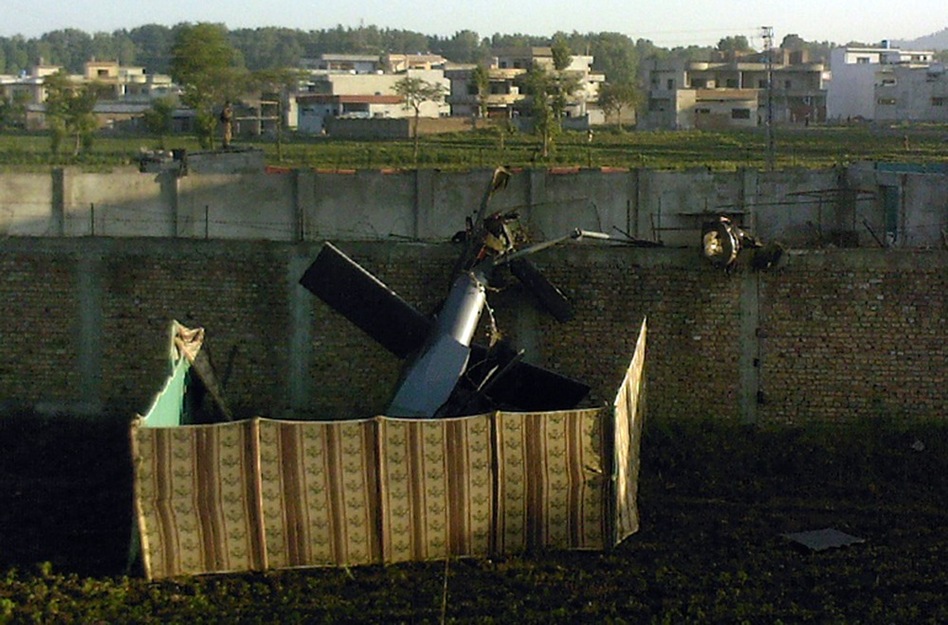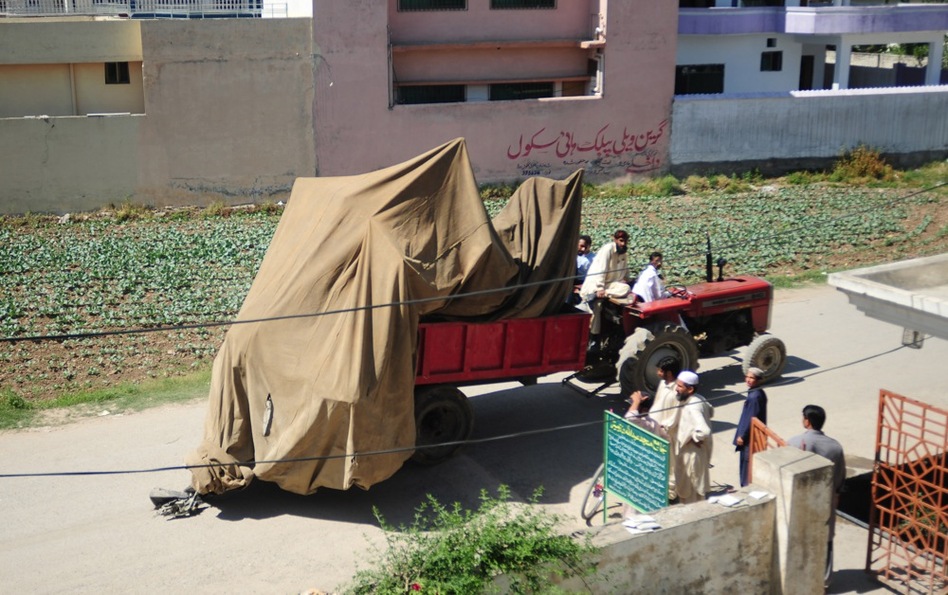 Copyright NPR 2019.