The Death Of The Tangible Is Nigh! (Or Is It?) Share Your Photos Taken On Film
When news came this week that the Washington, D.C., camera chain, Penn Camera, had filed for Chapter 11 bankruptcy protection — and would be closing at least five of its eight stores — many antennae went up around here, and my mailbox starting filling.
This news is compounded by reports that Kodak might also be preparing to file for bankruptcy protection. "In the dozen years before 2011," the AP reports, "the company had lost more than 95 percent of its value as it was ... shaken to its core by a digital revolution."
Though the particular case of Penn Camera is local, the situation is all too familiar. A quick Facebook survey revealed that folks across the country have said goodbye to camera shops: Star Photo in Madison, Wis., closed in 2008; Baltimore has said goodbye to Abbey Camera; Chicago's Helix Camera & Video used to have multiple stores. No more.
The reasons are obvious, though no less lamentable: Digital cameras have replaced film. For the average consumer, smart phones are replacing the point-and-shoot. When we can order prints and shop from the comfort of home, why suffer the holiday lines, traffic, etc.?
Sad though it is, let's be honest: None of it is surprising. You've heard the lamentations repeat like a broken record. (At this rate, even that simile might soon cease to exist.) The end of the tangible is nigh! The Kindle is killing our beloved books; vinyl was destroyed by cassettes, which were crushed by CDs, which are being erased by MP3s. It's the proverbial David versus Goliath scenario, only now, the underdog is the one who gets beaned.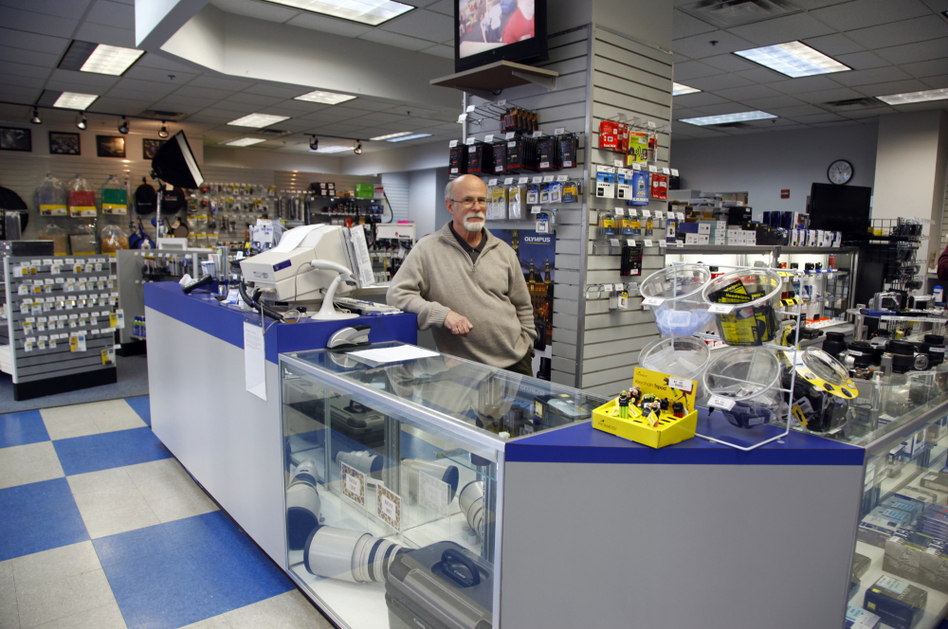 It's hard to know how to treat these stories. One bottom line is that, on a human level, we're talking about livelihood: Store owners, camera repair people, vinyl purveyors — they're all neighborhood fixtures. So there's a reason our stomachs drop when we hear news like that of Penn Camera.
But also, change isn't always so bad. Why lament the inevitable, or beat a dead horse?
I went over to one of the Penn stores that will be staying open this morning and the general sentiment, if I may paraphrase, was one of: "Yeah, it sucks, but times change, and we have to adapt." That's coming from guys who have been in the business for decades — but who love their digital cameras as much as anyone.
One thing's for sure: Digital is here to stay. And so is e-commerce. But we might also witness something new emerge from the ashes of the old. Ann Patchett just opened a new bookstore in Nashville. We'll see how that pans out. But I wouldn't be surprised to see boutique film and camera stores sprouting up in niche communities. I mean, I can name several photographers offhand who are still doing wetplate techniques (like, Civil-War-era stuff). Even NPR is using Polaroids!
The key is to move forward but not forget the past. So much of our lives have been documented by our cameras, both film and digital. If this is the twilight of film, then let's celebrate its significance by taking a moment to look back into our archives; back to the moments we once treasured.
Do you have one? Share it on Flickr and tag it #nprfilm. (If you can get past the irony of scanning and uploading!)
Copyright NPR 2020.