A Little Better 31 Years Later
This article is more than 16 years old.
I think they have arrived.
That's not to say that the authorities shouldn't continue to enforce Title IX, because they should. It's not to say that anybody who cares about women's sports and girls' sports should be complacent, because they shouldn't.
It's only to say that 31 years after girls and women who played sports first began to be able to anticipate treatment roughly equal to what their male counterparts were enjoying, the landscape has changed.
At a luncheon last week where numbers of hockey guys had gathered, I listened to a conversation between three prominent and high-powered hockey guys about how a local women's ice hockey team had won a recent game by about a dozen goals, a revoltin' development as far as the hockey guys were concerned. They grumbled about how the coach of the winning team, a female, had even sent her best players out on the power play when she already had a ten goal lead.
This is not the sort of criticism you used to hear about how a female coach was running her women's team.
At the gym a few days later, while I was waiting for the game involving my 13-year-old daughter's team to begin, I overheard the coach of one of the other teams describing why his girls had lost the previous game. He was complaining that the other team had a kid nobody could guard...a girl who, at 14, has a killer cross-over dribble, effortlessly passes behind her back, stole every errant pass the other team made, and confidently shot threes.
"Not only that," the coach muttered, "with her team up fifteen and two minutes to go, she dribbled out the clock. Nobody could even catch her to foul her."
He rubbed his chin, smiled, and said, "maybe we ought to put in a rule so she can't do that."
The great sports legacy of our time is that 31 years ago, we thought up and eventually began enforcing a rule that opened the doors for girls to do that. We were not, as a culture, thereby made perfect...but who can argue that we were not — at least in the humble but diverting world of our games - made a little better?
This program aired on February 5, 2003. The audio for this program is not available.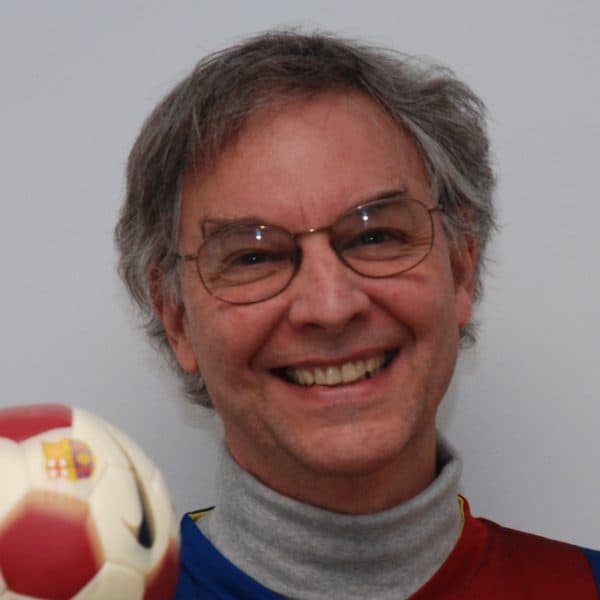 Bill Littlefield Host, Only A Game
Bill Littlefield was the host of Only A Game from 1993 until 2018.