Show rundown for 2/11/2006
25:02
Play
This article is more than 13 years old.
Olympic Preview
The Opening Ceremonies for the 2006 Torino Olympic Games included inline skaters with two-foot high red flames shooting out of their helmets and dancers with white bubbles, meant to represent snow, stuck to their heads. Can the Olympic Games get any sillier? Bill queries the Boston Globe's John Powers.
Building a Better Brand
Listen
Companies are no longer satisfied with just slapping the Olympic logo on their products. With sponsorship costs rising, Bill examines how some companies are becoming more creative in associating themselves better with the Olympic brand.
The Great One's Gambling Headache
Listen
Phoenix Coyote assistant coach Rick Tocchet is under investigation for his alleged involvement in a seven-figure gambling ring that may or may not involve the mob and may or may not involve the boss's wife. That's bad enough, but when the boss happens to be Wayne Gretzky, it's potentially cataclysmic if you're an NHL fan. Espn.com's Scott Burnside joins us to talk about that and what happens next.
B.U. Women's Hockey
Listen
Over the previous 17 games between Harvard and Boston University in the women's Beanpot, a February tradition that pits the women's teams from Harvard, B.U., Boston College, and Northeastern against each other, Harvard has won 82 to zero. But, this year, things are different. Bill has the story.
Gambling and More with Charlie Pierce
Listen
Bill and Only A Game analyst Charlie Pierce discuss: Mrs. Gretzky's gambling, the Super Bowl that sucked, and Al Michael's gets traded.
Commentary
Listen
Some people take up competitive sports to reverse, or at least delay, the effects of aging. As commentator Susan Sabin learned, sometimes that decision can lead to unexpected perspective.
Ryan St. Onge
Listen
Next week, freestyler Ryan St. Onge could earn a medal in the aerial skiing competition. St. Onge claims he's clumsy on land, but he plans to show the world what he can do in the air at his first Olympic Games. Nancy Greenleese of member station KUNC in Greeley, Colorado reports.
This program aired on February 11, 2006.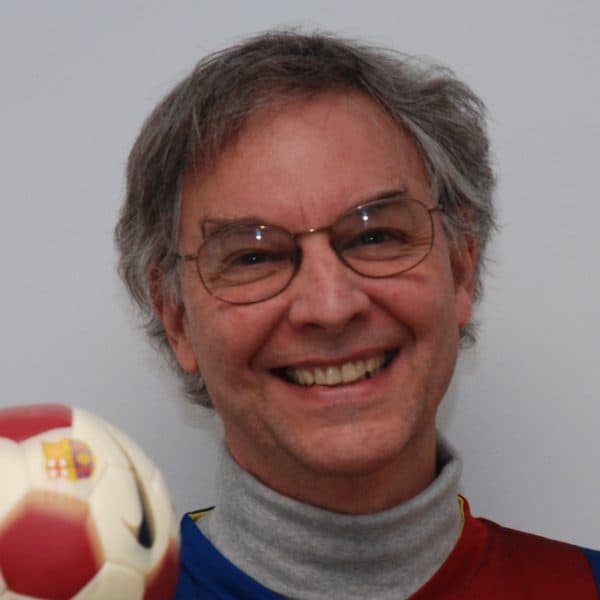 Bill Littlefield Host, Only A Game
Bill Littlefield was the host of Only A Game from 1993 until 2018.