What Will You Be Remembered For?
This article is more than 14 years old.
Willie Mays is remembered for his basket catch and the way his hat flew off when he was running the bases or chasing down a fly ball.
Muhammad Ali is remembered for his raucous bravado, the dazzling speed of his hands and feet, and the way he would lean out of the way of the most fearsome punches.
It will be a shame if Zinedine Zidane, the exceptionally accomplished soccer player who led France to a World Cup Championship in 1998, is remembered for the head butt he delivered to Marco Materazzi in the final game of this summer's Cup, but it's looking increasingly likely.
Evidence was apparent in London on Sunday, where a jockey named Paul O'Neill was thrown by his unruly horse, City Affair. Outraged and humiliated, Mr. O'Neill grabbed City Affair's reins, pulled the horse toward him, and head-butted the beast.
Not surprisingly, the headline in London's Evening Standard read "Angry jockey does a Zidane to his horse."
It was not precisely a "Zidane," since unless City Affair was really Mr. Ed, he can't have called Paul O'Neill the son of a terrorist...or anything else, for that matter...although the possibility is kind of fun to imagine:
"Hey, you crumpet-eating son of the queen-loving country that gave us Jack-the-Ripper, you want to get to the finish line so bad, take the tube."
Uh, yeah. Something like that. But the point here is that "Angry jockey does a Zidane to his horse" suggests that "zidane" is dangerously close to becoming a verb meaning "to head butt," and it would be a shame if that were to happen.
"That's not the point."
"Uh, what do you mean?"
"The real shame is that that tea-drinking, God-save-the-queen-singing midget head-butted me."
"Well, yeah, he did. But commentaries are short. You have to pick your spots. I'll take on cruelty to animals another time."
"How many horses have to get head-butted before you — "
"Oh, knock it off. One horse got head-butted."
"One too many."
"Point taken, City Affair."
"Ed."
"I knew it."
"Say goodbye, Wilbur."
"Bill."
"Whatever."
"Uh, goodbye."
This program aired on July 27, 2006. The audio for this program is not available.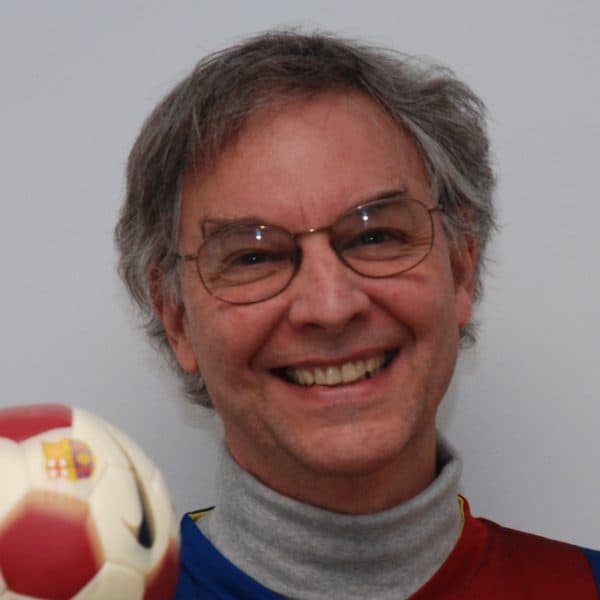 Bill Littlefield Host, Only A Game
Bill Littlefield was the host of Only A Game from 1993 until 2018.