Show rundown for 1/12/2008
51:46
Play
This article is more than 13 years old.
NBA Update with Kevin Hench
The Portland Trailblazers are one of the hottest teams in the NBA, despite the fact that their 2007 #1 draft pick will be out the entire season with an injury. Seattle is losing twice as often as their winning and dreaming of a possible move to Oklahoma City. And the Eastern conference might finally be catching up with the West. Fox Sports.com's pro basketball analyst Kevin Hench breaks down the season with Bill.
Those Confounding Cavaliers
Listen
The Cleveland Cavaliers are hovering around the .500 mark this season, which is rather disappointing for a team which boasts the NBA's biggest star and made the finals in 2007. Only A Game's Ron Schachter has the story.
NFL Update with Mike Reiss
Listen
We've reached the point in the NFL season when even people who aren't fans of the New England Patriots pay attention. This weekend the number of potential champions will be reduced to four. Mike Reiss, who writes about football for the Boston Globe, joins Bill for a chat.
Fantasy Football and Math
Listen
Math is not usually the favorite subject of 7th grade girls. That's why all girl's math classroom has been created at the Winthrop School in Bridgeport, Connecticut. And, contrary to the idea that girls don't like sports, the teacher there is finding success in a curriculum that teaches math through fantasy sports. Bill Littlefield has the story.
Commentary
Listen
Exercise enthusiasts say that jogging strengthens the cardiovascular system and sharpens the senses. Commentator Elissa Ely recently learned that the latter is true...but only to a point.
Marion Jones and More with Charlie Pierce
Listen
Bill and Only A Game analyst Charlie Pierce discuss: Marion Jones as "role model," Sir Edmund Hillary's autograph, and hot pants!
The Assist
Listen
In "The Assist: Hoops, Hope, and the Game of Their Lives", Neil Swidey tells the story of basketball coach Jack O'Brien, who led the boys' team at Charlestown High School in Boston to five state championships, and some of the players with whom he worked . According to Swidey, who joins Bill Littlefield in the studio, O'Brien has distinguished himself not only as a coach, but as a father-figure who devoted his life to the welfare of his players, on and off the court.
This program aired on January 12, 2008.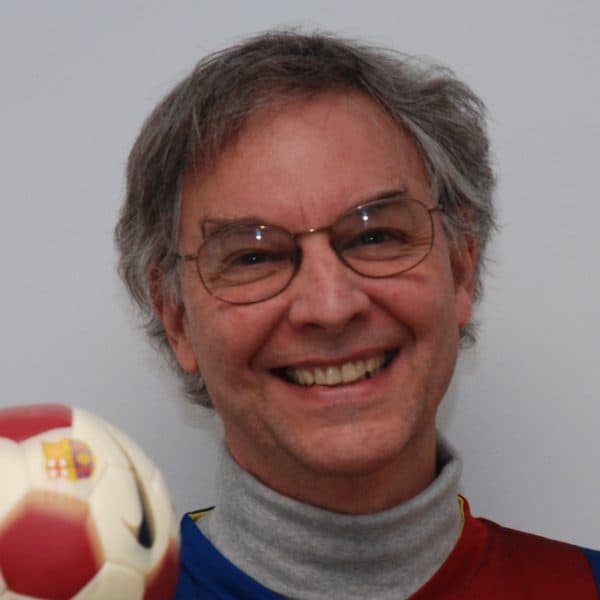 Bill Littlefield Host, Only A Game
Bill Littlefield was the host of Only A Game from 1993 until 2018.