This article is more than 10 years old.
A real fan is someone who supports the team, no matter what.
Or, a real fan appreciates and cheers for the great play, even when the play is made by somebody on the other side.
Or, you can tell a real fan by the fact that for a week after his team loses, he looks as if he's been hit by a bus. A double-decker. Going fast. In a bad neighborhood.
As a child, I embraced the first definition. Lots of children do. Young fans of the home team, whatever their home team, often can't understand how anybody could root against their heroes. They assume that anybody who does is a stupid head.
I found I'd grown out of that stance several decades ago, when a pitcher for the team I supported beat up his wife. Asked at a press conference about the impact of the assault on the ballclub, a team spokesman said the player wouldn't miss his turn on the mound.
It occurred to me that the pitcher was a coward and a bully guilty of a criminal act, and that the spokesperson was an idiot. How could I cheer unconditionally for a team that employed these people? I began rooting for both of them to get hit by a bus.
I like the second definition.
The idea here is to be a fan of the moments of beauty and transcendence the game offers. You see a shortstop go deep into the hole, pick a ball off the dirt at full stretch, then flip it to the second baseman to begin a double play, and you cheer the way that experience has taken you out of yourself for a moment.
You watch two basketball teams trade the lead back and forth two dozen times in a game that goes into a third overtime, and you appreciate the grit evident on both sides. A clutch shot made by a guy whose legs have gone wobbly is worth witnessing, no matter the color of the shooter's jersey.
A patient build-up of eight or ten passes along the length and across the width of the soccer pitch that leads to a crisp cross and a volley that just eludes the outstretched fingers of the diving goal keeper is a thing of beauty and a joy forever.
Or it is, until I realize that the goalkeeper is playing for Barcelona. At which point I suddenly begin to feel as if I've been hit by a bus.
This program aired on May 7, 2009. The audio for this program is not available.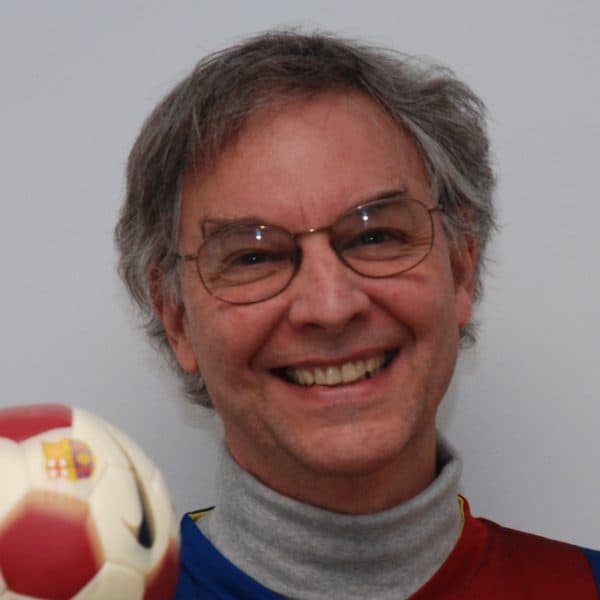 Bill Littlefield Host, Only A Game
Bill Littlefield was the host of Only A Game from 1993 until 2018.