This article is more than 11 years old.
Iraqi National Anthem by The Slovak Radio Symphony Orchestra (from Complete National Anthems of the World, Vol. 3: Gabon-Kyrgyzstan, Marco Polo Records, 1998)
Gary's take: I don't even know if this is still the Iraqi anthem…did it change at some point? One thing I do know is that when you need great renditions of Iraqi or Icelandic or even Kyrgyzstani anthems, you gotta call on Slovaks.
The Detectives by Alan Tew (from The Sound Gallery, Scamp Records, 1995)
Gary says: As a somewhat precocious, media-savvy youngster, I was barraged with the kind of music you can hear on The Sound Gallery. This funkified detective stuff was omnipresent in movies, television and radio in the late '60's and early '70's, and it was so overused as to be hilarious. That may help explain why it was that my stepfather, a Certified Public Accountant and my uncle Dave, an insurance company executive, took so energetically to the prevailing fashions of the day, which included wildly psychedelic bellbottom pants, plaid jackets, paisley ties, semi-afros and outrageously long Shaftian sideburns. These suburban warrior role models were bad mother- (Shut your mouth!!!)
Flower Riddles by Ren Guizhen (from The Night of Grassland: Chinese Folksongs, BCD, 1990)
Gary's take: I have no idea what she's singing about, but it does sound like it has the appropriate feng shui.
Ravel's Bolero (origin unknown)
Gary says: C'mon, all you early morning Only A Game fans…you know you're all a bunch of hopeless romantics. Sports and love do go together!
Trippin' on Lunar 07 by 101 Strings (from Astro Sounds from Beyond the Year 2000, Scamp Records, 1996)
Gary's take: 3D TV? That's nothin', Space Age baby. We're trippin' on Lunar 07! Whatever that means…
The Victors by The World Famous University of Michigan Marching Band (from 41 Great College Victory Songs, Vanguard, 1987)
Gary says: That is the nickname of the University of Alabama football team, isn't it? The Victors? Oh, that's wrong, it's the Crimson Victors.
This program aired on January 9, 2010. The audio for this program is not available.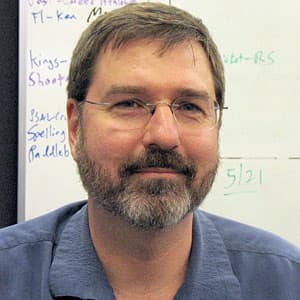 Gary Waleik Producer, Only A Game
Gary Waleik is a producer for Only A Game.