Steve Ralston: Soccer's Unselfish Star
This article is more than 10 years old.
Steve Ralston's Major League Soccer career began in 1996. That may have been later than Ralston would have wished, but he had no choice, since there was no Major League Soccer until 1996.
You may be unfamiliar with Steve Ralston, since he is not married to a former Spice Girl, has never been tossed from a game for head-butting an opponent, and has never scored a goal during the World Cup finals, while everyone was watching. But nobody has played in as many MLS games as Ralston has, and nobody has started more times or played more minutes. Nobody has tallied as many assists.
Ralston's records bespeak longevity, obviously, but they also indicate determination, durability, the degree of respect from coaches Ralston has earned, and, to some extent, unselfishness.
New England Coach Steve Nicol has spoken often of Ralston's value to the Revolution, whom he joined in 2002 after six seasons in Tampa.
"He has a great soccer brain," Nicol once told me.
Steve Ralston retired Tuesday night after making one last appearance on behalf of the Revolution. There is talk that he will take that "great soccer brain" to Houston, where he will become an assistant coach. If so, the organization and the players there will be well served.
In a conversation following a Revolution practice a couple of years ago, Steve Ralston said that he got as much satisfaction from putting the ball on the foot of the guy who scored a goal as he'd ever gotten from scoring himself. This is an easy thing to say, I suppose, but when he said it, neither his coach nor any of his teammates laughed or otherwise gave him a hard time. In fact, Steve Nicol went on to speak about the extraordinary touch it took for Ralston to have so often set up his teammates so well. Then Ralston, who seemed to have become uncomfortable with the attention, smiled and said something like, "Sometimes I just kick it in toward the middle and hope something good will happen."
A wise sportswriter of my acquaintance has warned me against celebrating any athlete before he has been dead for some time, and his point is well taken. Maybe in the first days after his retirement as a player, Steve Ralston will knock over a convenience store, drink a great deal of cough syrup, punch a gaggle of paparazzi, or attempt to carry an automatic weapon on to a plane.
No matter. I'm going to take the risk. Steve Ralston's years with the Revolution gave soccer fans here the opportunity to learn a good deal about how the game should be played by watching a professional at work.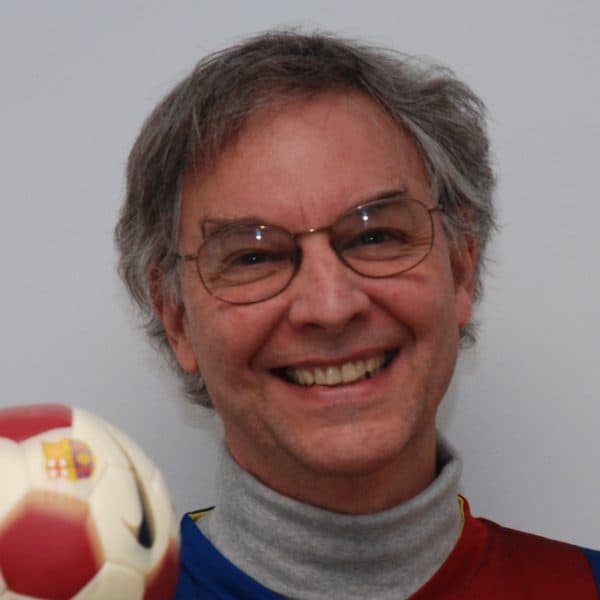 Bill Littlefield Host, Only A Game
Bill Littlefield was the host of Only A Game from 1993 until 2018.