This article is more than 10 years old.
Oh, Atlanta by Bad Company (from The "Original" Bad Co. Anthology, Elektra, 1999)
Oh, Gary, Gary, what are you doing foisting Bad Co. on the delicate ears of OAG listeners? Sorry.
It could be worse, I suppose, owing largely to the fact that Mick Ralphs is a pretty fine guitarist. I prefer his less bluesy and more adventurous fret shenanigans with Mott the Hoople, but that's just me.
Emergency! by Nelson Riddle (from Television's Greatest Hits, Vol. 5, TVT, 1996)
You can have a great show with a bad theme, and you can have a bad show with a great theme. In which category does Emergency! fall? I don't know. That's for you to decide. I will say that the theme is outstanding, even by lofty nelson Riddle standards. The Schoenbergian horn arrangement is too good for words.
Art? Great art? You get it from 1970's TV action/adventure dramas. Art? Great art? You get it any way you can.
Green Bay Polka by Merle Travis (from Walkin' the Strings, Raven, 2009)
Merle Travis is known for fine fretwork, but he's also a pretty snazzy lyricist when called upon to do so. To wit, a snippet of When My Baby Double Talks to Me:
When my bail-faby does her du-fubble tall-a-falk to meel-a-fee,
I genna-gel-fet ju-fust as hal-fappy as I can beel-fee
And everytile-fime I hol-fold her hal-fand
We're il-fin another lal-fand
With a leel-fanguage o-jaw-fonly weel-a-fee can ull-funder-stal-fand
And when I seel-fee the lo-fuvver-lal-fight shile-finin' in her ile-feyes
And I lile-fighten up my prile-fivate para-dile-fise
Then I say, 'Hul-funny, do you love me true?'
She says, 'Dal-faddy, don't you know I do-a-hoo'
When my bale-faby does her du-fubble talk to meel-oh-fee
I'd say something like "Not since J.R.R. Tolkien has such utter drivel meant so much to so many", but that song never was and never will be as popular as The Hobbit.
This segment aired on October 16, 2010. The audio for this segment is not available.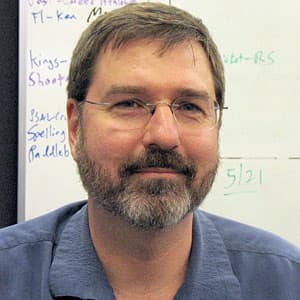 Gary Waleik Producer, Only A Game
Gary Waleik is a producer for Only A Game.