Author Conversation: John Doyle, The World Is a Ball
04:09
Play
This article is more than 10 years old.
In The World Is a Ball, John Doyle describes his travels around the world to experience the global game of soccer. While non-football fans may think Doyle lays it on a bit thick, Bill says soccer nuts like himself will find the book incredibly entertaining.
There will be those – my colleagues here at Only A Game, for example – who will accuse John Doyle of going over the top when he describes the delights of attending soccer's World Cup or the European Championships. In the interests of fairness, let me grant these nay-sayers and philistines at least a fraction of a point up front. In celebrating a particular stretch of games during Euro 2008, Doyle writes:
There is no possible way to explain and describe in the newspaper these long, mad nights when there's magic in the moonlight, or those dreamy, delightful days that bracket the games. I can't yet chronicle this mad, magnificent world I inhabit, this vaudeville, this place the gods of pleasure and play have blessed.
Any writer who concludes that his subject is beyond his power to describe it should perhaps rethink that conclusion.
But the hyperbole notwithstanding, Doyle's account of his travels to watch the best manifestations of soccer between 2002 and 2010 is wonderfully entertaining. He is fascinated not only by the games he sees, but by the transformation of the cities hosting the games into happy places. Gone are the hooligans, replaced by celebrating hordes of supporters who relish the opportunity to dance, sing, drink, and be photographed with those who've traveled to back the opposing team. Whether Doyle is in South Korea, Germany, Portugal, or South Africa, he finds that soccer has united people from every country with a team in the tournament in their appreciation for the game and their energetic determination to enjoy each others' company. He finds that soccer is not only beautiful, but also "all-encompassing and welcoming." And it can even be healing.
Sitting in a pub in Toronto, watching the Irish team vanquish Holland during the run-up to the 2002 World Cup, Doyle is moved when he sees two elderly Irishmen with tears in their eyes hug each other at the result. As he sees it, "the team had again fulfilled the needs of the country and its vast diaspora."
Fans of soccer will have no problem accepting that sort of conclusion, and they'll love this book. As for those who've not yet seen the light, well, perhaps The World Is A Ball will help show them the way.
This segment aired on November 13, 2010.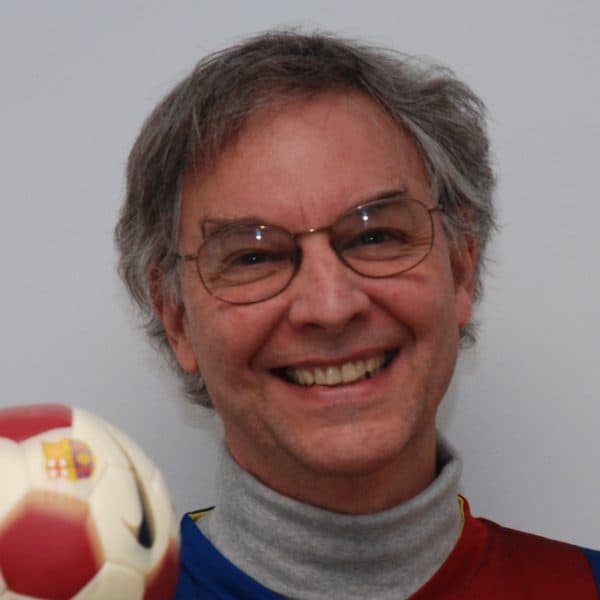 Bill Littlefield Host, Only A Game
Bill Littlefield was the host of Only A Game from 1993 until 2018.