Take A Little Off The Top, Then Go Deep
06:59
Play
This article is more than 10 years old.
Different football teams have different ways of preparing for game day.
This week, the New York Jets' preparation for Sunday's game against the New England Patriots included cornerback Antonio Cromartie telling reporters he hated Patriots quarterback Tom Brady. He said he thought Brady was an (expletive deleted). On Thursday, Brady shrugged off the insult, saying he'd been called worse.
During a press conference that day, Jets head coach Rex Ryan maintained that his cornerback's comments weren't worth all the attention they were getting.
"Trust me," Ryan said, "they're saying worse about me and others here, and it just wasn't printed."
If Coach Ryan is right, nothing was printed because no Pats player anywhere near a reporter made a controversial remark. Patriots head coach Bill Belichick wills it so, a circumstance that encouraged Coach Ryan to zing his New England counterpart.
"We're a transparent organization," Ryan told reporters. "We don't tell 'em what to say or what not to say. If a guy makes a comment, big deal."
At SoHo Hair Design in North Attleboro, Patriots wide receiver Darnell Jenkins smiled at that comment.
"We hear it," he said. "It goes in one ear and out the other."
Darnell Jenkins was in the process of getting his hair cut, which is one of the things he does to prepare for each week's game.
Because he's still rehabilitating his knee after surgery a couple of months ago, Jenkins won't be available for Sunday's game. But like many of his teammates who will be on the field, this week he stuck to his pregame routine, which always includes a visit to barber Terrence Manning, who also cuts the hair of lots of the rest of the Patriots.
"We're superstitious. So if he cut your hair on a Friday at two o'clock, and you had a great game, well, you're probably going to have to go at Friday at two until something bad happens, and then you'll have to try something else.".

Former Patriots tight end Christian Fauria
As the slightly shaggy, pre-trim Darnell Jenkins told me,"When that helmet comes off, when you make a big play and you walk to the sideline after scoring the touchdown, making the big tackle, you take your helmet off, and you look to the right, and the camera's right there," Jenkins said. "And you're looking like this, all scruffy, you don't want to say anything more than 'Hi, Mom.'"
Darnell Jenkins learned about Terrance Manning from teammates who'd discovered they could trust the barber's judgment and his touch. Former Pats tight end Christian Fauria, who'd also dropped by for a midweek haircut, explained how so many of the Pats had come to be Manning's regulars.
"We're creatures of habit," Fauria told me. "We're superstitious. So if he cut your hair on a Friday at two o'clock, and you had a great game, well, you're probably going to have to go at Friday at two until something bad happens, and then you'll have to try something else."
For the Pats, winners of three Super Bowls since 2002, not all that much bad has happened. And that, in part, explains why Darnell Jenkins was in the chair on Wednesday.
Though Terrance Manning styles himself stylist to the stars, or at least the stars of the Patriots, they receive no special treatment if they just wander in.
"No," Manning said. "I set my schedule up for three on Friday afternoon, and that's time dedicated to the Patriots. If they come in other than that, they might have to set up an appointment, because then I have my other clients who come in on those other days."
"Ah," I said. "So if a Patriot shows up, you're not telling everybody else, 'Okay, everybody out of here. Patriot time.'"
"No way," Manning said. "The best thing about those guys is that they have respect for my job. So if they see that I have somebody sitting in the chair, they'll wait."
I couldn't resist asking Manning whether the Patriots were good tippers.
"Why do I always get asked that question?" Manning asked, laughing. "But they are. A lot of the guys who come and see me, they're younger guys who've just run into all of this, and some of their wives are penny-pinchers. They say, 'No, that's too much money.' So I try to keep it fair for them and for my regular clients."
Even as a guy who generally pays about the minimum for a hair cut, I found that Manning's rates did sound fair. So, after the Patriot and the ex-Patriot had left the building, at which point I was officially off the clock, I sat down in the barber's chair and asked Manning to see what he could accomplish.
"When you've finished," I asked, "am I going to be able to throw a ball 80-yards and run the 100-yards faster than I ever did before?"
"Well," Manning said, "if you can do that after I'm finished, I suggest that you keep coming back to me to get your hair cut."
I do not run faster or throw harder than I did before Terrence Manning cut my hair, but I might go back anyway. Of course, I might not be able to do it during the week before February 6. That's because if the Patriots make it to the Super Bowl again, Terrence Manning, shears and clippers in hand, will be joining them in Arlington, Texas.
This segment aired on January 15, 2011.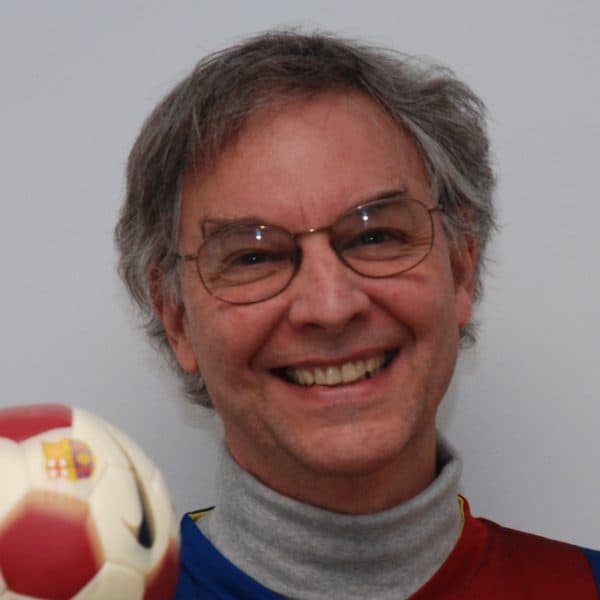 Bill Littlefield Host, Only A Game
Bill Littlefield was the host of Only A Game from 1993 until 2018.