This article is more than 8 years old.
In my conversation with Charlie Pierce last week, Charlie referred to penguins "walking across the arctic." He's done this before, but this time it irked not only the penguins but listener Dave Pierson, who e-mailed to point out that penguins live in the Antarctic, as well as in South Africa and Chile. Erik Roskes, who hears the show on WYPR in Baltimore, was similarly moved to e-mail. "I love Charlie Pierce," he wrote, "but you might remind him that aside from Pittsburgh, penguins live in the zoo, and in the Antarctic."
We mentioned last week that Gregg Williams, the former defensive coordinator for the New Orleans Saints, had acknowledged that he oversaw a system established to pay bounties to players who knocked members of the opposition out of the game. In a commentary this week carried by various NPR stations, I revisited that topic to the dismay of Joe Schott, a Saints fan who left a very long message on our Facebook page. Mr. Schott opines that the Saints were by no means the dirtiest team in the league and regards what he calls the "vagueness" of statements by Gregg Williams and others associated with the Saints as evidence that the entire issue has been blown out of proportion, probably at the instigation of NFL Commissioner Roger Goodell. I invite you to partake in that commentary by visiting us on Facebook.
In another comment on the subject of bounty hunting among the Saints, David Greenberg of Annapolis, Maryland and Delray Beach, Florida emailed as follows: "Bounties have been and always will be. Watch Slapshot. In the movie, the Paul Newman character announces a bounty on Ogie Ogelthorpe."
Mr. Greenberg apparently makes no distinction between art – however brilliant – and life.
In a commentary during the show last week, I celebrated Leo Messi's performance for FC Barcelona in the Champions League game during which Messi scored five times. "Thanks for the well-deserved shoutout," wrote Martin Friedrichs, who hears the show via the podcast, "but the team Barcelona was playing is BAYER Leverkusen. BayerN is the team from Munich."
Distinctions like this give me a headache.
And finally Greg Anderson of Storrs, Connecticut, home of the UConn Huskies, e-mailed as follows: "We listen every week. Yours is the best, most balanced sports show and you often feature women's sports. I am thus always surprised when you say "NCAA basketball" and then only discuss the men's game. Maybe you could at least add the gender adjective and make it clear you're talking about the men's side of the sport."
Fair enough. The UConn men lost Thursday night and went home to Storrs. The UConn women face Prairie Valley A&M today.
Man or woman, boy or girl, you can find us on Facebook and follow us on Twitter. You can register your opinions here, or you can leave a message on the listener line by calling 617-353-1860.
This segment aired on March 17, 2012.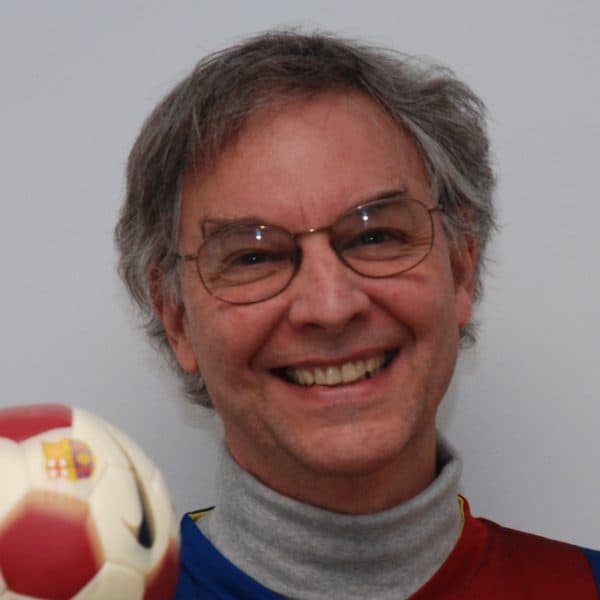 Bill Littlefield Host, Only A Game
Bill Littlefield was the host of Only A Game from 1993 until 2018.