Dan Wetzel Previews The BCS National Championship
05:28
Play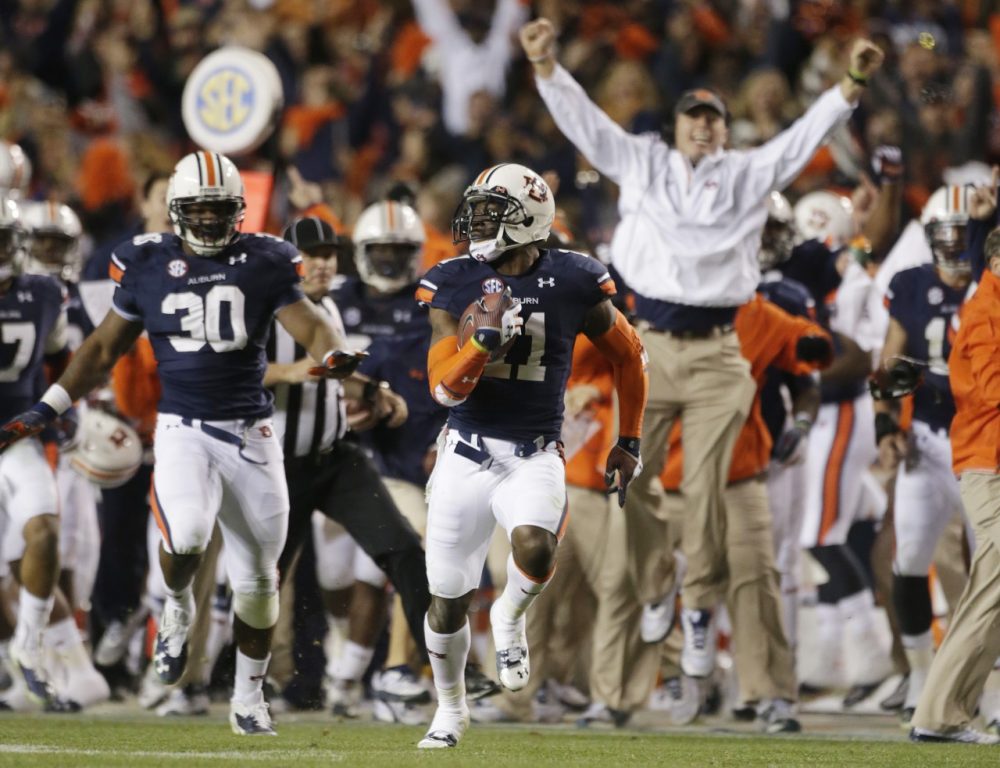 This article is more than 8 years old.
Monday's BCS title game features No. 1 Florida State and No. 2 Auburn. The championship game in Pasadena's Rose Bowl will mark the end of the Bowl Championship Series. Yahoo! Sports national columnist and Only A Game analyst Dan Wetzel joined Bill Littlefield to weigh in on the title game.
BL: Next season a four-team playoff system will prevent the possibility of there ever again being controversy regarding which of the nation's college football teams is the best. Isn't that right?
DW: Sure, why not? No, controversy is what college sports is all about—that and corruption. So we don't want to lose one of our bedrock, cornerstone sentiments.
BL: So corruption will go on?
DW: Corruption will always go on.
BL: All right, we've got No. 1 playing No. 2 this year. I heard a lot of people who pay much more attention to college football than I do say that the BCS got it right. Is this just the sort of the ironic humor the BCS always seems to generate?
DW: The problem with that is, how do you know? It's impossible to know because you have such disparate schedules. It would be like if we sat there right now and said, "Hey, Seattle vs. Denver in the Super Bowl. Let's play it in a month." You could say they got it right, but how do you know New England doesn't travel to Denver and win, or Seattle does lose at home? There's no way to tell.
BL: Now the bowl season began on Dec. 21 way back in 2013. What are the good ones that you've seen so far?
DW: Well, it was a very, very slow bowl season. We had a lot of 6-6 teams. There were not a lot of memorable games until New Year's Eve when Johnny Manziel, college football's party animal, showed up in Atlanta and turned the whole thing on its side. Obviously a great game. Texas A&M, they came back and won.
And New Year's Day was fairly entertaining. There was a terrifically played Rose Bowl between Michigan State and Stanford – I think that was one of the better games. Central Florida had a big upset of Baylor late on that night. And then the day after New Year's Alabama played Oklahoma in a great tradition game, and Oklahoma sprung a huge upset. Also fun for college football fans is watching Nick Saban lose. And so he did lose, and that really rung in the new year for many college football fans.
BL: You mentioned the spectacular performance of Johnny Manziel. Tell us which players we should keep an eye on during Monday's title game and then predict a winner for us.
DW: Well, you can start with the two quarterbacks, obviously. Jameis Winston is the redshirt freshman quarterback from Florida State. He just won the Heisman trophy. He's an incredible athlete, great passer, great runner—everything at Florida State runs through him. Once he took the field, this program just dominated everyone the entire year. There hasn't been a single close game. Nothing's been within three touchdowns. If Florida State wins and if they win big on Monday night this would be one of the single most dominant seasons in the history of college football. They just destroyed everybody they played. So Jameis Winston is the main guy you're going to want to watch. If Auburn can somehow slow this guy down, they've got a chance. If they don't, they have no chance.
Now conversely, I would stick with the quarterback for Auburn, too: Nick Marshall. He's an older player, a senior, but he's very athletic. And they don't throw the ball at Auburn. They run. They kind of run a version, if you can believe this, of the Wing-T where they literally just run, run, run. Marshall may throw the ball eight or 10 times a game, but the way they do it is it's very interesting to watch. They have the timing down. He makes great decisions on whether to hand off or take it himself. That's how they win games, so I would stick with the two quarterbacks as the reason to focus on.
BL: I know you will be in mourning once the BCS is finally history, so I won't call you on Tuesday, OK?
DW: The BCS has been good to me, Bill. I wrote two books about the BCS. The BCS is going to put one of my children through college, so I'm a little sad.
BL: What are you going to have to get angry at if there is no BCS?
DW: Oh, you know me better than that. There's always something. You know the BCS is a little sad to go, but the best part for sportswriters and radio hosts wasn't necessarily the BCS, it was the excuses of why the BCS should exist. That was always the most fun part, like, "We can't change the system because we care so much about the academic development of our players, and this would be too much practice and games." So great things like that are always fun. So the BCS is gone. Next year, I guarantee you when people are sitting there on New Year's Day watching a double-header of, say, Alabama against Ohio State and LSU against Oregon, back-to-back, the winners will play for the title a week or 10 days later, no one will sit there and say, "What about the sanctity of the Beef 'O' Brady's Bowl?"
This segment aired on January 4, 2014.