Glavine, Maddux, Thomas Bound For Hall of Fame
05:59
Play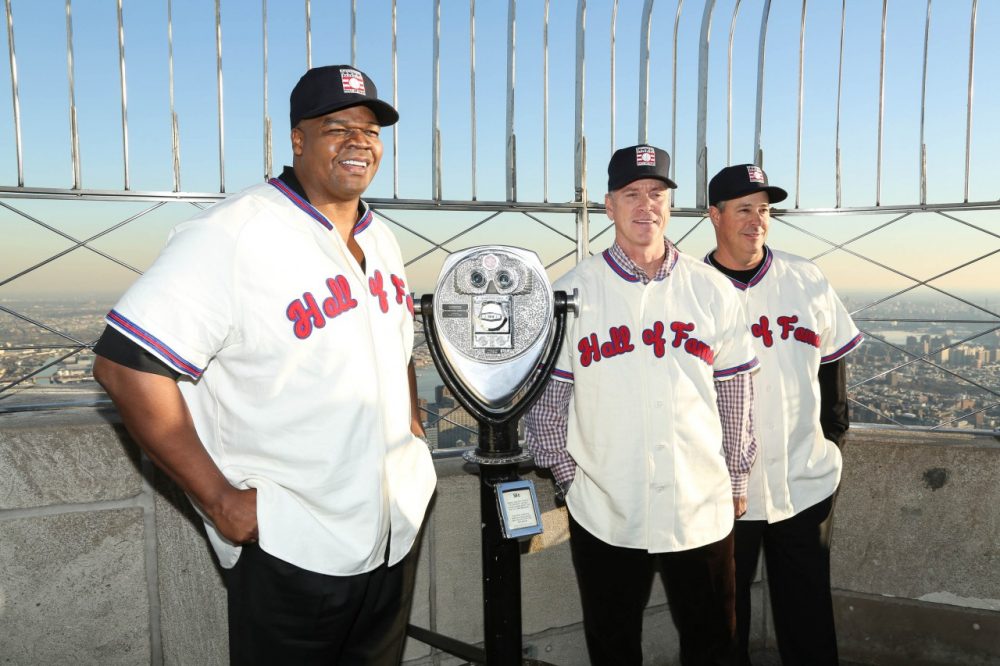 This article is more than 6 years old.
Greg Maddux, Tom Glavine, and Frank Thomas will be inducted into Baseball's Hall of Fame this summer. The results of the annual vote were announced on Wednesday. ESPN's Tim Kurkjian joined Bill Littlefield to discuss the 2014 class and some of the players who came up short in the voting.
BL: Greg Maddux won 355 games. Tom Glavine won 305 games. Is it safe to say each was a lock for election?
[sidebar title="The 2013 'Class'" align="right"]With no living players inducted in 2013, Cooperstown wasn't the same.[/sidebar]TK: Yeah, and they should have been. Greg Maddux, for me, Bill, is one of the six greatest pitchers of all time. He won 15 or more games 17 years in a row. That is a major league record.
He is one of the most durable pitchers ever. He is the smartest pitcher I ever met. Leo Mazzone, his former pitching coach, told me recently Maddux knew how many pitches he threw all the time, and he'd walk off the mound after six innings and go, "Leo, what am I at? 66?" And Leo, who has the counter, goes, "No, you're at 64." And Maddux looked at him and said "No, you missed two of them. It's 66."
That's how it worked with Maddux, and Tom Glavine wasn't far behind. And their win total, combined [for Atlanta], was the most by any teammates, pitchers, since Warren Spahn and Johnny Sain from many years earlier with the Braves.
BL: A player must receive 75 percent of the votes to reach the Hall. Frank Thomas checked in at almost 84 percent. He spent a lot of his career as a designated hitter. Were you surprised at the level of support he got?
TK: Yes. I thought he should be, without doubt, a first-ballot Hall of Famer. But I wasn't sure that the voters — and I'm one of them — would give him any sort of push given the fact that he was a DH for so long. But he was a first baseman, really, for the first eight years of his career, and that's when he just became Jimmie Foxx, reborn. That's how great he was. He's one of the five greatest first baseman of all time, and his OPS — on base [percentage] plus slugging [percentage] — is right there with Stan Musial, which is just impossibly high.
BL: Last year, Craig Biggio, who had over 3,000 hits in his career, got a little over 68 percent of the votes, and he said, "I'll study a little harder and hopefully get 75 percent next time." I guess he didn't study quite hard enough. He missed this time around by, what, two votes? Do you like his chances this time next year?
TK: Yes, he'll make it next year, and this is excruciatingly close. I feel so sorry for him. To me, he's a first-ballot Hall of Famer. He should have gone in last year, not even this year. Not only did he get the 3,000 hits, he had more doubles than Hank Aaron. He had more extra-base hits than Mickey Mantle. He won Gold Gloves at second base, a premium defensive position, and he also caught and played center field. The times he got hit by a pitch, he didn't hit into double plays — with Craig Biggio you have to look at all the numbers, and when you look at them across the board it's a Hall of Fame resume.
He'll make it next year. But, again, it gets tricky next year, Bill, because Randy Johnson's up next year. Pedro Martinez is up next year, and John Smoltz, and Gary Sheffield, a 500-homer guy, so it's not going to be easy to get in next year either, but I think Biggio will.
BL: Roger Clemens, Barry Bonds, Mark McGwire and Sammy Sosa all saw their percentages drop from last year to this year. I was surprised by that. I thought as the years went by more writers would support especially accomplished players, despite the steroid taint. What do you think the dropping numbers mean?
TK: I think it's a really bad sign, especially for Barry Bonds and Roger Clemens, and it reminds me of Mark McGwire's second year on the ballot. I expected Mark McGwire to get a little bit of a spike in that year from guys who decided to punish him on that first ballot who say, "I'm not putting him on the first, but I'll put him on the second," and he went nowhere on that second ballot, and that's precisely what happened to Clemens and Bonds. They're going backward.
Not to mention Rafael Palmeiro who fell so far now he's off the ballot. Sammy Sosa almost off the ballot. It's a sign that the voters are still very, very much against anyone who has any connection to performance enhancing drugs. If you do, you're simply not getting in.
BL: Finally, Tim, did you vote for anyone who didn't make it in this time around?
TK: Yes, I voted for the three fellows who got in. I voted for Clemens and Bonds. I voted for [Jeff] Bagwell and Biggio. I voted for Mike Piazza, Tim Raines, and Jack Morris. This is the third year in a row I voted for the maximum 10. And, Bill, I'm telling you we've got a real problem at the Hall of Fame. I had 21 guys on my ballot who I thought were legitimate Hall of Famers, and I only had room for 10.
And I believe 50 percent of the voters, an overwhelming number, voted for the maximum 10. It is time, Bill, to look at the Hall of Fame voting procedure. And instead of being limited to 10, it's time to be an unlimited ballot for anyone who wants to go more than 10. That's why Craig Biggio didn't get in. That's why Jack Morris didn't get in, ultimately. People had to leave solid, Hall of Fame players off the ballot because there are more than 10 of them now – in my opinion and in the opinion of a lot of other people.
This segment aired on January 11, 2014.