Super Bowl Preview With Gregg Doyel
04:19
Play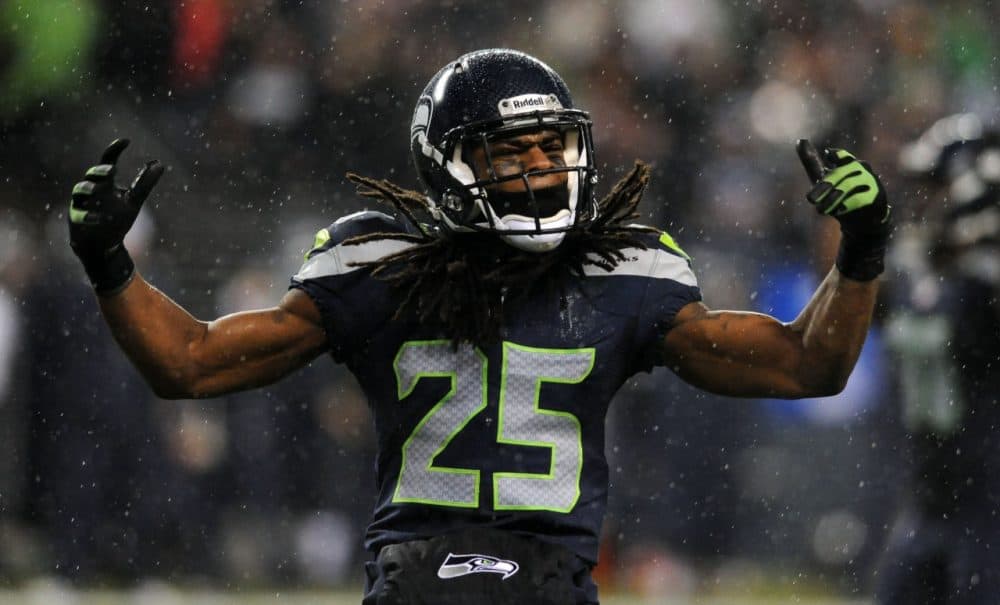 This article is more than 6 years old.
Super Bowl weekend is finally here with the top-rated Seattle Seahawks defense set to face the record-setting offense of the Denver Broncos. CBS Sports national columnist Gregg Doyel joined Bill to talk about the big game. But before they began their conversation, Bill shared a bit of Super Bowl verse:
In Hackensack, Whippany, Ho-Ho-Kus, too
The folks in New Jersey are proud, 'cause it's true
The Super Bowl's there, not in some warmer clime...
East Rutherford's saying, "Hey, it's about time."
BL: Gregg, before we get to your ironclad lock on the winner, please describe the scene in and about MetLife Stadium this week.
GD: You just quoted from Green Eggs and Ham and now you want me to describe the scene? There's no where to go but up from there Bill. That was Dr. Seuss of you.
[sidebar title="Denver and Seattle Share A Long History" align="right"]From 1977 to 2001, the Broncos and Seahawks played in the same division. Only A Game's Doug Tribou looks at the history between the former AFC West rivals.[/sidebar]BL: Thank you. That's the highest compliment anyone can pay me. 
GD: I'll tell you what. It's a sad little scene in New Jersey Everybody's in New York. Nobody's in Jersey because, let's be honest, it's Jersey. And I feel bad even as I make fun of Jersey. I feel bad for Jersey cause the scene in New York is very typical New York, and the scene in Jersey is very typical Jersey. Nothing's changed.
BL: The Seattle Seahawks and the Denver Broncos were the league's best teams during the regular season. Both finished 13-3, so no surprise that each powered through to reach the Super Bowl, right?
GD: I mean, you look at this now, and these are the best two teams, and now it's obvious. But I remember thinking, heck I remember telling you I think two months ago, this will not be a chalk postseason because there are no great teams in the NFL this year. There are about seven or eight really good ones and that's it. And these are two of the really good ones, but now that they're here: Peyton Manning record-setting guy. Richard Sherman picks off passes and the Seahawks have a great defense. These are the two we need to see, yes.
BL: General opinion seems to be that the Broncos have a stronger offense, the Seahawks a better defense. Is that perhaps an oversimplification?
The Seahawks didn't set records on defense because this is not the era for anyone to set records on defense. But they were far and away the best defense in the NFL.

Gregg Doyel, CBS Sports columnist
The Seahawks didn't set records on defense 'cause this is not the era for anyone to set records on defense. But they were far and away the best defense in the NFL. It's a really compelling matchup. The difference is Denver's defense is not so great. It's ok, but it's not great. Seattle's offense is very good. So, if Denver's offense and Seattle's defense go to a stalemate, the edge might go to the Seattle offense.
BL: Denver quarterback Peyton Manning has already won the Super Bowl once during his 16-year career. Does he need to win again on Sunday for purists to really feel like he is one of the very best quarterbacks in NFL history?
GD: One of the very best no. Because he is one of the very best. Period. End of story. Even if they didn't get to the Super Bowl this year he'd one of the very best. But, he's playing for more than that. He could be the best of all time. And he might be. Whatever happens Sunday really doesn't matter.
He might be the best of all time, but having said that, ... if you're the quarterback of a Super Bowl team and your record in the Super Bowl is 1-2, you can't be the greatest of all time. Look, we've got a lot of guys that've been in the Super Bowl — great quarterbacks — and won. And certainly won more than they've lost. If Peyton Manning is 1-2, his legacy will always be one of the greats, but I don't think he can be one of the best ever with that note.
BL: Alright, I think it's time for you to justify your enormous public radio honorarium at this point. Who wins the Super Bowl XLVIII?
GD: That's a lot of "I's!"
BL: There'll never be any more! That is the maximum.
GD: You know, I can't believe we survived Super Bowl XXX. I can't believe we got past triple-X. For a week, I've been thinking Seattle's going to win this game because it's outdoors, it's cold, and that will affect Peyton Manning. Well, first of all, it's not going to snow. It's not going to be very windy. It's not going to be that cold, and Peyton Manning now wears a glove and is good in that glove. Denver's going to score a lot of points. Denver's going to win this game.
This segment aired on February 1, 2014.