New Developments In Dolphins' Bullying Scandal
04:19
Play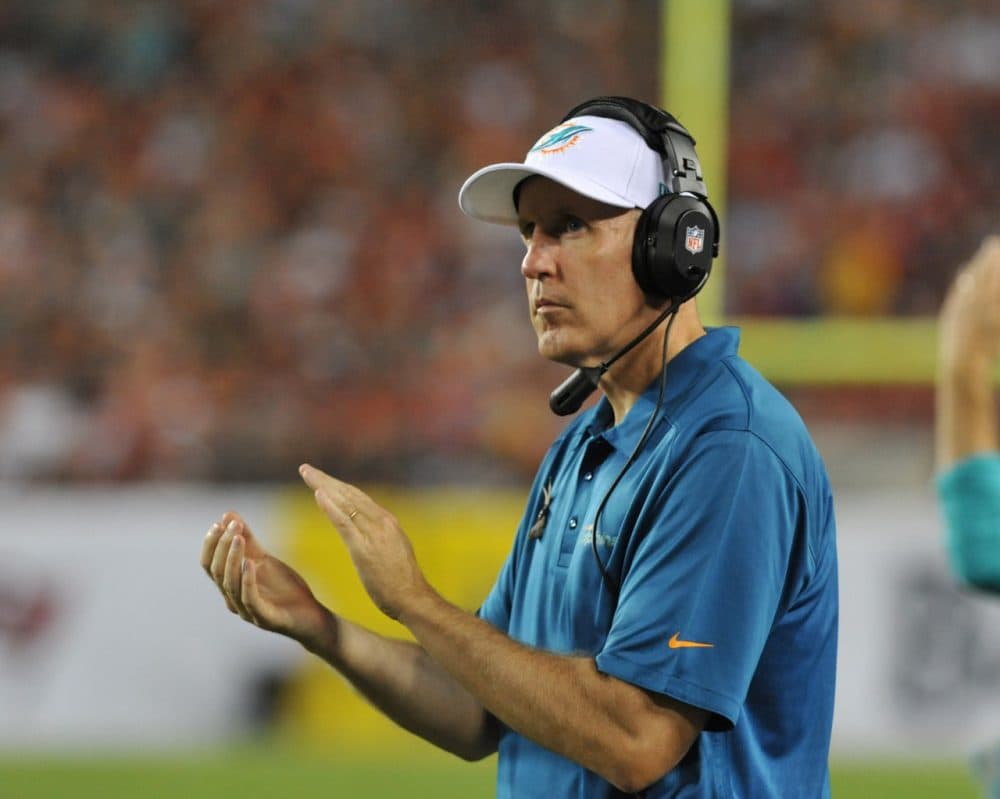 This article is more than 6 years old.
On Thursday, Miami Dolphins Head Coach Joe Philbin told the media how he intended to address "inappropriate and unacceptable behavior" among the members of his team.
"I'm going to be more vigilant," he said. "I'm going to be more diligent. I'm going to be more visible, and I'm going to have a better pulse."
Philbin was reacting to a report submitted by independent investigator Ted Wells, who found "a pattern of harassment" involving not only players but an assistant coach. Adam Beasley, who has been following this story for the Miami Herald, joined Bill to weigh in on the new developments.
BL: Adam, the nearly 150-page report was released more than a week ago. What did Mr. Wells turn up beyond what we already knew about Richie Incognito's bullying of his teammate Jonathan Martin?
AB: Well it was certainly not an isolated incident. This is something that had been going on in the locker room for some time. There were multiple people bullied — other players, even an assistant trainer — and it was kind of a culture in the Dolphins locker room that needed to change. They've since made some significant moves. They fired Jim Turner, their offensive line coach. They fired Kevin O'Neill, their head trainer whose been in the league for decades. He's a respected guy in football. But he wasn't cooperative with Ted Wells in the investigation and so he had to go. So there've certainly been some shoes to drop and they're more to go.
BL: In the story you wrote for Thursday's Herald you characterized the Miami locker room as toxic. Is it more toxic than any NFL locker room is likely to be?

AB: Yes, absolutely. Obviously, every locker room has coarse language and rowdy behavior, but what was detailed in Ted Wells report was beyond pale. It was systemic. It was repeated, and it was very personal, the attacks. Yes, you have to have thick skin to be in an NFL locker room, but there also has to be some sense of brotherhood. You have to feel like you are in it together. When you are going out of your way to demean your teammates, literally bringing them to tears, that is unusual and certainly a disturbing trend.
BL: Here's more from Coach Philbin Thursday:
"I did not know about it when it was going on, no. The majority of things I did not know about when it was going on, no. If I had heard this type of language or these type of acts being done, I would have intervened immediately."
On Wednesday, as you said, the team fired offensive line coach Jim Turner and team trainer Kevin O'Neill for their roles in the scandal. Given that, does it seem credible to you that a head coach could have been oblivious to this level of harassment and bullying?
[sidebar title="More about Miami" align="right"] Slate's Josh Levin joined Bill Littlefield in November to discuss the Dolphins' bullying scandal [/sidebar]AB: The Dolphins insist he was. Ted Wells was convinced that he was oblivious. It tells you one of two things. A — he completely had his eyes closed and ears closed and was out of the loop in the locker room. Or B — there's more to the story that we don't know. But certainly all evidence shows that he just was oblivious. And that in itself is a pretty damning indictment. He just did not have a pulse to the locker room, and it's cost his team a lot of credibility about it.
BL: Let's assume that Coach Philbin is able to change the culture of the Dolphins and let's assume that next year Miami finishes 8-8 again and fails to make the playoffs. Would improving the culture of the locker room alone save his job?
AB: No. No, if they go 8-8 again and miss the playoffs in all likelihood you'll be looking at a new coach in 2015.
BL: Johnathan Martin left the Dolphins in the middle of the season. Philbin said on Thursday that Martin would be meeting with the Dolphins owner Steve Ross shortly. What's the likelihood that Martin will play again for the Dolphins or anywhere in the NFL?
AB: For the Dolphins, very slim likelihood. Somewhere else, there's a decent chance. Problem with Johnathan Martin [is] he's got two strikes against him. One, obviously he's has to trust people around the league. There's a certain segment of NFL players who see him as a snitch, and that's going to be hard for him to overcome. The hardest thing for him to overcome is that he wasn't particularly good at his job before he left his team. He allowed seven sacks in the first seven games of the season. He struggled at left tackle. He struggled at right tackle. That is probably working against him more than anything else.
BL: Finally, going forward, will what's been publicized about the culture of the Dolphins locker room — the so-called "Bullygate" scandal — have any impact on the NFL at large?
AB: Yes, Roger Goodell has spoken at length about trying to set a new code of contact that's going to be league-wide. My guess in the next two to three months you're going to see that codify. You're going to see that official. I'm curious to see what the punishment mechanism will be. Will there be fines or will there be an actual suspension? If players violate it, it's got to have some teeth because there are some deeply entrenched traditions in the NFL of how behavior in the locker room is. Certainly not to the extreme they had in Miami, but he's going to run into some resistance for sure if he tries to regulate all speech in the locker room.
This segment aired on February 22, 2014.