Wichita State: Do They Deserve To Be No. 1?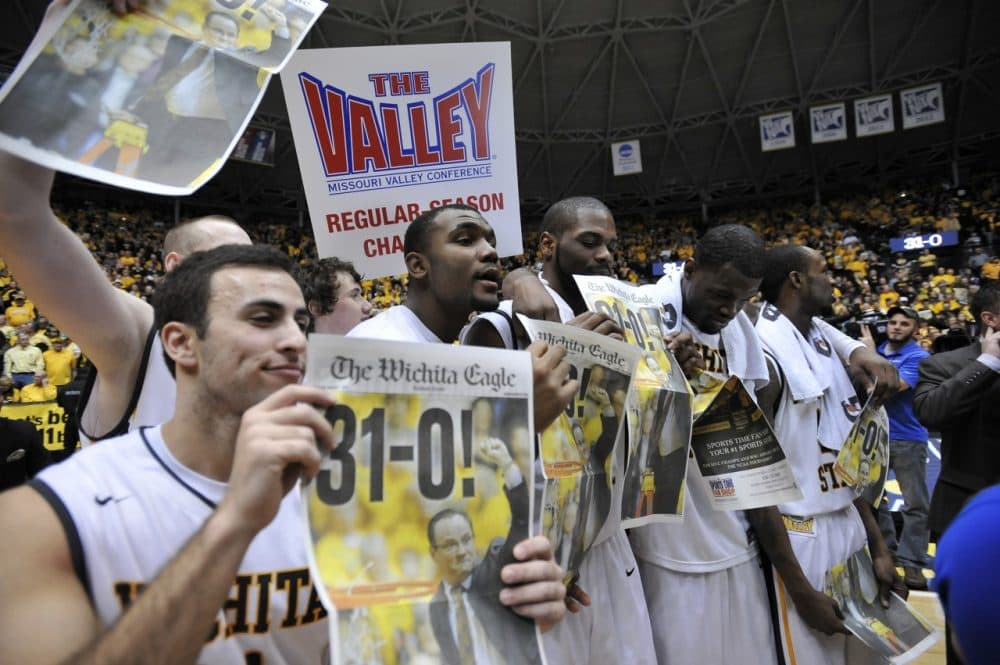 This article is more than 7 years old.
On Saturday, Wichita State became the first men's Division I basketball team to go undefeated in the regular season since St. Joseph's in 2003-2004. College basketball seasons have gotten longer, making the team the first to go into the postseason at 31-0.
The Shockers had been optimistic about their prospects since they first saw their regular season schedule.
Sophomore Fred VanVleet told ESPN, "There was a moment before the season, looking at the schedule, saying, 'Man, I don't think we'll lose any of these games.' But we still have more games to play. And we won't celebrate how we should until we play our last, final game."
The Shockers are heading into the Missouri Valley Conference Tournament. But is their regular season performance good enough for this mid-major team to be named the No. 1 overall seed in the NCAA tournament?
[sidebar title="Wichita State's Baker Has Small Kansas Town Buzzing" align="right"]Last week, we visited Shocker star Ron Baker's hometown fans.[/sidebar]
There is some debate.
Ben Cohen of the Wall Street Journal asked Las Vegas oddsmakers Bovada to predict the point spreads the Shockers might face during the NCAA tournament. Even with their pristine regular season, Wichita State is still viewed as an underdog. Bovada's No. 1 Florida, with a regular season record of 28-2, had a 4-point favor over the No. 11 Shockers. Arizona, Duke, Virginia, Kansas and Wisconsin were all favored over the Shockers, too. Wichita State was predicted to have an edge over No. 5 Villanova, Syracuse and Michigan.
Some people argue that the Shockers don't have a strong strength of schedule.
SBNation's Andy Hutchins wrote, "Frankly, the most important reason Wichita State played such an 'easy' non-conference schedule should be obvious: No sane basketball blue-blood would schedule the Shockers this offseason."
Mike Decourcy of Sporting News says that the Shockers schedule is not an excuse when you look at the history of other team in their position. Charlotte was in the same position last year, but they finished their season 21-11. In 2004, Southern Illinois did better at 25-4, but no one with a similarly ranked schedule has done what Wichita State has done this year.
The last time a team made it to the NCAA tournament with a perfect record was UNLV in 1991. The Shockers are five wins away from that. They begin the Missouri Valley Conference Tournament on Friday, March 7.