Sporting KC Hopes For MLS Repeat
04:09
Play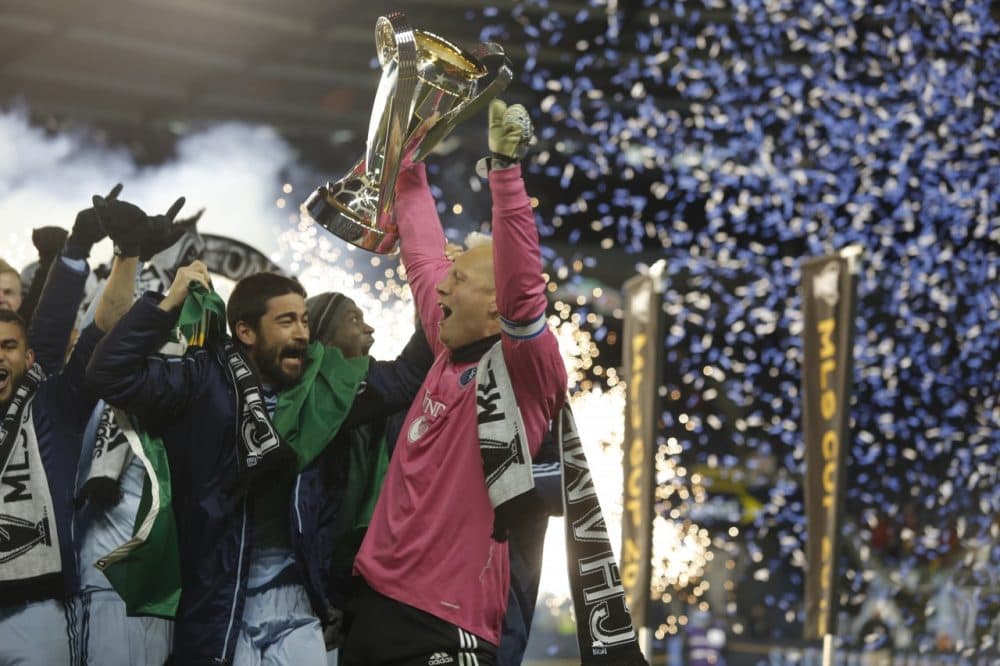 This article is more than 7 years old.
The Major League Soccer season gets underway this weekend. Sporting Kansas City will be trying to defend the title they won last season, and Sam McDowell of the Kansas City Star has been speculating about their chances. He joined Bill to discuss their prospects.
BL: Sporting KC's Eastern Conference rivals have made some big offseason moves. Toronto acquired Michael Bradley and Jermain Defoe. D.C. United signed Eddie Johnson and several other potentially significant contributors. Sporting KC has not made such moves. Why not?
SM: When you look at their lineup they return pretty much the entire team they had back from last year. Twenty-four players return from the team that won the cup which equates to about 96 percent of their on-the-field men outside of their goalkeeper minutes. Obviously, they lost Jimmy Nielsen, their captain, and that's the big loss.
But they think they have somebody capable there in Eric Kronberg. So they didn't really feel like they needed to make that splash move. They like the core guys that they have. Having them back for a second straight year they feel like their chemistry is kind of their addition to that team.
BL: Oddly enough, though Kansas City grabbed the championship last season, they won just a little over half of their home games. What's been the matter with Sporting Park?
SM: Well, I think that that's going to be an emphasis this year. Their CEO/owner Robb Heineman got on them last year for how many games they lost at home. They lost five games at home and then they tied four more, so it's not exactly what you envision because [this week] MLSsoccer.com had a poll of managers and they agreed Sporting Park was the toughest place to play. But the record at least last year didn't show it. So I think this year that's going to be a big emphasis. Trying to get back to making that such an intimidating place for opponents.
BL: Does it fill up? Is fan presence a variable there?
SM: Oh yeah, it's sold out. I think the streak is at 36-straight MLS matches now.
BL: Kansas City has not exactly been the city of champions lately with regard to baseball or football. But what you're saying leads me to think the fans there do embrace Sporting KC with their MLS title.
SM: Yeah, absolutely. The re-branding since the new ownership [took over], and they've gone from the old Wizards when they used to play at Arrowhead Stadium, which is home of the Chiefs and not many came to those games. And getting Sporting Park was the big key in all that re-branding. It's a great place to see a game. The fans recognize that. And it's sort of the thing where success breeds success. You go out to a game and it's a great crowd and you want to come back. And that's whats happened there at Sporting Park.
BL: Most of the prognosticators have Kansas City at or near the top in the East. But several of them feel a team from the West — Portland or Seattle, perhaps — will win the championship this time around. What's your best guess?
SM: Well, you know, Portland and Seattle obviously made a lot of moves. Seattle bringing in Clint Dempsey is a major move. Then you've got teams in the East that made the moves you talked about. Toronto brings in $100 million worth of moves.  D.C. United makes a lot of moves and then New York is sort of in the same situation as Sporting Kansas City last year — they didn't make very many moves, but they didn't lose a whole lot from a team that won the Supporters' Shield.
So I think those teams I just mentioned are all going to be battling, and the MLS playoffs are sort of a crap-shoot. It's been a while since the Supporters' Shield winner also won the MLS Cup. So it's sort of like before the season starting predicting a March Madness winner of the NCAA tournament. You can say who you like, but is that team really going to be a favorite?
This segment aired on March 8, 2014.