No. 339 Bowditch Wins First PGA Tour Event
04:20
Play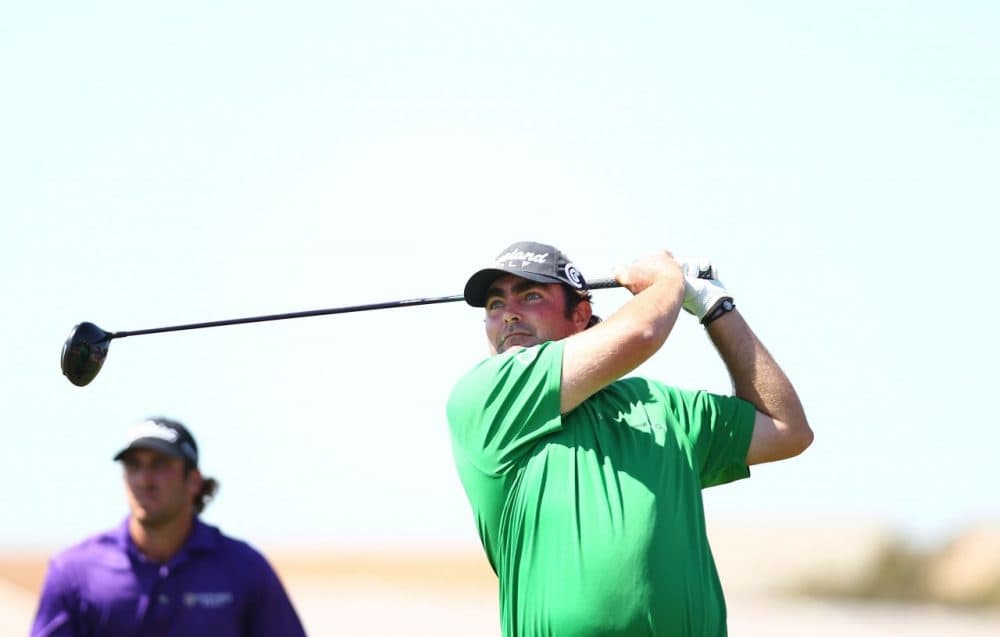 This article is more than 6 years old.
In order to win a PGA tournament with a bogey on the final hole you have to have built up a bit of a lead. Steven Bowditch, 30, won his first PGA tour event — last week's Texas Open — in just that way. That wouldn't be so unusual if Bowditch hadn't come into the tournament ranked No. 339 in the world.
Bowditch's career has been characterized by ups and downs that have included a well-publicized struggle with depression. The Australian golfer joined Bill Littlefield to discuss his story.
---
BL: Steven, congratulations. I presume by now that you've cashed the $1,116,000 check?
SB: Yes sir. I actually looked into my bank account this morning and saw there were a few extra zeros there which was a nice surprise.
[sidebar title="Golf Course Hazard" width="330" align="right"]Can a golf club cause a wildfire? Yes, says a study from UC Irvine.[/sidebar]BL: You went into the Texas Open ranked No. 339 in the world, so you weren't exactly a favorite. Tell us a little about how it felt to finish on top in Texas?
SB: It was wonderful. It's definitely a dream to be able to play out here on tour, and now to have a win is unbelievable. It was a struggle for the weekend, but it was fun and exciting and a great thrill. I'm just so happy to be able to get it done.
BL: I understand that as you were making your way through the final round on Sunday with the lead, you found yourself thinking about the upcoming Masters tournament in Augusta. You knew, of course, that winning in Texas would be your Masters entre. That must have been a distraction from the business at hand. How did you handle it?
SB: It wasn't just that day. I'd sort of been thinking about it. The first time it popped into my head was after Friday when I had the lead going into Saturday. You sort of embrace the thoughts and just sort of keep working through them. Acknowledge they're there and hopefully come out the other side.
BL: Well you did. Congratulations on that. That's terrific.
SB: Thank you.
BL: You have spoken before about suffering from clinical depression. Symptoms included terrible headaches and the inability to concentrate on anything, including golf. How did you begin to get relief from those symptoms?
SB: You know I'm grateful that this is what I've dealt with. It's a part of my past, a part of my present, and it's going to be a part of my future. I'm just grateful that it's made me into the person I am now. You know, it's a very personal and private sort of matter, and you know I'm just grateful that it's who I am — a part of me.
[sidebar title="Golf Icon Gary Player" width="330" align="right"]Legendary golfer Gary Player joined us to discuss the death of the "Eisenhower Tree" at Augusta National.[/sidebar]BL: Fellow Australians Jason Day and John Senden have also won PGA tour events this year, giving Australians three victories in five weeks. Next week Australian Adam Scott will attempt to defend his 2013 Masters win. What's up with the men from Down Under?
SB: Yeah, I'm not sure. I guess what Adam Scott and Jason Day have done for Australian golf in the last couple of years has been unbelievable and gives us maybe a little more pep in our step and a little bit more drive trying to keep up with them.
BL: We've mentioned, of course, that this was your first PGA tour win, but you have been successful at other levels of golf. Tell me a little bit about the difference between winning on the tour and some of the winning that you've previously done.
SB: I've been lucky enough to hold up a few trophies. You know, but there's nothing quite like the feeling I had on Sunday. When it's happened before I've sort of been nervous on maybe one or two holes on Sunday and then sort of settled down and then maybe coming in on the last couple of holes, but this was a completely different animal. I was nervous from the moment I woke up Sunday morning and all day it never settled for me, which is kind of a good thing in a way.
When I got to the final few holes and after I had a lay down on that one hole and sort of gathered my thoughts and really thought about what's going on and what I needed to do because I'd been nervous all day, it didn't really change. It never changed. So there was no real spike in my emotions or blood levels or anything like that, so [I] got through it pretty good.
BL: You're going to have to help me with "lay down." What did that mean?
SB: On the 15th hole, I just lay down on the ground and sat there for a couple of minutes while I was waiting for my other playing competitors.
BL: Sounds like a splendid way to psych out the opposition. You're so relaxed you could go to sleep on the fairway.
SB: It might have looked like that, but I wasn't thinking that way.
This segment aired on April 5, 2014.