After Fast Start, Indiana Loses Its Pace
04:03
Play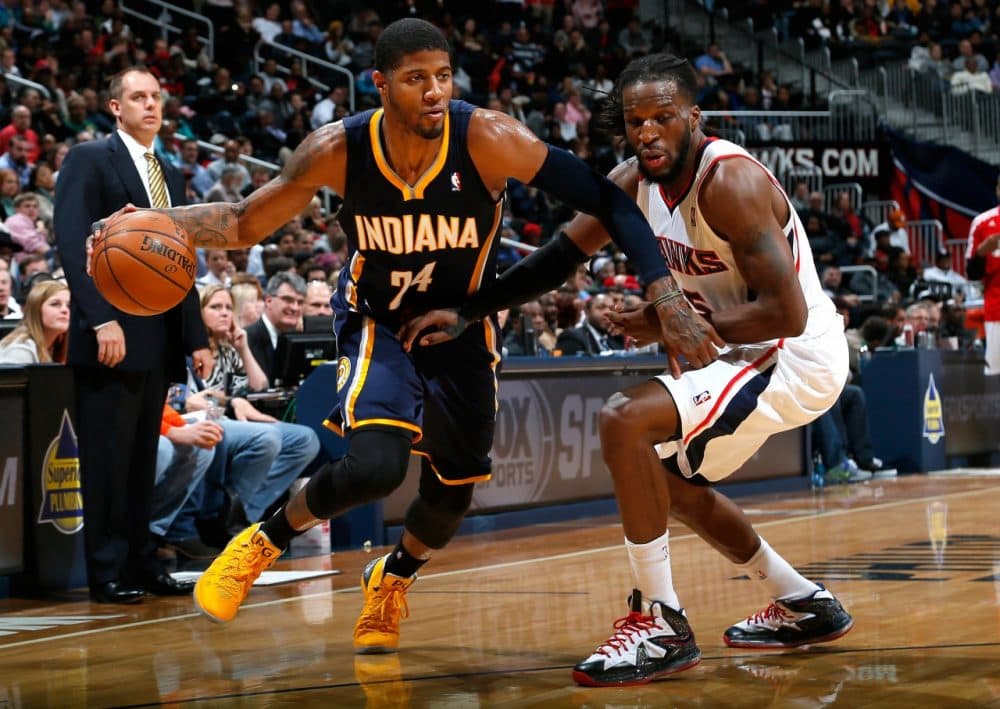 This article is more than 5 years old.
After a very strong start to their season and talk of championship contention, the Indiana Pacers have recently been losing twice for every win. This is not a good time for that because the NBA regular season ends on Wednesday. Bob Kravitz of the Indianapolis Star joined Bill Littlefield to discuss the rapidly decelerating Pacers.
---
BL: As you mention in your column of April 9, the Pacers have said all year that being the Eastern Conference's No. 1 seed is their No. 1 priority. Now head coach Frank Vogel is saying that the goal is simply to play well. Why the sudden shift?
BK: Well because they've been awful. A lot of guys are struggling. Their star player Paul George has not been very good the past 30 games. A lot of guys are in shooting slumps. Right now the priority by Frank Vogel's estimation, "If we get No. 1 great. If we get No. 2 that's fine too as long as we're rested and playing well going into the playoffs." But it's desperate times desperate measures around here in Indianapolis.
BL: Normally resting players toward the end of the season might make sense, but the Pacers have a young roster. Are they really tired?
BK: That's what they say. Quite honestly I think that's a default explanation from a bunch of guys who don't really have any answers. That's something of a cop out. I'm getting fatigued just listening to them talk about fatigue, and there are issues that are much greater than that. I just don't think they handled stardom particularly well, especially Paul George.
BL: In February, the Pacers traded forward Danny Granger to Philadelphia for guard Evan Turner and forward Lavoy Allen. Before the trade the Pacers were 41-13. They've played .500 basketball since. Is that trade the reason for the Pacers' poor play?
BK: I don't think that it is. First of all, they struggled the two weeks before the Danny Granger trade. Certainly Granger was a veteran. It did change the chemistry of the locker room a little bit, and Evan Turner has struggled, but if that's what sent you reeling, then you've got bigger problems than you're willing to acknowledge.
BL: The defending champion Miami Heat haven't exactly been world beaters this season. Despite the Pacers' recent slide, shouldn't this still be seen as a golden opportunity for Indiana?
BK: Well absolutely, but if you look at it objectively the way the league lines up right now, the No. 2 seed is probably the easier way to get to the Eastern Conference Finals than the No. 1 seed. But I don't think they're tanking in an effort to get the No. 2. It just kind of looks that way.
BL: There's a memorable scene in It's a Wonderful Life in which the very rich Old Man Potter offers the not-so-rich George Bailey a job with a handsome salary. Bailey turns it down and Potter asks him if he's afraid of success. Are the Pacers the George Baileys of the NBA?
BK: They might be. I don't know if they're afraid of success as much as they were ill-equipped to handle success. All of a sudden they are doing Gatorade ads and GQ cover shoots. And they're the toast of the NBA. If you look at the Oklahoma City Thunder, they're no younger than the Pacers and they've been able to maintain even when they've been the toast of the NBA.
BL: I want to end this conversation on an up note if I can, Bob. Indiana has clinched a playoff spot and still has a chance to earn the best record in the Eastern Conference. Maybe all these alarm bells are going off too early?
BK: It's possible, but this has been going on for 38 to 40 games. I don't know how they're going to sort of flip the switch and suddenly start playing well in the playoffs. But I've been wrong before, but not often.
This segment aired on April 12, 2014.