'Eight World Cups' Finds Missteps And Joy In Soccer's Grand Tournament
08:22
Play
This article is more than 5 years old.
The World Cup is set to unfold in Rio De Janeiro, amidst the hope of South America's largest nation and numerous controversies. That won't stop fans from all over the globe making their worldwide treks, as millions do every four years.
One of those fans is New York Times columnist and author George Vecsey. Though he won't be attending this year's Cup, Vecsey has seen enough for several lifetimes. He witnessed the prime of Diego Maradona, was present when the U.S. women's team won it all in the Rose Bowl, and has been a part of countless World Cup moments in between. In Eight World Cups: My Journey through the Beauty and Dark Side of Soccer, he chronicles past World Cups and national teams, and shows a knack for reporting on those responsible for controversy.
Vecsey joined Bill Littlefield on Only A Game.
---
Highlights from Bill's Conversation with George Vecsey
BL: You've written that the World Cup "offers a glimpse into the tortured soul of the host nation." It's a wonderful phrase, when and where did that first occur to you?
GV: Certainly in Spain in 1982. I never saw the Spanish team play, but I was in Barcelona the night that Spain got knocked out of their group – they didn't get enough points, so they were out. Everything was quiet, the whole country. People were just stunned. And I've seen it in other places – Mexico, when Hugo Sanchez missed the penalty kick against Paraguay – the country just got quiet. And as soon as Mexico was eliminated, locals didn't care anymore. Their country was now just being rented out for a television studio.
BL: Among the elements of what the subtitle of your book refers to as the "dark side of soccer" is the greed of FIFA, and as recently reported by the Times of London, FIFA's choice of Qatar as the site of the 2022 World Cup was apparently characterized by bribery. Do you think the decision to hold the event there will hold? Or will they say, "Okay, we need to hold another election?"
GV: It's a very tricky geopolitical decision. To take the World Cup away unilaterally and say, "You guys cheated, you can't have it, we're having another vote, we're going to give it to a first-world country with stadiums already built," that would have severe ramifications. The people in Qatar wouldn't like it, and all you need to do is look at the front pages of the papers these days, these hours and see that Qatar is our new best friend, and in the swap of people for our American soldier – it's in the news all the time. So Qatar is one thing, but beyond that, the United States does not want to be the recipient of a World Cup taken away from an Islamic nation. That's for sure.
BL: You didn't limit your book to the men's World Cups that you've attended. In terms of the impact on the host country, how is the women's World Cup differed from its male counterpart?
GV: Well, thank you very much for noticing that, it was very important for me to do that. I certainly didn't have to sell the editors on it, they understood what I was saying and doing. But the American women – they got their early Title IX – American women were in the forefront of women's soccer. We also benefitted from one of the most charismatic and talented American teams; for them to be so good that they were, to go out and win a World Cup, win an Olympics with people like Mia Hamm and Julie Foudy and Briana Scurry, Michelle Akers – I mean, I could go on 10, 12, 15 names of players from that era. What a wonderful time that was.
So to have that as an example, I mean, not that the American men play better or play harder because of the example of the women, but certainly the American public has a sense of how good those women were, how much they remain icons on the American scene to this day. I mean Foudy's around, she's going to be broadcasting for ESPN. Mia Hamm is like, in a way a goddess. And there's Michelle Akers, the greatest female soccer player I've ever seen, and people forget about her in a way because she's so quiet and gentle. But on the field she was vicious and huge.
---
Bill's Thoughts On Eight World Cups: My Journey Through the Beauty and Dark Side of Soccer
[sidebar title="An Excerpt From 'Eight World Cups'" width="330" align="right"]Read an excerpt from George Vecsey's Eight World Cups: My Journey through the Beauty and Dark Side of Soccer.[/sidebar]Early in Eight World Cups, in the chapter titled "The Making of a Fan," George Vecsey speculates on the "antipathy or fear" that lots of U.S. sports fans, commentators, and "television comedians" have historically felt toward soccer. He posits that perhaps it has something to do with the distrust some people in this country have of "foreign languages, foreign influences."
Vecsey himself is free of such biases. Wherever he goes to attend the World Cup – Spain, France, South Africa – he embraces the culture and has a wonderful time. He is also an energetic and enthusiastic learner, and he's happy to have had the opportunity to discover the game the rest of the world has embraced. His energy and enthusiasm inform his writing, and his readers are the beneficiaries.
This is not to suggest that Vecsey doesn't see the game's warts. He laments "the hamster wheel of soccer" that beats up the players. He recognizes the World Cup as "a ruinous dance" in terms of how it can bankrupt host countries and dispossess their poorest and least fortunate citizens in the interests of cleaning up for visitors and providing rich developers with the opportunity to get richer. He understands why angry crowds in Brazil have identified FIFA President Sepp Blatter as "the epitome of Brazil's colonization."
As any number of journalists have discovered, the World Cup is a complicated phenomenon: a great party; an opportunity for an audience of billions to be inspired by some of the world's most exceptional athletes; a preposterously expensive land grab bound to further impoverish the people least able to tolerate the insult. George Vecsey writes about it with more joy, wisdom, and compassion than the rest of them.
This segment aired on June 7, 2014.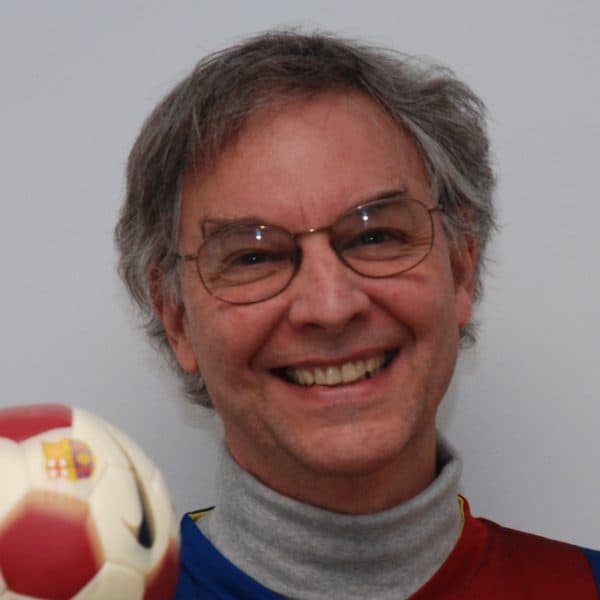 Bill Littlefield Host, Only A Game
Bill Littlefield was the host of Only A Game from 1993 until 2018.