The NBA's Disappointing History Of Finals Rematches
03:09
Play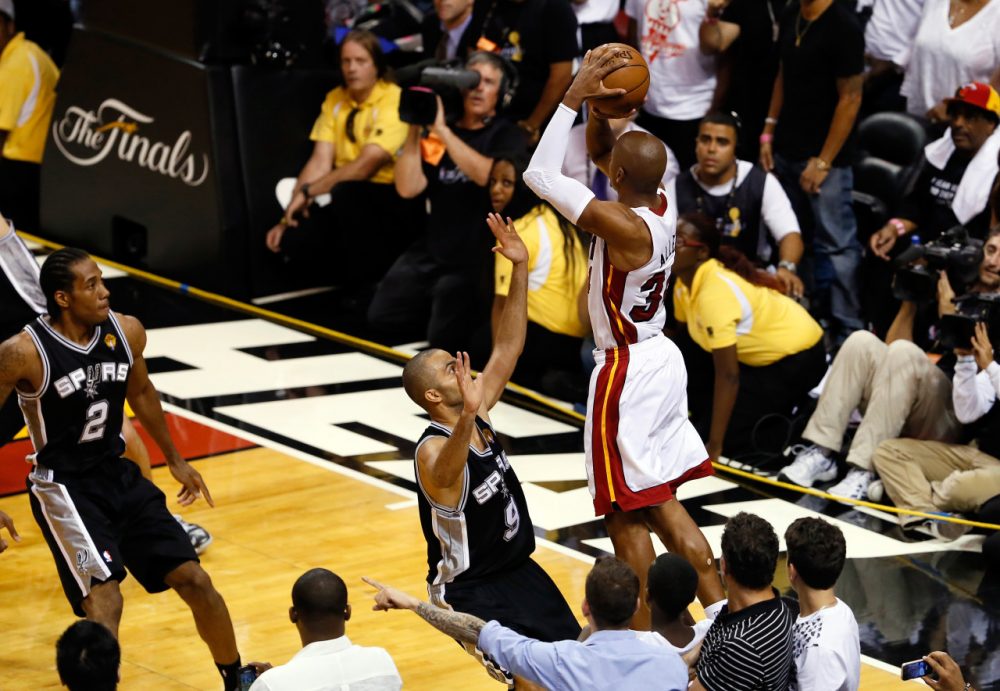 This article is more than 6 years old.
On Thursday San Antonio took a 1-0 lead in the NBA Finals rematch between the Spurs and the Miami Heat. Last year when these same two teams met in the finals, it took seven games to decide a champion, and lots of NBA fans are probably anticipating another tight series. But the Wall Street Journal's Chris Herring says fans, perhaps, shouldn't get their hopes up.
Herring joined Bill Littlefield on Only A Game.
BL: Chris, why is that?
[sidebar title="David Robinson On OAG" width="330" align="right"]David Robinson discusses his Hall of Fame career and tells us why he likes the Spurs to beat the Heat. [/sidebar]CH: Well, historically this makes the 13th time that two teams have met in back-to-back finals. But in the prior 12, there's never been a situation where it went seven games in the first series and then went seven games again in the second series.
And actually, of those 12 times, it's only been twice that the rematch had more games in it than the first meeting between the two teams. So, normally the second series has not turned out to be as good as the first ... and I think that's kind of what I'm expecting here as well.
BL: Is this pure chance or is there some explanation for the result you've found?
CH: I think a big part of it is chance. But I think there's something to be said for the fact that the teams are so familiar with each other as well — that the games just don't tend to be as close. The series normally gets resolved before you make it to a seventh game.
BL: Do you have any sense about how the players feel about facing the same opponent in the finals in consecutive years?
CH: There's no question that the Spurs like it. Miami, in this particular case, they might have wanted the Spurs as well because they have faced some criticism that they kind of were lucky to win last year based on how Game 6 played out. That said, I think Miami is just more focused on their own legacy at this point — a chance to win a third straight title. It's only happened a couple times in league history. So I think it's probably more important to the Spurs that they got a matchup again with Miami than it is for Miami that they got a matchup with the Spurs.
BL: Do you suppose this will be the year we buck the trend that you've discovered and see another seven-game series or are the Spurs going to run away with this in, oh, four or five games?
CH: Well, we'll see. The Spurs have home-court advantage, and so the fact that they've won the first game and now that they've got three more games left at home after that too you would think helps them. So I think it could go seven games because the teams are so evenly matched, but I won't be surprised in either case.
BL: You know, you brought up that first game. I guess I wasn't entirely surprised that the air conditioning wasn't working in San Antonio's building. You know, mechanical systems occasionally break down, but it is curious that they manged to have it break down in such a way that only the most important Miami player was affected.
CH: Yeah, I think we were all kind of caught off guard by that. You know, the thing is, LeBron has a history of cramping. He's played more games than anyone over the last four or five years with all these finals runs that the Heat have made and then you factor in that he played in the Olympics and everything else. But it was really interesting that only one guy went down, and it was LeBron.
This segment aired on June 7, 2014.