An Ode To The World Cup
02:19
Play
This article is more than 5 years old.
The World Cup begins today when Brazil, which has never failed to qualify for the tournament, hosts Croatia. Bill Littlefield has some thoughts on the spectacle that will occupy soccer fans for the next month.
It's very likely that Brazil,
Green-and-yellow-clad will thrill
All the world, or much of same,
With their beautifully played game.
[sidebar title="Rhymes With Bill" width="630" align="right"] Read more of Bill Littlefield's poetic works.[/sidebar]In all the World Cup's mighty days
No team has garnered quite the praise
That brave Brazil may never yield,
Having never missed the field.
Germany can't be dismissed,
Spain, for years unfairly dissed,
Motivated to defend,
May be poised to early end
Holland's orangely glowing hope.
Argentina need not mope.
They, like lots of others, can
Prove too nimble for Iran.
U.S. fans might almost wanna
Play some other team than Ghana,
'Til they look around and see
That Portugal and Germany
Are the other sides they'll face
Trying to earn sought-after space
In the round of sixteen teams
Still entitled to their dreams
After group play has concluded.
Are U.S. fans all deluded
To assume they have a chance
To beat the odds and then advance?
I've not mentioned those who swoon
Over lowly Cameroon,
Or whether Belgium will prevail
In their group. It's rather pale,
When considered with Group D.
Surely there can never be
Assembled elsewhere tougher sides…
Uruguay therein resides
As do England, Italy,
And Costa Rica, so, you see,
The U.S. may have caught a break.
Their road is hard, for goodness sake,
But group of death? It's not my pick.
This nation's group is only sick.
This global party has a cost,
A fact unlikely to be lost
Amid the whoops and cheers and hollers
Who could lose twelve billion dollars?
Brazil's the answer to that query
And the country will be weary
For the costliest Cup yet
Will leave behind a mighty debt.
For that Brazilians all can thank
Sepp Blatter, laughing in the bank,
Where he deposits FIFA's share…
Four billion-plus, for those who care.
Perhaps a future day will see
A World Cup that is somehow free
Of FIFA calling every shot…
For this one certainly is not.
Of such a day can soccer dream,
As fans yearn for a perfect team.
This segment aired on June 11, 2014.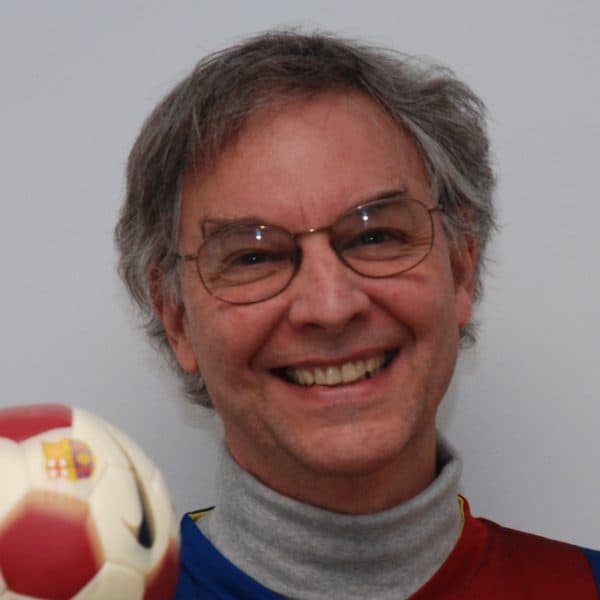 Bill Littlefield Host, Only A Game
Bill Littlefield was the host of Only A Game from 1993 until 2018.