Shabazz Napier, LeBron, Carmelo And The Already-Crazy NBA Offseason
06:37
Play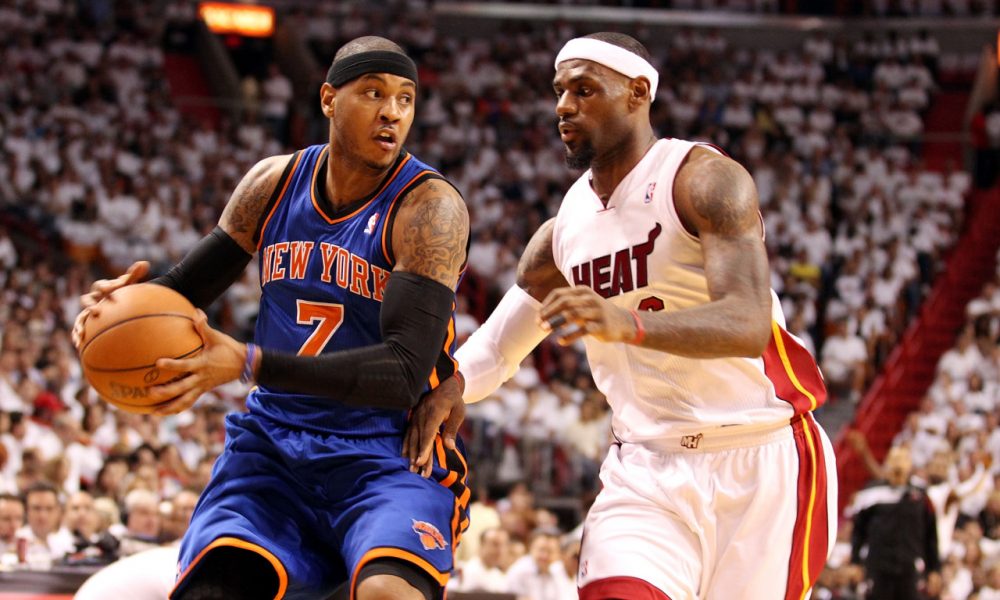 This article is more than 6 years old.
On Tuesday, just two days before the NBA draft, LeBron James announced his intention to explore the free agency market. That means, theoretically, he could take his talents to some place other than South Beach. In Miami, reactions among Heat fans were mixed.
"How can [one] have hard feelings for someone that brought Miami four times the Eastern Conference Championship, two NBA titles? There's no hard feelings for someone who sweats his jersey every single game."

"I'm glad. He can go. We don't care. He's a cry baby."

"Bosh, LeBron and Dwyane, they're my boys. If he does leave it will be disappointing. Who wants to leave Miami?"
Of course, if the Heat manage to accumulate the players with whom James feels he can win another championship, perhaps he'll stay where he is. Sam Amick of USA Today joined Bill Littlefield to discuss LeBron's temporary limbo and how the draft may impact his final destination.
BL: One of the biggest trades at Thursday night's NBA draft was the Miami Heat moving up from the No. 26 pick to the No. 24 pick — just two spots. Why was that such a big move?
SA: Well, Shabazz Napier, the Connecticut point guard they ended up landing in that trade, was a guy that everyone knew LeBron James was a huge fan of. He had tweeted months ago that Shabazz was the best point guard in college basketball.
In the here and the now — and the fact that the Heat are trying to put pieces in place to make LeBron happy and make him feel that Miami is still the best place to be — that was about as good a move as they could pull off on draft night. Now Pat Riley was quick to say — their team president — that that's just a guy that, independent of LeBron, they have a lot of interest in and wanted on their team. But going into July 1 and free agency it was a great move.
BL: Great enough? Does LeBron stay because of this move?
SA: No, I don't think Shabazz Napier is going to tilt those scales. He's a nice young player. We always get a little bit too excited about these rookies coming out and forget that rookies — ironically who are not named LeBron James — very rarely impact the team on any great level.
Shabazz is not gonna help the Heat still be a title contender. He's just another piece that could help. I think it more just sets the tone, again going into free agency, that the Heat are serious about making moves, improving that roster and fixing what was broken during the Finals and the reason they couldn't pull off the three-peat.
BL: There was some uncertainty heading into the draft about who Cleveland would pick with the No. 1 pick: Kansas shooting guard Andrew Wiggins or Duke forward Jabari Parker. They went with Wiggins. You think it was the right call?
SA: I do. I mean a ton of upside there. A guy who's just a phenomenal athlete. I think a lot of people think that Jabari Parker's gonna be a very nice NBA player — potentially an All Star — but the upside is higher with Wiggins. He can play the small forward spot, so even if they don't pull off any major trades for veteran players, you've got Kyrie Irving at your point guard, Dion Waiters — that's a guy who's been there a couple years now — at the shooting guard spot, Wiggins at the three, Tristan Thompson at the four. They have a nice young core and they're trying to turn things around.
BL: The Philadelphia 76ers, who had the NBA's second-worst record last season, had two picks in the top 10. So they must have gotten some guys who can help out right from Game 1, right?
SA: Ironically, no. They got Joel Embiid, who's  a guy that everybody thought was going to be No. 1, at the the No. 3 spot. He only fell to No. 3 because of a foot injury — and this is on the heels of having a back injury, no pun intended. But two or three years down the road, a guy like Embiid could definitely help them.
BL: There was a pause in the draft midway through the first round to recognize former Baylor University standout Isaiah Austin, who was recently diagnosed with Marfan syndrome. This ended his basketball career. Please tell us about that moment. 
SA: Incredible moment. I just continue to be impressed with the new commissioner Adam Silver and his class and the way he comports himself. And that moment was special. He went out of his way to put the draft on pause to unofficially say that the NBA had a pick of its own. They wanted to pick Isaiah Austin and just recognize a guy whose life has just been altered in such a drastic way.
He was envisioning an incredible career  as a young basketball player and millions that would come with it and a completely different life path. And now, luck being what it is, he has got a heck of a challenge ahead and a serious medical condition that changes everything. But I thought it was very neat. He got up there, he put that hat on that had the NBA logo. I think a lot of folks had misty eyes. I think that was a special thing.
BL: King James, aka LeBron, isn't the only big fish in the free agent market. Carmelo Anthony, who has been playing for the Knicks, is also available. Have any teams been positioning themselves to land Carmelo?
[sidebar title="Cooking With Amar'e" width="330" align="right"] Amar'e Stoudemire, Camerlo's teammate in New York, recently released his own cookbook.[/sidebar]SA: With Carmelo, you have to look at the Houston Rockets, the Bulls, the Dallas Mavericks — that's kind of the short list of the teams that are gonna be coming hard for him. Obviously the Knicks would like to keep him as well. The Rockets, I think, are the most intriguing.
They already pulled off a trade for a big man named Omer Asik. They sent him to New Orleans in a deal that made it a little bit easier to bring a guy like Carmelo. They didn't have the salary cap space previously to sign him, and they still have one more move to make to completely make room for Melo. But, if he gives them the indication that he's coming, they already have that lined up, and that's gonna be for Jeremy Lin, their point guard.
 BL: What are the chances that James and Anthony end up on the same team in the fall?
SA: It is somewhat possible. It's pretty unlikely. It would require major sacrifice on both guys' parts financially. If they did that in Miami, you're talking about a guy in Carmelo that could potentially get a five-year, $130 million contract from the Knicks. To get to Miami — and I've crunched some of these numbers — you're probably looking more in the neighborhood of four years for $50 million. I mean incredible difference when it comes to the money, but you never know.
Guys at this point in their career — Carmelo being a guy who's never won a championship; LeBron being a guy that wants to continue winning them — they are willing to sacrifice. LeBron, specifically, makes so much money off the court that it might be an easier pill for him to swallow to take less. They're very good friends. That's something where LeBron does feel like he would like to play with Melo. It is on his short list of priorities. But seeing if that's going to be a reality is something different.
This segment aired on June 28, 2014.