Paraguayan Women's Soccer Team Fights For Acceptance At Home
Resume
The Paraguayan Football Association's sporting complex in rural Ypané is about 45 minutes south of downtown Asunción. Its manicured lawns, FIFA plaque, and modern red brick buildings stand out from the unkempt tropical grasses of the Paraguayan countryside.
The 50-acre property is reserved for the nations top athletes as they undergo intensive training in the weeks before a crucial match. For the past 33 days, it's been the home to the national youth women's team: La Albirroja, or the red and white.  Six months ago the team made history when they qualified to compete in the U-20 Women's World Cup for the first time.
"Women being on the soccer field represented, at a certain level, a threat to the masculine identity of the nation."

Joshua Nadel, professor
Two days before the whole team was to fly to Canada, and the girls were in their dorm, suiting up for afternoon practice. They talked, listened to music and cracked jokes. 18-year-old defender Rosalia Godoy sat in a chair nearby, looking calm and serious. The three-year-pro told me how in Paraguay, being a girl and playing soccer is tough.
"Before, if you wanted to play soccer, you had to play in an all-boys club and you'd be the only girl," Godoy said. "And they'd look at you all weird. It was strange to see a girl playing soccer. They'd say, you're so manly, why do you play soccer? Always, always. That stuck with me. That it was a sport only for boys. It made me feel so bad that I cried because they wanted to keep me out of the group and they didn't want me to play."
15-year-old-striker Jessica Martinez, one of the stars of La Albirroja, started training at the age of 11. She joined the selection at 13, unlike the other girls who typically started later.
"The coach liked how I played," Martinez said. "He brought me to play with the upper division. I was with them for 15 days when he decided to bring me into the U-20."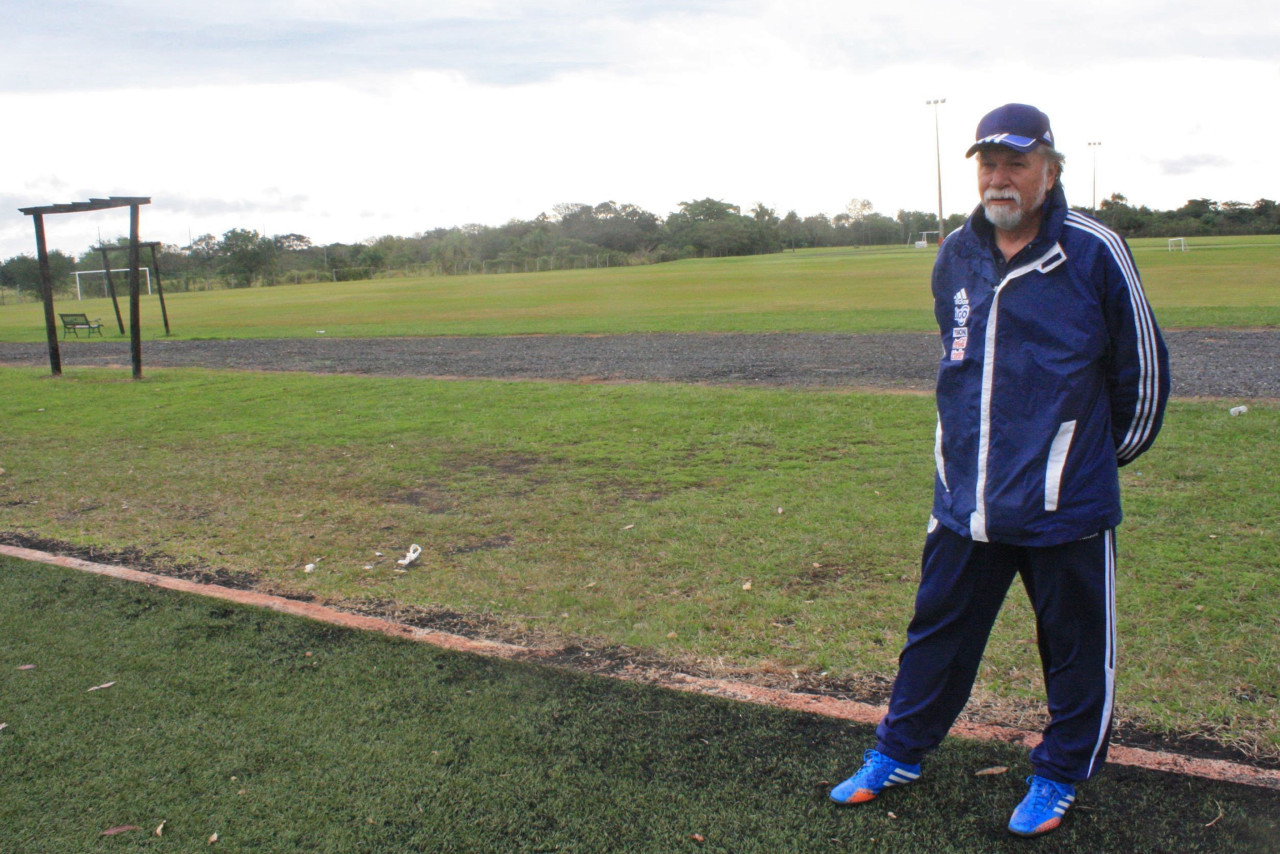 That "he" was La Albirroja's coach Julio Carlos Gomez. Jessica was one of four girls who also played in the U-17 Women's World Cup in Costa Rica last March. The secret to her success, in the coach's words, was starting early.
"The girl who wants to practice starts to play at the age of 15, 16, or 17," Gomez said. "All of a sudden she's drawn to the sport by her interest. The difference with boys is that they're put into clubs at 6 or 7, and they're already starting to train. And that helps a lot. But with the girls, we're still not there yet."
Joshua Nadel, professor of Latin American History at North Carolina Central University, would agree with Gomez.
"It comes ultimately from sexism, right?" Nadel said. "There's no way to go around that at [the bottom]. That's what it comes from."
Roadblocks to women playing soccer and other team sports in Latin America are nothing new. In neighboring Brazil, women were legally banned from playing the game even for fun until 1979. Decades before that, South American governments and scientists warned that if women played soccer, they would become victims of a depressive mentality or contract uterine cancer. Playing the sport was officially deemed "incompatible with the feminine nature."
"Women being on the soccer field represented, at a certain level, a threat to the masculine identity of the nation," Nadel continued. "Especially because soccer really was seen in the early 20th century, as sort of one of the ways that Latin American nations defined themselves in opposition to other countries."
From his experience working with teams overseas, Coach Gomez bets that the women's league is the future of soccer, But Latin America still has a long way to go.
"I think that women's soccer is making huge progress," Gomez said. "Especially in countries in Europe and Asia. In South America, things are a little more complicated. Because the Latin American….the idiosyncrasies of the Latino are very particular, and machismo is something that's going to have to be pulled back for women's soccer to advance."
This segment aired on August 9, 2014.