Little League World Series Puts Kids In Bright Spotlight
04:08
Play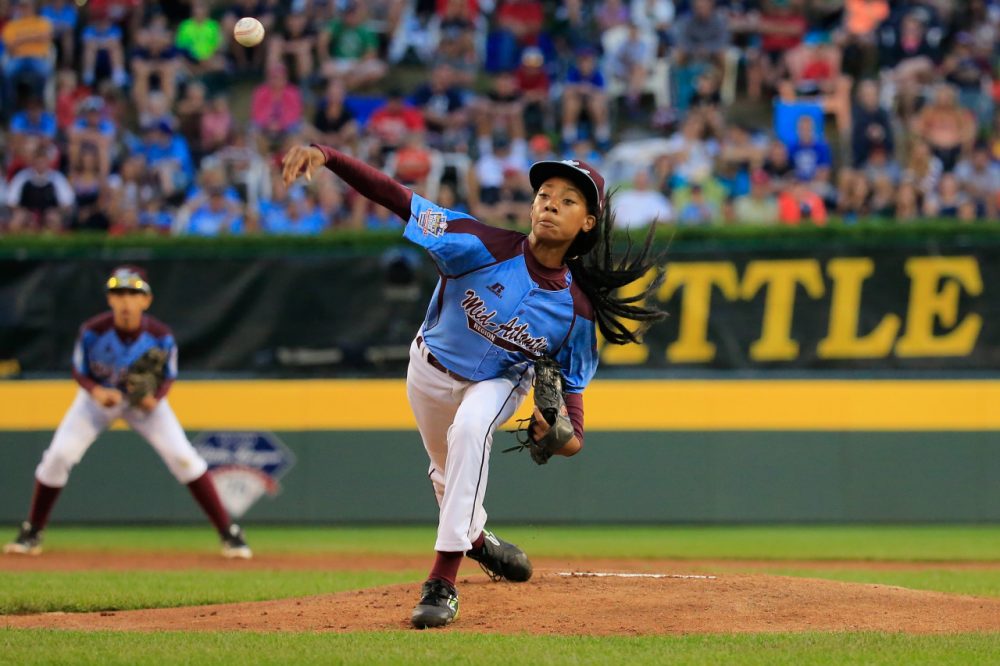 This article is more than 6 years old.
A 13-year-old girl graces the cover of Sports Illustrated this week. Her name is Mo'ne Davis. She's a pitcher for the little league team from Philadelphia at the 2014 Little League World Series.
Mo'ne Fever has led us to ask again a question we seem to ask every year at this time, and ESPN's Melissa Isaacson is asking it as well. Her espnW column this week is titled "How Much Is Too Much Attention In The Little League World Series?"
Isaacson joined Bill Littlefield on Only A Game.
BL: As a parent, you say that you didn't find it easy to watch your son play "Fox No. 4" in his first grade school play. And this week you spoke to parents of the 12 and 13-year-old stars on a much, much bigger stage: the Little League World Series. Are they made of stronger stuff than you were at that time? Or do they turn into nervous wrecks in the stands?
[sidebar title="Bill's Take: A Simpler Way" width="330" align="right"]In a column published Wednesday that's generated a lot of strong reactions from readers, Bill Littlefield weighed in on youth baseball and called for a simpler approach to the game. [/sidebar]MI: They did. One parent said that your desire to have your child be a hero is outweighed by your desire not to have him in that position in the first place just in case he fails. I had interviewed parents of two kids in particular: a Texas shortstop and a pitcher — the shortstop who had the game-deciding error and then the pitcher who was in in a crucial situation in the fifth inning and actually was crying while he was pitching.
The one father said, "You know what, he's just kind of a crier and he's 12 and he just needs to learn to channel his emotions differently." And I said, "You know, that's all fine when you're 13 but not when you're on ESPN and like 3 million viewers are watching in high definition."
BL: Did those kids to whom you just referred bounce back pretty quickly from the experience of losing on national television?
MI: The next morning when I was interviewing the parents, the kids were dancing on the field with the mascot — those two included. Just big smiles and dancing in front of 15,000 people. Not only did they look like they were fine, but they both came back and played in games and were fine, and the team won that very next game, so I think it's harder for us to watch sometimes.
BL: Let's talk a little about Mo'ne Davis, who's at the center of so much of the media attention this week. How does she seem to be handling it?
MI: Very early on she was very candid about how disturbed she was by all the attention. She saw the underside of celebrity really quickly with not just media requests but, you know, it's one thing, she said, for little kids to be asking for autographs — but when adults ask a little girl for their autograph it gets a little creepy. There's a little creepiness to it.
I suggested to her at one point, "How would it be in a week from now when she goes home and people are asking for her autograph?" And she looked at me like I was really kind of stupid and said "My friends aren't going to ask me for my autograph because everyone at my school knows me."
When adults who are professionals and are being paid lose their privacy, you can feel for them, but you go "Well, you know, they're getting paid a lot of money." But when a kid does you kind of cringe a little bit. And she got that pretty early on.
BL: There's one more thing: I can't help but wonder what your employer, ESPN, long the TV outlet for the Little League World Series, thought when you decided to submit a column suggesting that maybe they're putting too much pressure on young baseball players. I gotta wonder if anybody at ESPN tried to accidentally-on-purpose lose your copy before it made it online?
MI: Well, I actually was really encouraged 'cause I think that they like to be balanced in their reporting. My concern as a writer was not to be a complete hypocrite, so I didn't want to be tisk-tisking like I wasn't a part of it. I was just trying to just observe, and to ESPN's credit, I got more compliments than not and nobody yelled at me, and I think I still have a job, so I think I'm OK.
Related:
This segment aired on August 23, 2014.