Blaring Music And A Haz-Mat Suit: Life At Ohio State After Braxton Miller
04:06
Play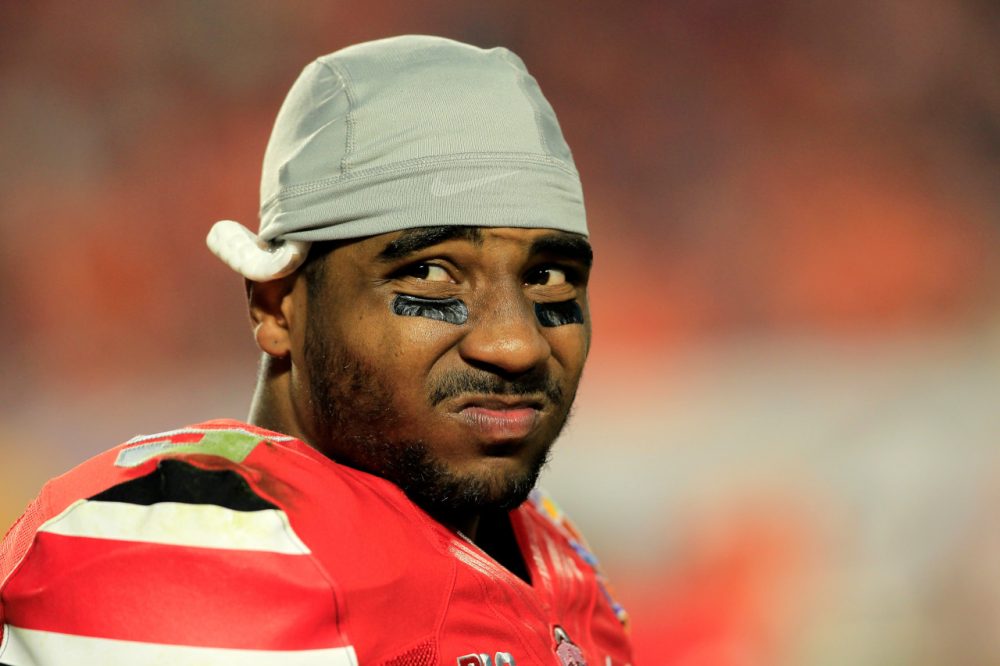 This article is more than 6 years old.
The college football season is about to begin – a time for optimism. But for Ohio State fans optimism turned to trepidation on Tuesday when the school announced that quarterback Braxton Miller will miss the entire season because a shoulder injury. How important is that? Well, Miller was expected to be in the running for the Heisman Trophy.
But Buckeyes head coach Urban Meyer has a plan. It involves copying another coach: former University of Oregon and current Philadelphia Eagles head coach Chip Kelly.
Sports Illustrated senior writer Pete Thamel joined Bill Littlefield to explain.
BL: You wrote: "The answer to replacing Miller's production…could lie in a phrase heard often around Buckeye camp this summer: 'We want to be the Philadelphia Eagles of college football.'" What exactly does that mean?
[sidebar title="College Football Preview" width="330" align="right"]Ohio State isn't the only team with an inexperienced quarterback. Alabama is ranked No. 2 despite a question mark at QB.[/sidebar]PT: When you embrace tempo, Bill — up-tempo, no huddle offense — it really isn't just an offense. It's really like an ethos of your program. So in Meyer' s trip to go see the Eagles for their training camp this year I think helped the program turn the corner toward really embracing all things fast all the time.
I went to both of their double sessions of practice on Wednesday and they absolutely blared music. It was literally like a deafening night club because the most important part of running that offense is communication and being able to do things in a fast in a loud environment.
BL: In 2013, his first season with Philly, Chip Kelly guided the Eagles to a 10-6 record and a playoff berth. But with all due respect to the Eagles, isn't there a better rallying cry than trying to be a team that won its last NFL championship in the pre-Super Bowl era?
PT: When I walked on the field at Ohio State on Wednesday, my first thought was, "This feels like Eugene, Ore. in 2009 or 2010." And I really think that's ultimately is what Ohio State is going after but it's just better to say, "We want to be the Eagles" instead of "We want to be the Oregon Ducks" because then you're complimenting one your competitors on the recruiting trail who kind of plays the same way you do. I really think when we look back in 25 years football historians are going to be writing books about  what Chip Kelly has done to change football.
BL: Pete, with some trepidation, I'm going to ask you to explain why one of Urban Meyer's assistant coaches donned a fake hazmat suit on Wednesday.
[sidebar title="Understanding Urban Meyer" width="330" align="right"]Earlier this year we spoke to Wright Thompson about his profile of Meyer and the coach's struggle to find work-life balance.[/sidebar]PT: I walked through their locker room in the morning and I was with one of the behind-the-scenes staff, and he pointed to a strength coach who was wearing like a blue kind of neon, kind of like a medical, nuclear suit, and that strength coach's job is to test everyone's urine every day to make sure that they're properly hydrated.
And that again goes along the lines of, "You need to be hydrated, you need to play fast, you need to do that." So the level of detail that they're at in sort of embracing that up-tempo mindset, Bill, I thought was pretty fascinating.
BL: With Miller out with that shoulder injury, Ohio State turns the quarterbacking duties over to a redshirt freshman named J.T. Barrett. Based on your research, confidence seems like it won't be a problem for Mr. Barrett. Tell us what happened when his high school coach at Wichita Falls Rider challenged him to manufacture a touchdown.
PT: On the first snap of that series — and he was a sophomore, by the way, when he did this — he went out and threw a ball and he didn't even watch it complete. After he threw it he ran over to his high school coach and said, "How do you like that?" before the receiver had even gotten in the end zone. So what they're going to get from J.T. Barrett, Bill, is they're going to get a guy who distributes the ball.
The thing that impressed me watching Barrett kind of wiz the ball around was the caliber of players he was going to get the ball to. Expect guys to get the balls in space and use their speed to create mismatches. I agree with the notion that Miller's injury will likely remove Ohio State from playoff contention, but if they navigate that pretty manageable non-conference they're going to contend for the Big Ten [title], which is really, you know, at the end of the day all you can ask for.
Related: 
This segment aired on August 23, 2014.