NFL Season Preview With Gregg Doyel
04:28
Play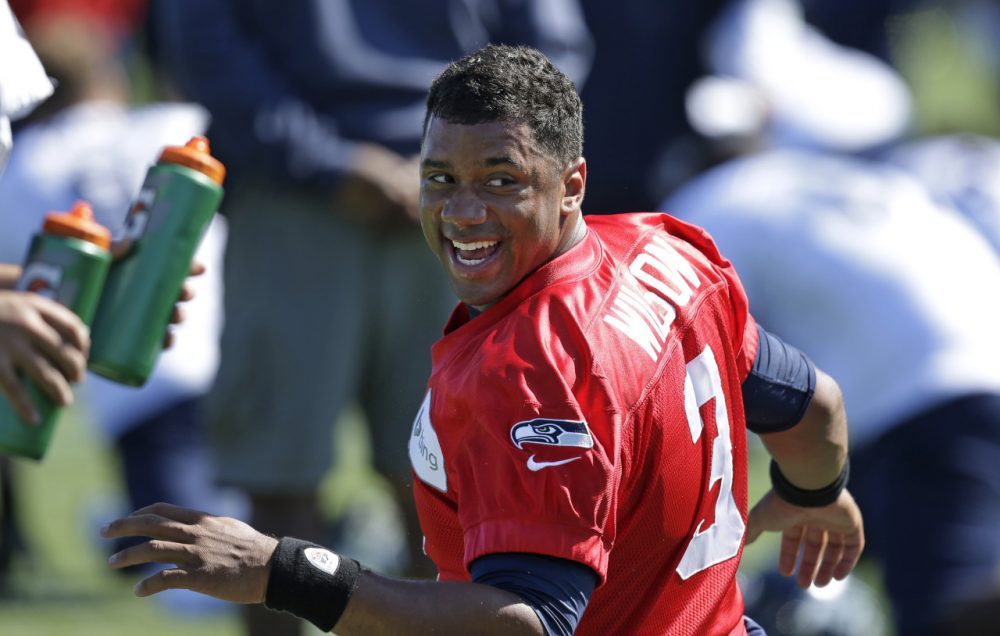 This article is more than 6 years old.
Ready or not, the NFL is back. The regular season begins Thursday night with the Green Bay Packers visiting the Seattle Seahawks, last year's Super Bowl champs.
To preview the upcoming season, Gregg Doyel of CBS Sports joined Bill Littlefield on Only A Game.
BL: Before we get to the upcoming season, on Thursday Roger Goodell apologized for suspending Baltimore Ravens running back Ray Rice just two games when he was arrested on domestic violence charges. Goodell also announced a new domestic abuse policy: players will be suspended six games for their first offense henceforth and a second offense would result in a year-long ban that could be extended. What led to the acknowledgement that the commissioner had gotten it wrong?
[sidebar title="NFL Domestic Violence Policy" width="330" align="right"]After the controversy over Ray Rice's two-game suspension, the NFL has announced that two domestic violence offenses could now lead to a lifetime ban.[/sidebar]GD: I led to it, Bill. Me and a lot of people like me. When that suspension came out, we freaked out. And by "we," I mean all of us. I'm just going to take a little bit of credit — one out of 1 billion. But we all freaked out, and Goodell, to his credit, paid attention.
Some people make a mistake and decide, "I didn't make a mistake. The whole world is wrong." No, in this case, Roger Goodell realized, "No, you know what, the whole world's right. I screwed this one up."
BL: Chip Kelly, of spread offense fame, went 10-6 in his first season as Philadelphia Eagles head coach. The Eagles were 4-12 the year before that. Will Philadelphia continue to improve or will other teams have figured out Kelly's tricks?
GD: It's too soon to figure him out, A. And B, I think Chip Kelly's just that good. I mean, the guy's a coaching savant. I think he's an offensive savant and, more than that, a coaching savant. He connects with his players, gets the most out of them.
You know, every now and then a guy comes along who's just better than everybody else. And I think Chip Kelly, I'm not sure he's better than everybody else — I think the Harbaugh brothers are pretty good, too — but I think Chip Kelly's in that small group of coaches that are just really, really, really good.
BL: After a strong rookie season, Washington quarterback Robert Griffin III struggled in 2013. He now has a new head coach in Jay Gruden. What do we expect from Griffin this season?
[sidebar title="Copying The Eagles In Columbus" width="330" align="right"] By taking a cue from Chip Kelly, Ohio State hopes it can overcome the loss of star quarterback Braxton Miller. [/sidebar]GD: We expect him to be holding a clipboard by about Week 2. You know, I think Kirk Cousins outplayed him in the preseason. I realize it's just preseason and Cousins was probably playing against lesser defenses — you know, the [second and third strings] -- than RGIII was, but still, RGIII had that injury. We're not sure that he's back physically.
Now stuff is in his head: his lack of success; all the doubts — do I run, do I slide, do I throw? He's an instinctive, impulsive, wonderful athlete and a really good quarterback and a smart guy, but I think right now he's not sure what to do, and that's a paralyzing place to be.
BL: Former Heisman winner Johnny Manziel (a.k.a. Johnny Football; a.k.a. Cleveland Browns backup quarterback) hasn't left the spotlight since draft day — and he's made a Snickers commercial as well — but are there other rookies that we should be paying attention to?
GD: Well, Jadeveon Clowney, if he can stay healthy, is just going to blow people up for the Texans at defensive end. I mean, that's why they got him. [Quarterback] Blake Bortles I think eventually will be the guy in Jacksonville. Johnny Funtimes — I suspect we'll see him eventually [in Cleveland], but there's nothing encouraging. And I like him as a player — at least I like him as a college player — but there's nothing encouraging about Johnny Goodtimes right now.
BL: We don't have time to do an extensive breakdown of all 32 NFL teams, of course, but is there a particular team you've got your eye on this season?
GD: Yeah, maybe because I live here, but I don't think so. The Cincinnati Bengals, they haven't won a playoff game with Andy Dalton as quarterback, but they've been to the playoffs three years in a row. He got a ton of money. There's a lot of controversy: do you pay a guy who's never won a playoff game a lot of money? Well, they did. The Bengals are loaded with skill players. Dalton's pretty good. Their defensive line is back and healthy this year. If the Bengals win the Super Bowl, you heard it here first.
BL: Gregg, I hate to bring this up, but we did our research. We looked back in the archives and you picked Denver to win last year's Super Bowl. The Broncos, of course, lost that, 43-8. But we'll give you a chance to redeem yourself right now. You gonna stick with the Bengals?
GD: Well, first of all, Denver at least got there. It's not like I picked the Atlanta Falcons to win the Super Bowl. Denver got there for crying out loud. What a tough crowd you are.
Yeah, I'm sticking with the Bengals, and then next year when the Bengals get all the way to the Super Bowl and you're going to mock me for being wrong about that, I'm going to remember this.
More NFL Preview:
This segment aired on August 30, 2014.