'The QB' Joins The Search For The Next Great NFL Quarterback
Play
This article is more than 8 years old.
In his new book, "The QB: The Making of Modern Quarterbacks," Bruce Feldman explores the process by which several mentors, some of them former quarterbacks, are trying to teach boys and young men how to play that position. These coaches, some of whom Feldman refers to as "quarterback gurus," talk of "quarterback architecture" and "quarterback soul" as they work on "building" quarterbacks and then infusing them with the psychological qualities and character that will insure their success.
Feldman joined Bill Littelefield to discuss his new book.
---
Highlights from Bill's conversation with Bruce Feldman
BL: One of the characters upon whom you concentrate is former NFL quarterback Trent Dilfer.   Describe how he decided, after a career he describes as "less than satisfactory"  his mission has become building better quarterbacks. 
BF: Here's a guy who has spent over a decade in the NFL, won a Super Bowl and is now one of ESPN's star commentators. But by his own admission, he's haunted by his failures of life as an NFL quarterback and said a lot of the things he was taught, even at the highest level in the NFL, were fundamentally wrong.
You know, he's trying to walk young quarterbacks through so they don't make a lot of the same mistakes he did. I mean, Trent Dilfer had a funny line — I was with him in front of a group of top college quarterbacks — and he said, "my initials are TD. It should be INT." And he said, "I basically threw just as many interceptions as touchdowns in the NFL." Pretty much all this stuff he was taught was all negative thought — you know, "Don't throw an interception, don't take a sack, don't do this, don't do that." And he said this was really counter to what he'd been coached to do, and fed, when he was in college.
BL: Trent Dilfer says that he and his associates are looking for "Dude Qualities." What does that mean?
BF: "Dude Quality" means that you will be the guy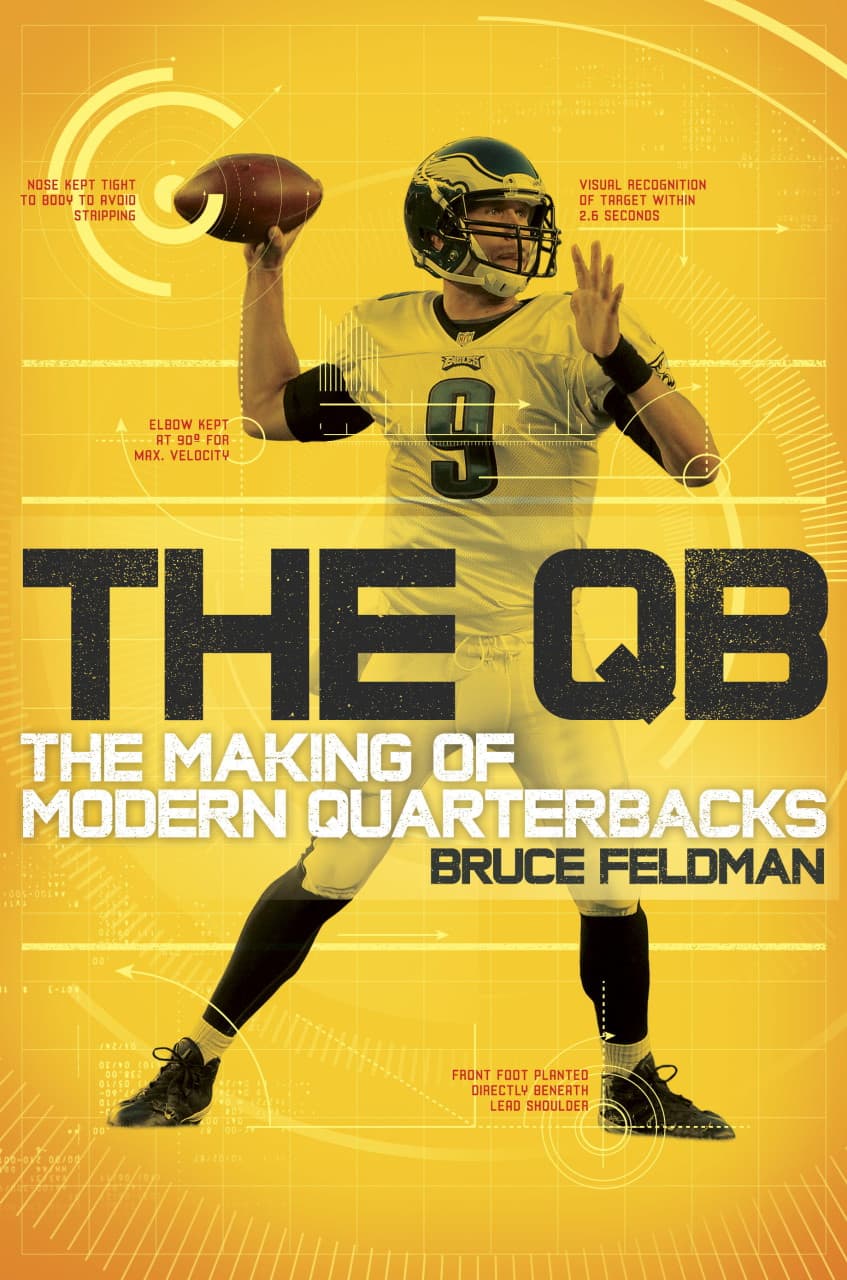 no matter what — kind of a fighter pilot guy, and a guy who's in complete control and the guy everybody leans to. And so it's poise, it's presence, it's grit, it's toughness, and as a quarterback that is job one: find a way to get it done. Whether you have a great arm, a good arm, whether you can run or you can't, just find a way to get it done. And for Dilfer, he calls it, what's his "DQ"--dude qualities. And, you know, a lot of people around the sport have really picked up on it.
BL: You devote a chapter of your book to Tom House, who had a long and successful career as a Major League pitcher despite what he describes as "limited ability." What does House bring to the development of NFL quarterbacks?
BF: House is a fascinating character. He is incredibly self-effacing. You would think he has no athletic ability at all the way he talks about his career. He is one of the leading, if not the leading biomechanics experts in all of sports. He was a successful pitching coach. He coached Nolan Ryan, Randy Johnson and a bunch of other greats and really got on the front-end of technology, where technology meets sports. And  he was living in San Diego, and Cam Cameron, who was with the Chargers at the time, said, "Hey, you know, we got this new quarterback Drew Brees. I would love to get Drew Brees in with Tom House just to see what would happen."  And Tom House really helped transform Drew Brees' career and turned him into a perennial Pro-Bowler and arguably a future Hall of Famer with what he did.  Everything from changing Drew Brees' diet to changing the way he rests and recovers to also the mechanics of his body.  And Drew Brees swears by Tom House.  That's his guru.
Well, he's also now become Tom Brady's guru in the last five years.  He's kind of worked the business backwards in a way where Tom House had elite-level NFL quarterbacks.  Now he's — because word is getting out — now college quarterbacks are going 'Hey, I would love to work with this guy.'
BL: The programs you explored all claim to pay attention to character, discipline, and emotional intelligence. But Jameis Winston went through Trent Dilfer's program.  Johnny Manziel is another guy said to have "dude qualities."  How much did Dilfer's program and other programs actually care about how their quarterbacks behaved off the field?
BF: Well, I think they care.  In regards to Manziel, you know, he won a Heisman Trophy by largely doing Johnny Manziel-stuff. He was never going to be Russell Wilson, who Russell Wilson is first guy in, and last guy out. That was never Johnny Manziel. Johnny Manziel's whole thing was 'hey, I gotta be me, that's the only way I'm comfortable.' And, you know, he's learning the hard way that, you know that might not be good enough.
With Jameis Winston it's a different dynamic. Jameis Winston has some knucklehead tendencies that he's shown off the field. On the field, the system he plays in at Florida State, what he does, the throws he's expected to make, are exactly what the NFL hopes to see. The only thing I think people — but it's a big thing — people worry about with Jameis Winston is can you trust him? I mean, is he a con-man?
---
Bill's Thoughts On 'The QB: The Making of Modern Quarterbacks'
People who cloak their work in jargon are sometimes trying to make what they do seem more complicated and mysterious than it is. Partly for this reason, I'm uncomfortable with the "holistic coaching ecosystem," "quarterbacking architecture" (aka QBA), "kinetic sequencing," and the all-important "Dude Qualities" referenced by Bruce Feldman and the "quarterback gurus" with whom he speaks.
[sidebar title="An Excerpt From 'The QB'" width="630" align="right"] Read an excerpt from Bruce Feldman's 'The QB: the Making of Modern Quarterbacks.'[/sidebar]
I'm also put off by the idea that parents of children as young as 8 are paying these quarterback gurus a lot of money to prepare their sons to assume what is "the most influential position in sports," at least according to the quarterback gurus themselves.
Fans who can't get enough technical talk about training quarterbacks and who are already watching the TV reality show based on competition between those who would become the football equivalent of this country's next American Idol will enjoy this book.
This segment aired on January 17, 2015.