College Basketball's Overlooked Phenomenon: Fatherhood
Resume
In a piece for CBS Sports, Matt Norlander writes about "an overlooked and under-discussed fact of life for so many college athletes."
BL: Matt, what is that fact of life — and how many college athletes are we talking about?
Sykes told me he has driven about 80 times, if not more, over the course of his career to Chicago, picked up his son and brought him back to campus.

Matt Norlander
BL: Playing college basketball involves an enormous commitment of time. How do these players manage to be dads and basketball players and students responsibly all at the same time?
MN: They have a lot of help. Each player's situation with their child is different. There were a few players who I couldn't get into the piece because they weren't comfortable with the fact that, quite frankly, right now they don't live with their children. Keifer Sykes is a senior at Green Bay. He actually has been a father since he was 16-years-old. His son lives with the son's mother in Chicago. But Sykes told me he has driven about 80 times, if not more, over the course of his career to Chicago, picked up his son and brought him back to campus.
Branden Dawson is a senior at Michigan State. This is the only season that his son has lived with him. Branden Dawson has his high school coach and a high school teammate — both live in the East Lansing area. And so when he is not able to be at home, both of those men help him bring his son to Pre-K school and help out in that regard.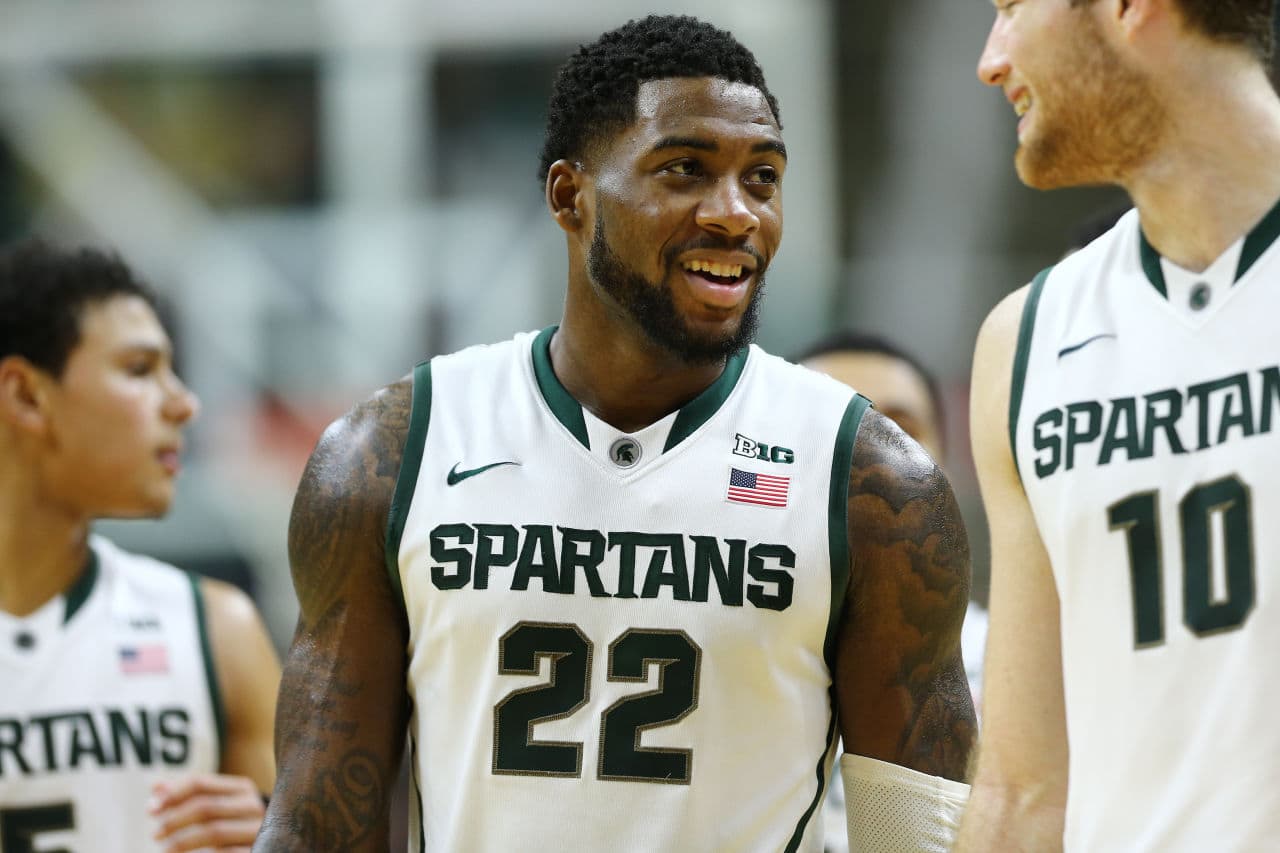 BL: You know, I'm familiar with the NCAA's rules regarding things like coaches giving kids money to go home for Christmas. They can't do that sort of thing. How does the NCAA accommodate these players? Or does it?
You're a coach, you're tough, you're trying to teach your players. But at the same time you've got these men who are trying to be fathers.

Matt Norlander
Like, for example, Mississippi State's team has five players who are currently in this situation. And their coach Rick Ray said to me — he's he's actually got a daughter that's about to go off to college, but in the second marriage he had a child a year-and-a-half ago. And so when it was that child's first birthday, they threw a party. And two or three of his players came over with their own children who were 1 or 2 years old. And he said it in kind of like a funny way — not necessarily bad — he was like, "But, man, it was really weird."
BL: One coach with whom you spoke said, "More basketball players have the opportunity to have sex with more girls" and "You've got a demographic of kids without fathers...who don't understand things at a young age and make mistakes earlier." Is that an attitude that's representative?
MN: To a certain extent, yes. I had a few coaches discuss this with me and basically, you know, even though college basketball has had this go on for decades — you know, you go back to the 80s, you would have had players on basketball teams who were dads without a doubt. But the feeling is now, 18 and 19 and 20 year olds are more entitled than they've ever been because of the grassroots basketball scene — the fact that internet sites rank kids when they're 13-, 14-years-old. And so egos become inflated. More people know who you are.
If you didn't have a steady home life, whether it was no father or no mother, the statistics lend itself to say that you are more likely to become a dad at a young age. That's where it kind of intermingles and crosses.
[sidebar title="No. 1-And-Done: How Kentucky Has Changed The Recruiting Landscape" width="630" align="right"]Pat Forde of Yahoo Sports explains Kentucky's recruiting success.[/sidebar]
BL: Of this entire phenomenon, you have written, "They're cautionary stories but uplifting ones, too." I'm glad that you were able to reach that conclusion. Tell me a little bit about how you got there.
MN: It was so terrific to get these players to open up. I've gotta say, Rico Gathers at Baylor, he was like, "Man, I've got video of this thing if you want it." And I'm like, "Rico, I don't need the video of your child coming into the world, but I appreciate that."
While there are situations that aren't great, it's not always a good thing, and you don't want young men becoming fathers at 18- or 19-years-old — regardless of sport — in many cases here, basketball has afforded them a certain kind of discipline, regimen, guidance. And with that, it's enabled them to feel a responsibility to a second beating heart and not let a situation that could become sad and unfortunate really float anywhere near there during the youngest years of their children's lives.
This segment aired on March 7, 2015.