Cable Bill Going Up? Blame Sports
Resume
When the NCAA men's basketball tournament gets underway next week, fans will once again be able to see every single game on TV. Access to televised sporting events is at an all-time high, but so are cable and satellite prices. In a 2014 report, the FCC said cable and satellite fees have gone up 6 percent every year since 1995. Costs are going up again, and sports programming is a big reason why.
'The Problem Starts With Sports Rights'
Five years ago, CBS and Turner Broadcasting agreed to pay the NCAA nearly $11 billion over 14 years for the broadcast rights for the men's basketball tournament. It's the deal that puts games on CBS and channels like TBS and TNT.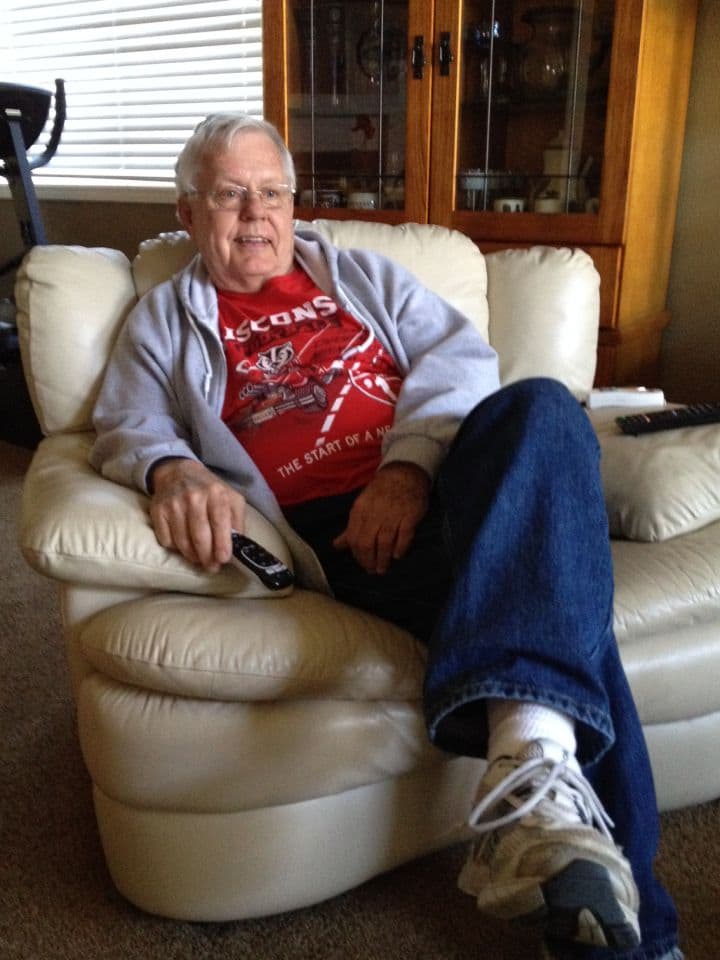 "My wife says if we don't have sports programming we wouldn't have to have a TV," said Denny Moeller, who is among those who will be watching again this year. "I agree with her 100 percent."
Moeller lives in Eagle, Idaho. He's a retired college football coach and watches sports on TV year-round. This past Monday afternoon, Moeller sat in front of an HDTV in his living room and tuned into the Big Ten Network. The regional sports channel out of Chicago is one of his mainstays.
"There's so many good programs that give you more than just a score, give you more than just which coach is gonna get fired and delve into the lives of the players and delve into the lives of the coaches," he said. "And you just learn so much more. You know, I just love it all."
For the dozens of hours he watches each month, Moeller, 73, pays about $110.
But he recently got word — again — that his DirecTV bill was going up this year. Customers of companies like Comcast, Time Warner Cable and Cable One got similar news. The companies' messaging was basically the same: Your bill is going up a few dollars a month because of sports.
"The problem starts with the sports rights," said Derek Baine, a research director at SNL Kagen, a company that studies the media industry. "The teams are jacking up prices, sometimes 200, 300 percent when these big deals come up for renewal. So it's just this domino effect."
'Consumers Are Still Willing To Pay'
When it's time for leagues like the NFL, Major League Baseball and NASCAR to sell their broadcast rights, networks like Fox, NBC and ESPN will pay huge sums of money for long-term deals. Broadcasters recoup most of that through advertising. But they'll also charge cable and satellite companies more to carry their channels.
[sidebar title="The Future Of Sports On TV" width="630" align="right"]Sports on Earth's Will Leitch explains how changes to the cable industry could have a major impact on sports leagues networks and fans.[/sidebar]Dan York, DirecTV's Chief Content Officer, says as a result, his company is forced to raise its prices about 5 percent every year.
"This dynamic is difficult for paid TV providers because they have no choice but to pass these costs along to consumers," York said. "And the rate of increase is unsustainable for customers, whether they're sports fans or not."
Analysts say big satellite and cable operators eat some of the increases, knowing they can't pass all of them on to consumers or risk attrition in subscriber numbers. SNL Kagen estimates operators have seen their profit margins cut nearly in half over the last 20 years. They're expected to continue shrinking, even as customers' bills go up.
The constant increases are leading some people — like Joe Jaszewski — to make changes.
"The past couple years I've really tried to cut out expenses from my life that were extraneous," he said. "And this was one of them."
Jaszewski lives in Boise, Idaho and loves to watch football. But higher prices recently led him to rethink his subscription. He now pays DirecTV $50 a month during football season and then shuts off his satellite service for seven months a year.
Dan Rayburn, an analyst at the firm Frost and Sullivan, says people like Jaszewski are the exception.
"The bottom line is that consumers are still willing to pay — they're not willing to cut cable — because they want sports," Rayburn said. "Sports is the one thing that keeps them there. They complain about it. They don't want to pay it, but they continue to. They have no choice."
And, Rayburn says, hardcore fans who can't live without sports on their TVs should expect the trend of bigger satellite and cable bills to continue for years.
This segment aired on March 14, 2015.