N.Y. To Scranton Vs. K.C. To Hawaii: Triple-A Downgrades ... And Upgrades
03:46
Play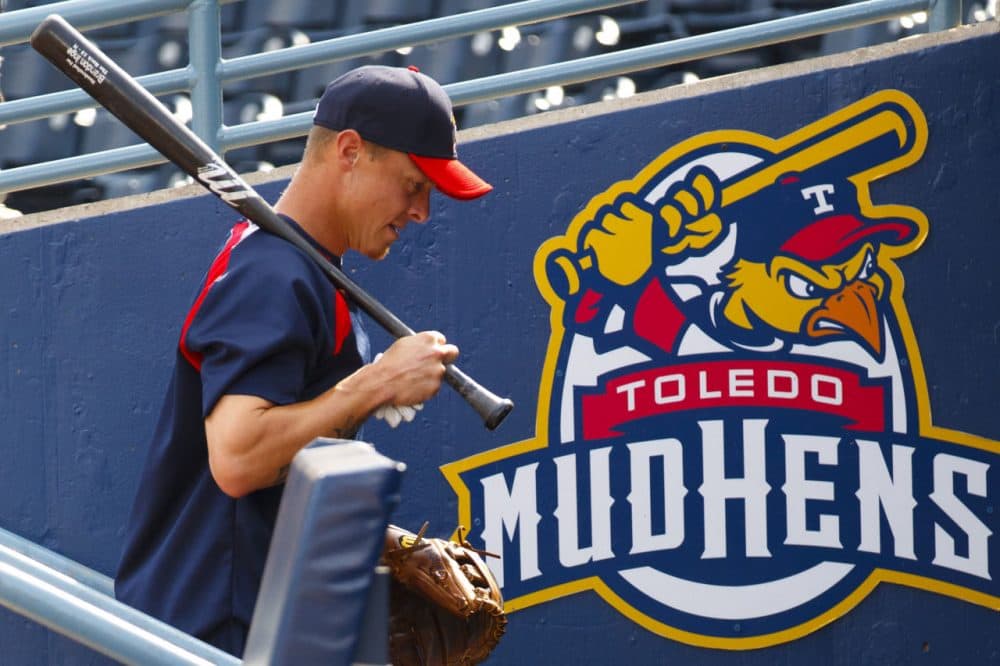 This article is more than 6 years old.
Last weekend, the Los Angeles Dodgers demoted pitcher Ryan Webb to their Triple-A affiliate in Oklahoma City. Then they released him. This inspired Craig Calcaterra of NBC's HardballTalk to embark on a highly scientific project.
Calcaterra joined Bill Littlefield on Only A Game to explain.
BL: Craig, do you wanna explain that project to us?
Toledo -- not anybody's idea of a paradise, but if you're coming form Detroit ... not the worst downgrade in the world.

Craig Calcaterra, HardballTalk
BL: Well, I want to make this clear -- this isn't simply a ranking of the least-desirable Triple-A cities, right?
CC: No, absolutely not. This is a comparative analysis. This is comparing two poles here: your major league city vs. your minor league city, and I made sure that we linked the Triple-A affiliate with the big club. So, for example, Toledo — not anybody's idea of a paradise, but if you're coming from Detroit, which is the big league team affiliated with it, not the worst downgrade in the world. It's certainly no New York City to Scranton.
[sidebar title="The Designated Hitter Debate" width="630" align="right"]With the DH debate recently getting new life, Only A Game's Doug Tribou talks with some of the best DHs in history about adding the position to the National League.[/sidebar]BL: Plus you get to be a Mud Hen, and that's pretty cool if you go to Toledo.
CC: And there's a very good museum in Toledo. Very, very underrated.
BL: You settled on San Diego to El Paso as the worst downgrade. How did you come up with that conclusion?
CC: I've been to San Diego a lot. My brother lives there. It's a wonderful city. I enjoy it very much. And El Paso is not my favorite place I've ever been to. But really what the kicker here was is Brett Anderson, who is a pitcher for the Los Angeles Dodgers, he and I follow each other on Twitter, and he saw me tweeting about this before I wrote it up and he weighed in and said, "San Diego to El Paso 100%." I think any major league pitcher who has knocked around the minor leagues for a little bit like Anderson has has the authority in this situation.
BL: When you floated this idea on Twitter, your followers came up with a different answer as far as worst downgrade. What was that?
CC: Overwhelmingly it was the New York Yankees to Scranton/Wilkes Barre where their Triple-A team is. Folks in Scranton weren't big fans of that, by the way.
BL: I'm curious — were there any particular rankings witch which your readers disagreed?
[sidebar title="mlbHarmony: Online Matchmaking For MLB Fans" width="630" align="right"]Still searching for your true MLB love? A new MLB compatibility test is here to help.[/sidebar]CC: Oh, yes, yes. There was a whole section of the rankings where you actually had an upgrade if you were sent down. It's not a situation where baseball enters into this at all. In fact, I set baseball completely aside. Because it would be much better to be a major leauger in a horrible city than a minor leaguer in paradise.
But if you set baseball aside, there are minor league cities that are better. For example, I think Louisville, Ky., it's one of my favorite cities in the country. I've always had a lot of fun there. It is the Triple-A affiliate of the Cincinnati Reds. I live in Ohio. I have a lot of experience with Cincinnati. Not my favorite place in the world. So I consider Louisville to be an upgrade over Cincinnati. Folks in the Queen City, very displeased with that. I got a lot of feedback on that one.
BL: You know, Kansas City used to have a minor league team in Hawaii. That would have been No. 1 on the upgrade list, I would think, if the Hawaii Islanders hadn't moved to Colorado a while back …
CC: Oh yeah, definitely. I think they might have been with Pittsburgh for a while, too. Really any situation where you're being sent to Hawaii — and Jim Bouton wrote about this a little bit in "Ball Four," about how that was some pretty seriously good minor league duty back then. That would have been a great, great demotion.
BL: I think it was Bo Belinsky who played in Hawaii and then got the call back to the major league club and said, "No, I don't want to come. I like it down here."
CC: That would be a very Bo Belinsky thing to do.
BL: Well, I want to congratulate you on the objectivity of this whole exercise.
CC: Well, this is science, and science takes you where the answers lead. You just can't come up with your conclusions beforehand.
This segment aired on April 18, 2015.