The Annapolis Cup: Drinks, Dancing And, Oh Yeah, Croquet
06:11
Play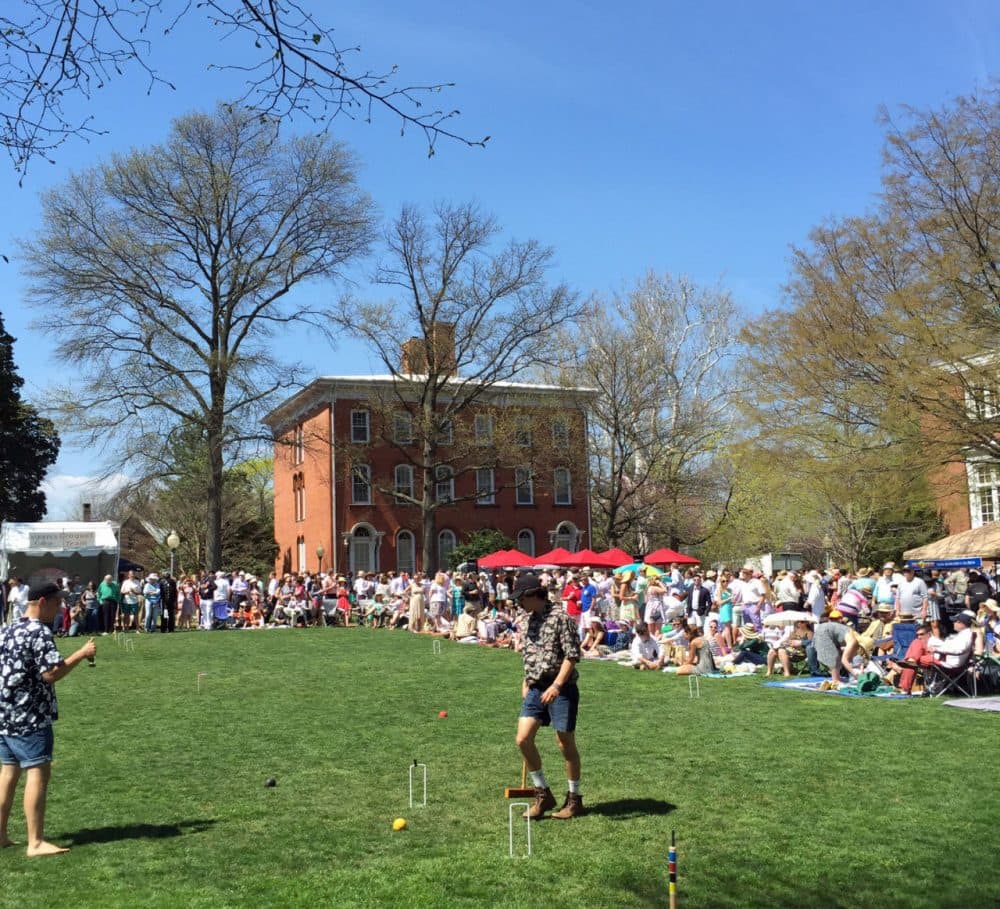 This article is more than 6 years old.
When considering classic college sports rivalries, Duke vs. North Carolina in basketball or Michigan vs. Ohio State in football spring to mind. Here's one you may not have heard of: St. John's College vs. the Naval Academy, playing croquet in the Annapolis Cup.
'Excitement Building' In Annapolis
If you're like me, you haven't played croquet since you were maybe 10-years-old. Bill Hebert is like me.
"I know we had a set when I was little," said Hebert, a 1982 graduate of the Naval Academy. "I asked my mom about it coming over here today and I said, 'Mom, did we even know how to play?' She goes, 'No, we would just set it up and hit the ball around the yard.' I said, 'That's what I thought.'"
Even though he didn't know the rules, Hebert was in Annapolis to root for Navy. He was impressed by the spectators and by the way they looked.
"I walked down West Street coming here and I saw the excitement building," he said. "And I noticed everybody was dressed for the part, with bow ties and bucks. And the women had hats and sundresses. I'm just as excited as anybody to be here."
An Imperial Wicket's Last Hurrah
Here's a quick refresher on how to play croquet from Sam Collins, the imperial wicket at St. John's College. ("Imperial wicket" is the official term for croquet team captain.)
"You know, get you and your partner's croquet balls through all the wickets before the other team any way you can — that's all," he explained.
Collins, a senior, was competing for the Annapolis Cup for the last time.
To take home the cup, his team had to win three of the day's five games. There were three fields and games took place simultaneously.
"It's like the, you know, big sports event on campus," reported Matty Manotti, a freshman at St. John's. "This is like the only sport that this school is known for, basically. And, you know, we do it pretty well."
This is like the only sport that this school is known for, basically. And, you know, we do it pretty well.

Matty Manotti, St. John's freshman
St. John's College, a small liberal arts college in Annapolis, Md., is not to be confused with St. John's University, the former basketball powerhouse in Queens, N.Y. This St. John's has just four intercollegiate sports: sailing, crew, fencing and croquet. So the Annapolis Cup is a major draw for alumni.
'A Fascinating Game'
Before the match began, the crowd was addressed by St. John's President Christopher Nelson and Naval Academy Commandant Capt. William Byrne. After that, the croquet teams took the pitch. The Naval Academy was decked out in their traditional croquet whites and matching ties. But St. John's wears a different uniform every year. This year, the uniform consisted of Hawaiian shirts, cut offs, sunglasses and fake mustaches.
Navy won the previous two years — a surprise, considering that St. John's has won 25 of the 32 matches since 1983. For more insight into this year's game and both teams, it was best to talk to spectator Nancy Morgan.
"It's just a fascinating game," she said. "Slow, like watching grass grow."
Morgan and her friend Bill Krauss are from Ginger Cove, a retirement community in Annapolis. And they play a lot of croquet — they even head down to Florida in the winter to play a few matches. St. John's (known as the Johnnies) and Navy (known as the Middies) both train against Ginger Cove a few weeks before the Annapolis Cup.
"We play the Johnnies and sometimes we win," Krauss said. "That surprises them because we're a few a years older. And we've been playing the Middies, I guess, for about 23 years."
Morgan even offered up a scouting report on this year's Cup.
"It's a toss up today," she said. "We played both Navy and St. John's the last couple of weeks. They all have good teams, so it'll be fun to see who wins. But it'll be close, I say."
The Real Main Event
Next to where Krauss and Morgan camped out, a number of spectators stood in front of a dry-erase scoreboard that displayed scores that looked like fractions. Nilos Sakellariou, who managed that scoreboard, explained what the scores mean.
"The game is won — or each field game is won — when both players, or both people from one team have completed 14 wickets," he said.
But if you ask him whether or not he's paying attention …
"Honestly, no," he said. "I wait for updates from a couple of buddies that are circling around the field. And I update this and it says clearly, 'Score is possibly delayed.' It should say, 'Score is delayed possibly because of entertainment,' let's just say."
The so-called entertainment was really the main event — drinking, swing dancing, eating cucumber sandwiches and dressing up. Most spectators wore sundresses and bow ties. Some were dressed in Victorian-era clothing, such as Catherine Martin of the Victorian Society of Falls Church. She wore a replica 1883 outfit complete with matching hat and parasol.
"And of course the parasol helps out a lot," Martin said. "We've learned that over the years. You better have a parasol out here. Otherwise you'll get sunburned. We're just thankful it's sunny and beautiful today. But if you're in a corset and several layers, it's a little warm."
A St. John's Victory
St. John's went ahead two games to one before Navy won a game to tie the match.
Despite the late-match drama, the crowd had all but vanished. Swing dancing had ended. The alcohol tents had stopped serving beer nearly two hours earlier. You couldn't find a cucumber sandwich anywhere. Only the true croquet fans remained to watch the last game. Krauss understood why.
"Not much of a spectator sport," he said. "But an occasion like this, of course, everybody is here to have fun, have a drink or something and enjoy the weather."
And it seemed like everybody did.
Oh, and, in case you were wondering — St. John's College won the final game and took home its 26th Annapolis Cup.
This segment aired on April 25, 2015.