Citing Fan Safety, Baltimore Orioles Close Stadium
05:08
Play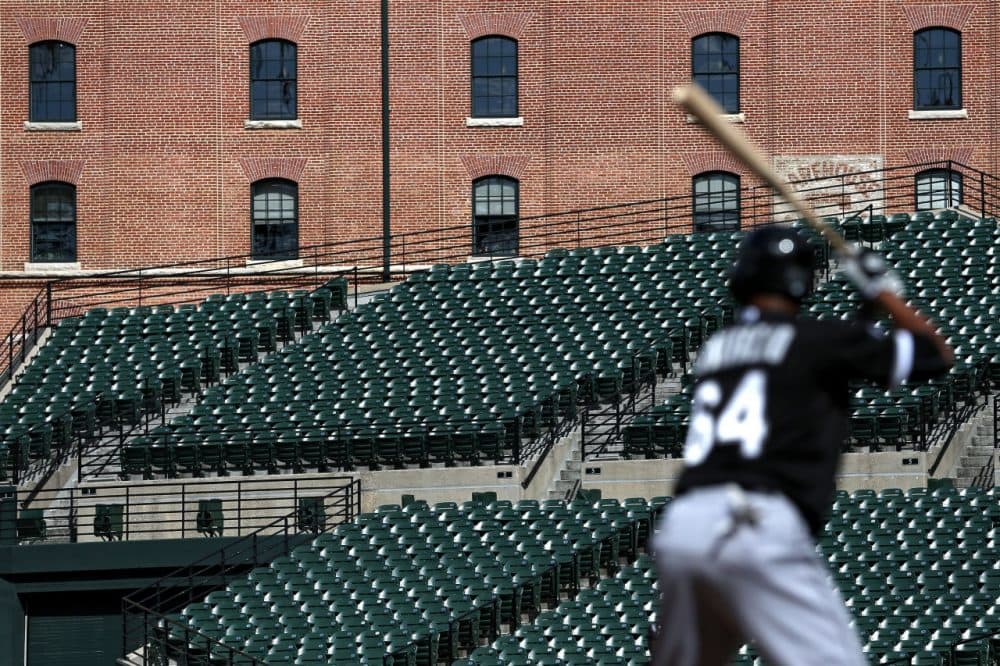 This article is more than 6 years old.
Protests and riots in Baltimore over the death of Freddie Gray led Major League Baseball to postpone games that had been scheduled for Monday and Tuesday night. The league then decided Wednesday's game between the Orioles and the Chicago White Sox would be played in an empty stadium.
ESPN's Tim Kurkjian was in attendance and he spoke to Bill Littlefield.
BL: Tim, what did it feel like to be there Wednesday afternoon?
TK: Bill, it was just about as strange as you can imagine. It really took flight in the first inning, when Chris Davis hit a monster home run to right field and there was virtual silence as he hit it and then rounded the bases. The only thing we could hear was Gary Thorne, the play-by-play guy for the Orioles, doing his signature home run call, "Goodbye, home run!" You could hear it all over the ballpark — which never happens on a home run.
BL: Oh my gosh.
This was an escape from the fires and the looting and the rioting in Baltimore, and I think it was much-needed for the city.

Tim Kurkjian
TK: It was the eeriest thing I've seen in a long time. We did hear some fans who were across the street — they'd spent $300 for hotel rooms at the Hilton that overlooks the ballpark, and they gave it an O-R-I-O-L-E-S chant after that. It was so far away you could barely hear it. But in the stadium you could hear virtually everything, which is what made it such an interesting afternoon.
BL: Orioles center fielder Adam Jones, talking about playing again after having the first two games of the series postponed, said it was an "escape from reality." Did you feel that the being at Camden Yards on Wednesday was an "escape from reality"?
TK: Well, it certainly was an escape from what was going on in Baltimore. All kidding aside Bill, it was so bad there that this was the only thing the Orioles could do. With the curfew the way it was at 10 p.m., they couldn't play a night game. The White Sox weren't coming back this year, or scheduled to, so if they had postponed three games, it would have been virtually impossible to make up all three.
So, this was an escape from the fires and the looting and the rioting in Baltimore, and I think it was much-needed for the city, much-needed for the Orioles and much-needed for a lot of people.
BL: Tim, you're a Maryland guy. You've spent a lot of time in Baltimore over the years. What have you seen and heard this week outside the ballpark?
TK: Well, I have gotten countless messages from people — some of whom I know well, and some I don't know so well — who think I live in downtown Baltimore, which I don't. But it was a bunch of, "Please, be careful there." Because nationally, all you see is this horrendous violence. And I can tell you Bill, at the stadium you're about 15 blocks away. When I arrived there on the day of the game, I saw no police presence, no extra security. It seemed like another day, which I took as a positive thing.
I know Peter Angelos, the owner, had revenue on his mind not for one second during any of this. And they felt, with Major League Baseball's help, the best way to keep everyone safe was to lock the doors and don't  put anyone in harm's way in case somebody decided to come do something at the stadium.
BL: Tim, I wonder if being there on Wednesday had you thinking about other moments in history when baseball changed its plans because of social unrest.
TK: Well, it did of course Bill. There was the Rodney King situation in L.A. a long time ago, and Dan Duquette was the G.M. of the Expos at that time, and now he's the G.M. of the Orioles. So they were headed to the ballpark that day to play and were just told, "Turn around, send your team back. Go on home." And then they canceled all three games of that series. And when the Expos went back to LA, their only other trip to LA, they had to play three straight doubleheaders because there was no other choice.
So yes, this reminded me of that. And in the end, I think the right thing was done. It's a debatable point, but I don't think baseball had much of a choice here. And then of course, they move these games to Tampa Bay for the weekend instead of playing them in Baltimore — another attempt to keep people as safe as possible in Baltimore.
This segment aired on May 2, 2015.