'Yiddish Fight Club' And A 600-Pound Jewish Wrestler
Resume
Eddy Portnoy teaches Yiddish at Rutgers University and specializes in studying the underbelly of Jewish culture. He's been reading Yiddish daily newspapers from Warsaw on microfiche for the last 15 years. He started doing it when he was working on his doctoral dissertation about comic strips in the Yiddish press. During the hours and hours he spent scrolling through the three Yiddish daily newspapers in Warsaw, Portnoy would roll to the Friday edition of the papers to read the comics. But he often got distracted by items that were published earlier in the week.
That's how he came upon a column covering Warsaw's rabbinical courts, where a group of three rabbis settled domestic and business disputes using traditional Jewish law.
"This was kind of like a Yiddish version of Jerry Springer," Portnoy said. "There are cases where all of the furniture is broken. People smash chairs over each other's heads."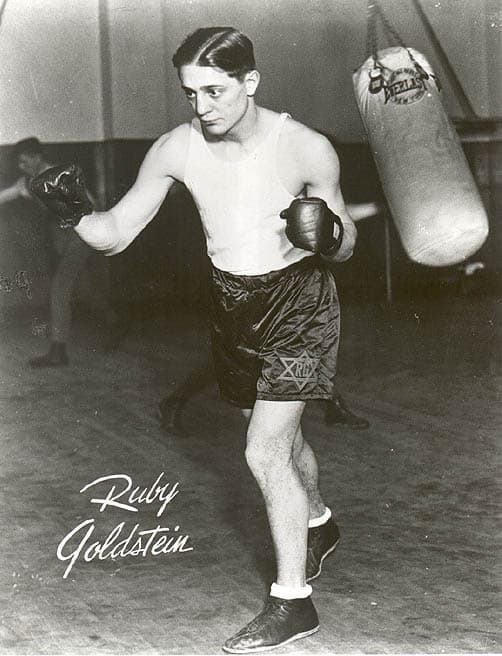 One case involved a Jewish man who married two Jewish women, only to be exposed by his own brother. When the rabbinical court issued its decision, it was time to rumble.
"The rabbis determined that the man had to divorce both women," Portnoy explained. "When the rabbis handed the man the judgment finalizing the divorce, his brother ran over to him and punched him in the face.
"When that happened, the 30 women from the first wife's family jumped on the second wife and began to beat her mercilessly. The rabbinical court was filled with spasmodic wails. The rabbis ran out, got the Polish police who came in and arrested everyone."
That wasn't the only kind of physical conflict Portnoy found doing research into early 20th century Poland. He was surprised to find that religious Jews were fans of the Warsaw wrestling scene.
"I stumbled across cartoons from the mid-1920s in the Warsaw Yiddish press that used wrestling as a metaphor," Portnoy said. "And I thought, 'That's a weird metaphor to use,' and my question was: What did Warsaw Jews know about wrestling in the mid-1920s?
"So I started to look in the back pages of these newspapers and I started to find reports of the wrestling matches from the previous night and announcements of matches to come — you know, the fact that there were Jewish wrestlers involved. And I stopped working on my dissertation and focused entirely on wrestling for a whole semester and wound up writing an article about wrestling in Poland between the two World Wars. I guess I'm a very distracted person and when I do research, I always find things that are of interest for future use."
This was kind of like a Yiddish version of Jerry Springer. ... People smash chairs over each other's heads.

Eddy Portnoy, Yiddish scholar
Portnoy recently made additional use of the material on wrestling in Poland in an exhibit he curated titled "Yiddish Fight Club," currently on display at the YIVO Institute for Jewish Research in Manhattan. The exhibit also includes the stories of celebrated Jewish boxers as well as a list of Yiddish street fighting terms compiled in 1925. Terms like "dos lempl," which means "the little lamp."
"That's when you squeeze the victim's nose with your forefinger and thumb — you make their nose red," Portnoy explained. "If you're able to squeeze snot out of their nose, it's called 'likhtelekh' or 'the little light.'"
Kind of reminds you of the Three Stooges, doesn't it? "Barne" is the Yiddish term for a "noogie." One Yiddish phrase translates literally to "take out a mortgage" on someone.
"'Aroysnemen a mashkante af emetsn' — that usually requires a few people, and it's just a situation where someone is held down and beaten," Portnoy said. "It's ultimately what the bank does to you when you take out a mortgage: they hold you down and beat you.
"All of this vocabulary developed because of Jewish street fighting. There had to be terms in Yiddish created in order to explain these things. All languages have this. People just don't expect that Yiddish has these kinds of phrases."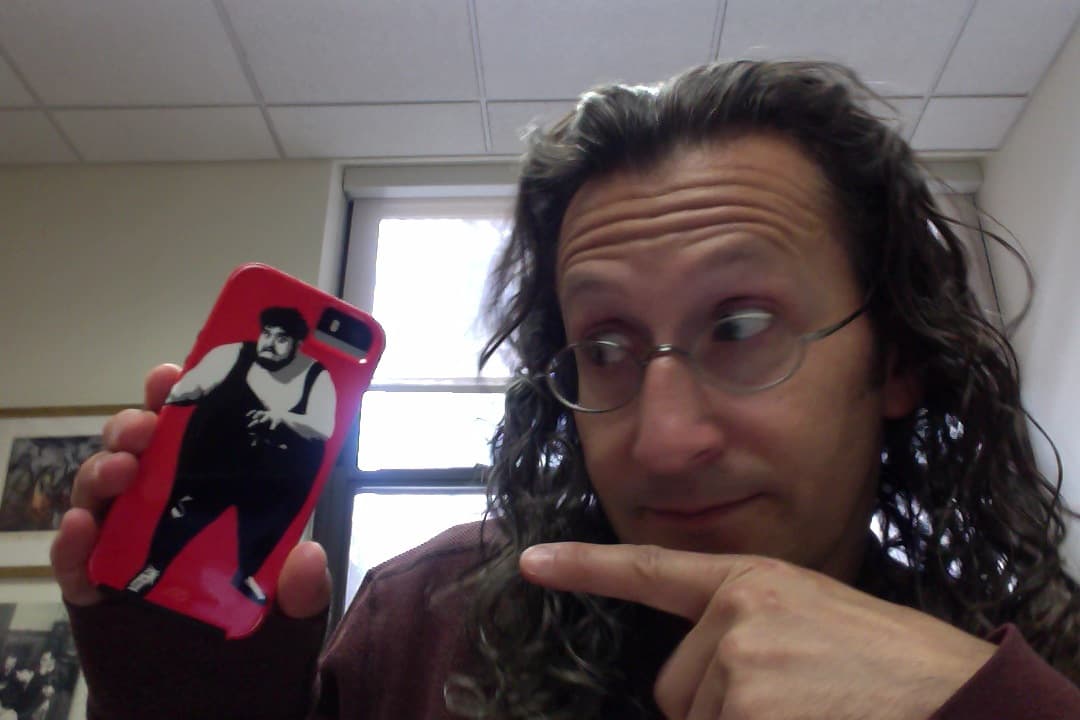 At Portnoy's home in Harlem there are images of his favorite Jewish boxers and wrestlers. He is especially keen on a wrestler named Martin Levy. While we spoke I glanced down at his desk and noticed there was a picture of Levy reproduced on Portnoy's iPhone case. The wrestler is wearing a unitard and has his arms extended as if he's about to pounce on an opponent.
"He's a great character," Portnoy said. "And he's a tragic character."
Known as "Blimp" Levy, the Boston-native weighed more than 600 pounds and was a major attraction on the wrestling circuit in the 1930s and '40s. That was more than a half-century before WWE star Bill Goldberg proved that "Jewish wrestler" is not an oxymoron.
"In high school he played football but was removed from the team after falling on opposing players and breaking their legs," Portnoy said.
"Blimp" Levy was working as a fat man at a circus when he was discovered by wrestling promoter Jack Pfeffer in the mid-1930s. Pfeffer approached pro wrestling as more of a theater art than a sport. He built up a stable of wrestlers with freakish physical traits and personas. The bug-eyed Levy fit in well. Described by one New York newspaper as "the most meat which ever stepped into a ring," Blimp Levy was surprisingly nimble.
"He hung up a tin can in the locker room about 5 or 6 feet off the ground and was able to jump up and kick it," Portnoy said. "And no one else could do it. So it was Blimp Levy's way of proving to the other wrestlers that he actually did have athletic ability. Blimp worked as a regular wrestler. He wrestled all over the country and, really, all over the world."
By the mid-1940s Blimp Levy's health was beginning to fail. The Connecticut State Athletic Commission revoked his license on the recommendation of physicians. Levy's career ended around 1950 and he died in an Alabama trailer park at the age of 56, weighing 900 pounds.
Larger-than-life photos of Blimp Levy and other Jewish wrestlers and boxers have been reproduced on a 40-foot wall as part of the Yiddish Fight Club exhibit at the YIVO Institute for Jewish Research in Manhattan. The exhibit runs through the summer.
This segment aired on May 16, 2015.