Bucs' Blunder, An Atheist In The Backfield And OSU's Generic Jerseys
09:43
Play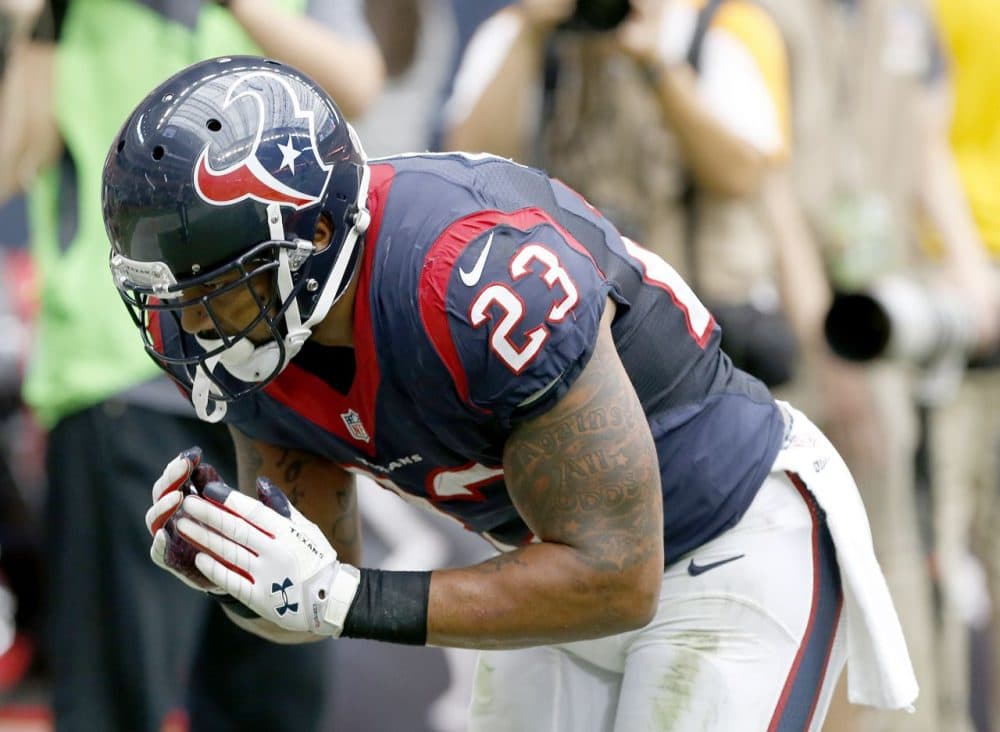 This article is more than 5 years old.
In recent weeks, Only A Game has talked about notable advances for female coaches in the NFL and the NBA, including the hiring of Jen Welter as a linebacker coach for the Arizona Cardinals. Perhaps it was with that news in mind that on Thursday the Tampa Bay Buccaneers launched their effort to better engage their female fans. It's called "RED: The Buccaneers Women's Movement" and it's already been harshly criticized.
That's one of the items in "3 Stories You Should Know," our weekly look at the sports news you might have missed. Cindy Boren of the Washington Post and John Doyle of Foster's Daily Democrat in New Hampshire joined Bill Littlefield for this week's edition.
---
Buccaneers Try To Reach Female Fans
The Buccaneers' "RED" program was launched this week in an attempt to "provide female Buccaneers fans with year-round educational experiences focused on providing a better understanding of the game," according to the team's announcement. While more than 500 women signed up on day one, the program has been widely assailed, with detractors labeling the move condescending and sexist. Count Cindy Boren among those critical of the Bucs:
CB: It's condescending. Especially at a time when the NFL is the most popular TV show. Women actually watch it. I think they found out a year ago when they suspended Ray Rice for two games just how much influence women have. So it was sort of embarrassing that they would be offering home entertaining and game-day style tips for women.
Houston Texans Running Back Arian Foster Announces He's An Atheist
In a lengthy interview with ESPN The Magazine, Texans running back Arian Foster shared that he did not believe in God. Bill Littlefield finds it refreshing that Foster was willing to make his secular ideas public.
BL: This strikes me as a courageous stance in a sport where locker room prayer circles are common and post-game interview frequently begin with thanks to Jesus. ... Other players have come up to him and said, "Oh, I understand you're a devil-worshiper." And he says, "No, no, I'm not a devil-worshiper. I think everybody should be free to believe whatever they want." And that seems to me to be an absolutely wonderful position.
Ohio State And Other Colleges Limit Jersey Sales
Ohio State will no longer sell jerseys featuring numbers of any current players. Instead, only the No. 1 and No. 15 will be available. As John Doyle explains, the change is linked to the current legal debate over the compensation of college athletes.
JD: Federal court is deliberating on whether it's fair for universities to make money off the commercial use of athletes' names, but now Ohio State has decided to sell generic jerseys with only the No. 1 or No. 15 on them — to represent the year 2015 — as opposed to selling specific numbers because they fear if they lose this case — the O'Bannon case — then they'll have to share some of that money with the players themselves.
This seems to me like a little bit of a cynical move by Ohio State and big-time sports, in a list of many. One could debate the appropriateness of whether or not players should be paid just for being on the team and participating in big-time athletics. But you would be hard-pressed to find anyone who thinks that it's OK for these schools to sell the players' numbers, names and likenesses and not have to share some of those proceeds with the players.
This segment aired on August 8, 2015.
More Stories You Should Know: