The 500K Reasons Why Football Teams Agree To Lopsided Games
Play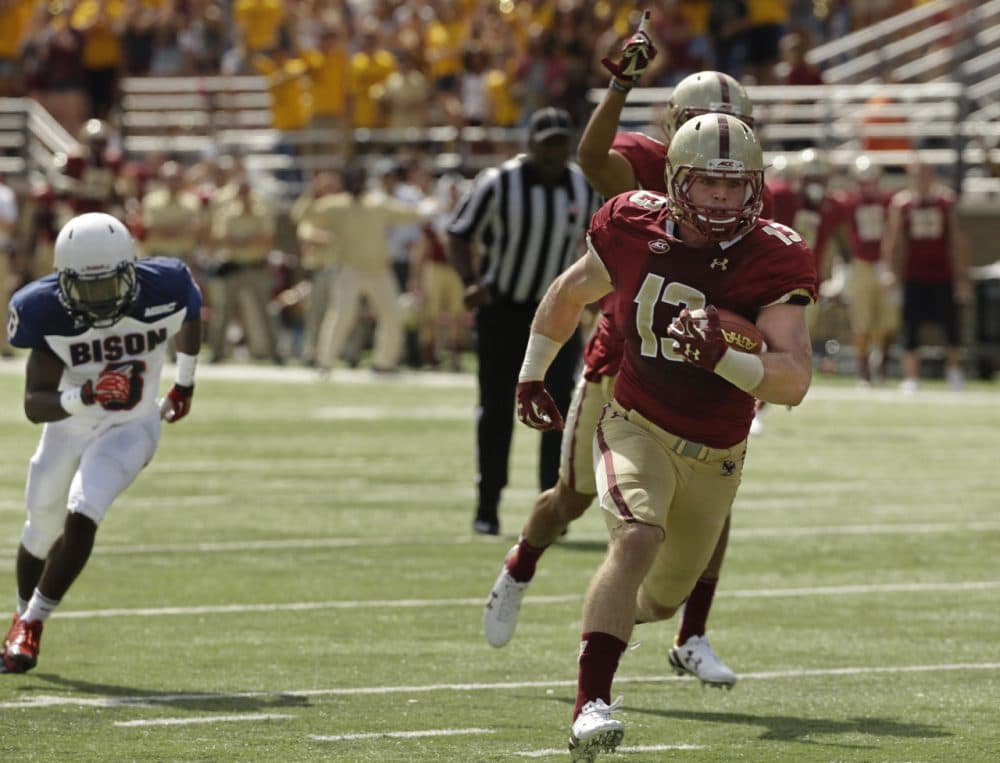 This article is more than 7 years old.
76-0 — that was the final score of the Howard football team's loss at Boston College last weekend. Howard wasn't the only team from the FCS — Div. I football's lower tier — to lose to an opponent from the upper-tier FBS. Tennessee Martin lost to Ole Miss 76-3. And Alcorn State fell to Georgia Tech 69-6.
College football fans probably know that elite teams often open their seasons against weaker opponents — but what they might not know is that when that happens, money changes hands...lots of it.
Former Tennessee administrator David Blackburn is now the athletic director at Chattanooga. He's been involved with both sides of the "guarantee games" transaction, and he joined Bill Littlefield.
BL: First of all, tell me what is a "guarantee game"?
DB: Typically what it means is that you contract with a school and they guarantee you a certain amount of money to make that game occur.
BL: Chattanooga has visited at least one opponent from college football's upper tier every year since 2001. Your department gets $500,000 for a game at Florida State this year, another $500,000 for a game at Alabama next year. How important are those matchups to your department's financial health?
DB: Great question. They're very important because that's a lot of money for our budget. Our budget is right at $16 million. It's not so crucial that it's life-threatening, but it certainly helps us out. The big schools look at it as a chance to get a win that might help catapult them into a bowl game. If you hit six wins and you are of a Power Five league, for example, you're going to get a bowl bid. So it's sexy for them in that regard. So it's a win-win really for both sides, I think, and our kids look forward to playing that competition. And every now and again we compete.

BL: Where does the money from these games go? These $500,000 checks — does that all go right back into the football program or are you supporting other sports on campus?
DB: We disperse it among the departments, but we try to make sure that football gets a huge portion of that because they're the ones having to earn that. So most of it goes back to football, but a lot of it goes toward general operating — which at our level helps.
BL: Is there ever any worry that fans who have paid for tickets to see these games are gonna say, "Oh, man, I don't want to see these guys play Alabama. This is just going to be a slaughter."
DB: It's actually the opposite. Our student-athletes look forward to it because it's a stage — they know they're going to be on the SEC Network or Big Ten Network. The fans like seeing the high-powered opponent. Whether they match up or not is somewhat irrelevant. It becomes a fun event for us. That's a good thing. We recruit to that. We tell them they're going to get to play against some really, really good teams. And it helps us moral, recruiting and certainly... financial.
BL: Alright now, just in my final question, I want to get down to something very specific. Chattanooga visits ninth-ranked Florida State in November. Can you help me out with this? For fun purposes only of course — they're would be no betting involved — but how do you like Chattanooga's chances?
DB: Well, that's a great question. I think more people are asking, "How dumb is the athletic director at Chattanooga?" which would be me, because we've got them in '15, we've got Alabama in '16, we've got LSU in '17 and then we've got Kentucky in '18. But the truth is, we can drive to those games and save money. And they treat us so well. When we come to these places, they compete hard, but they do treat us with great respect and we appreciate that.
This segment aired on September 19, 2015.