New Study Revives 'Hot Hand' Debate
06:14
Play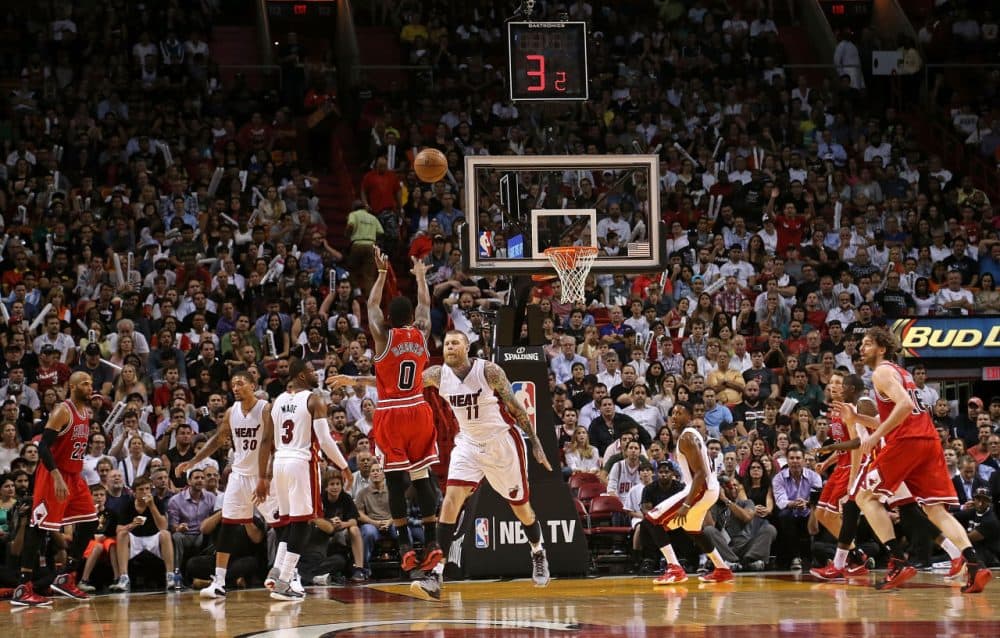 This article is more than 3 years old.
In basketball, it's the small forward who shoots the string of three-pointers that can't miss. In hockey, it might belong to the goalie who blocks all the shots, even the ones he doesn't see coming. Regardless, the "hot hand" is known and loved throughout sports.
But science says, it's probably an illusion.
In 1985, an article from the journal Cognitive Psychology claimed there's no such thing as the "hot hand." But a recent study calls that assertion into question.
To help me sort all this out, I called up Cornell psychology professor Tom Gilovich — one of the authors of that original 1985 study.
BL: First of all, help me out here: summarize the findings you published in 1985 — much to the dismay of other scholars who have been trying to debunk what you wrote ever since.
Any data that would seem to suggest, "No, there is streak shooting," was just picked up instantly and there were all sorts of articles saying, "It's OK to believe in the hot hand."

Tom Gilovich, Cornell psych professor
BL: Now, this new study suggests — just as I have always known — that the hot hand is, in fact, real! What did authors Joshua Miller and Adam Sanjurjo find? And please keep in mind that I have not taken a statistics class since well before Ronald Reagan was president.
TG: Of the various claims they make, there are some things I agree with, some things I disagree with and some things, quite frankly, I still don't think I understand.
BL: Oh man, we're on the same page. That's great 'cause there's  really a lot of it that I don't understand. Just to be clear, though, you and I have been talking about basketball, and their study talks about flipping a coin. We all know that flipping a coin is a 50-50 probability. But they say that's not always the case. How do they conclude that?
TG: That's the more complicated part, and I'm not sure I agree with them on that. I think it's probably best if we stick to the parts that I agree with them — that they've identified something new in this 30-year debate on streak shooting. And the question is, how significant is that? How telling is that? And there's still disagreement there.
BL: OK, so tell me about the part you do agree with.
And you might think that if there's no streak shooting, those two things ought to be equal. And what they argued — and this is true — that no, if there's no such thing as streak shooting, those two shouldn't be equal, at least given that data that you have. That is, how likely are you to hit it after you've hit three in a row? Well, we've taken three shots, three hits, out of your performance record. They're not eligible to be in the numerator. If we look at the probability you're going to hit after missing three in a row, we haven't taken any of your three hits away. So in other words, you would expect the probability of a hit after several hits in a row to be a bit lower than the probability of a hit after three misses.
Paradoxically, contra-common sense, showing that those two are equal is actually evidence of streak shooting. That's their claim, or part of their claim. And I agree with that part. In data sets that aren't large, this can loom large and mislead people about streak shooting. But I don't think it's a very big effect in the kind of data sets that have been looked at in the NBA.
BL: You were quoted in a recent Wall Street Journal story saying, "Unlike a lot of stuff that's come down the pike since 1985" — your study — "this is truly interesting." What interests you? The possibility that I might not be quite as right as I thought I was?
TG: Since the '85 paper came out that staked a claim that was counterintuitive — so therefore any data that would seem to suggest, "No, there is streak shooting," was just picked up instantly and there were all sorts of articles saying, "It's OK to believe in the hot hand." And there have been many studies over the years that purport to show that. They vary in quality enormously. And there's no way if they had come to the opposite conclusion that they would have been trumpeted in newspapers and held up that way. And therefore, when you see a very carefully done study with an interesting argument, that's a different kettle of fish, and this paper is like that.
BL: All right, well you're a basketball guy besides being a  research psychologist. The NBA season begins in less than a month. I'm going to be wondering if this study has an impact — suddenly all the three-point shooters are gonna say, "I have to throw it up more."
TG: When our research came out, in the academic world it attracted a fair amount of interest because of some possible extensions to other areas. So it's influenced a lot of things. I don't think it's influenced many coaches or players. They'll just say, well, we knew it all along.
This segment aired on October 3, 2015.