Cooperstown Remembered…Twice
Play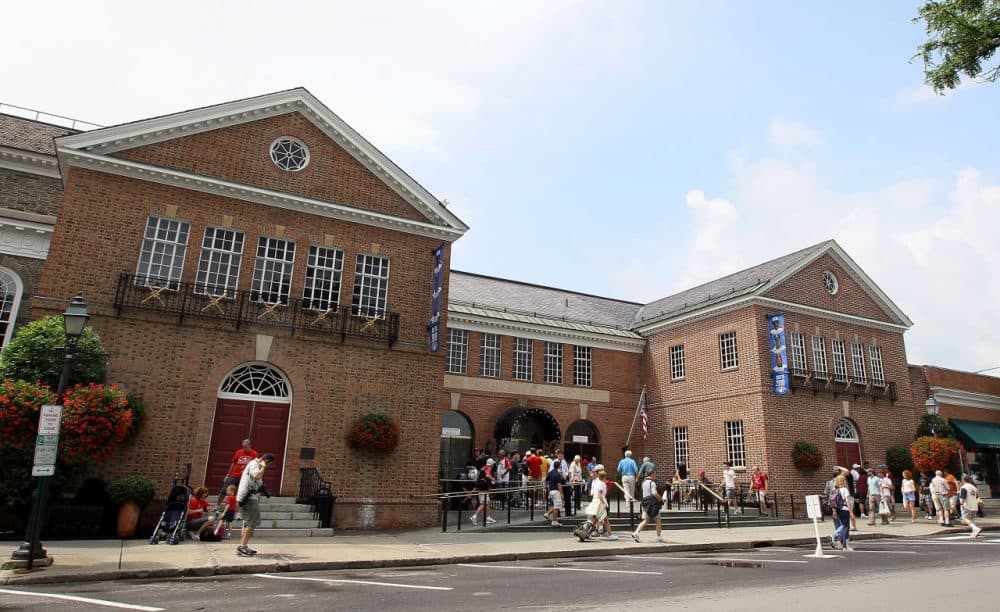 This article is more than 7 years old.
The Baseball Hall of Fame is in Cooperstown, New York because of the romantic and discredited notion that the game was invented there by Abner Doubleday. The romantic notion required a romantic setting, or at least a bucolic one.
So, Cooperstown.
That's okay with me, because though I know the notion is bunkum, Cooperstown is a fine place to celebrate baseball, especially for a kid, which is what I was on my first visit to the Hall of Fame.
I was 10.
I was there because my father had said that for my 10th birthday, he'd take me anywhere I wanted to go. He'd assumed I would pick the Museum of Natural History in New York City – 45 minutes from our home - because that's where the dinosaurs were. I loved dinosaurs.
It hadn't occurred to my dad that I loved baseball more.
For the half day's trip to Cooperstown, I dressed in my New York Giants uniform, my Giants baseball jacket, my cap. We'd spend one night there in a motel, which was another place I'd never been.
My dad must have been tired when we arrived, but we went to the Hall of Fame even before we went to the motel. When we returned to open the place the following morning, I still had on my uniform, which is why the lady at the front desk said, "He gets in for free."
28 years later, we went back.
I'd outgrown the Giants uniform, but I'd convinced NPR that I should do some stories about the Hall of Fame, so I was going to get in again for free. I'd planned to go alone, but a couple of days before I was supposed to leave, I called my dad.
"You want to go to Cooperstown?" I asked.
This time he didn't have to do the driving.

He told me along the way how much he'd liked the friends I'd made while I was growing up. The leaves were brilliant red and yellow. The last bit of the trip was like driving through a postcard.
I recorded some sound in the Hall, which was less dark and hallowed than I'd remembered. I coaxed some fine stories from the baseball librarian. It didn't require much coaxing. He showed me an account of the 1912 game when Ty Cobb's teammates went on strike because Cobb had been suspended, and a seminary student and sort-of pitcher named Aloysius Travers was recruited to fill in…career ERA, 15.75.
Afterward, Dad and I repaired to the hotel where we would spend the night. A hotel this time.
This would be just another story of a father and a son reuning in Cooperstown if it weren't for some of the years between the two visits.
During part of that time, the son's love for the father who had loved him enough to say he'd take him anywhere shriveled. The father drank. They stopped talking to each other about baseball, or much of anything else, because the son eventually learned that the father wasn't listening. Or couldn't. The son didn't come home very often.
I'd planned to go alone, but a couple of days before I was supposed to leave, I called my dad.

Bill Littlefield
Then my dad went into recovery.
I was suspicious. That's the way it is sometimes. For a long time.
But by the fall of 1985, he'd been in recovery for 13 years. He'd traded his law practice for a job counselling addicts. By all accounts, he was really good at it.
We'd been on good terms again for quite a while. We both said "I love you" a lot, or at least that's the way I remember it now.
During that visit, we shared a room in the hotel in Cooperstown, and I was surprised to see that he had lost a lot of weight. He slept sitting up. Or rested.
A little over a year later my father died. He'd lived just long enough to see his first granddaughter. Once.
And he'd lived long enough for the two of us to return to Cooperstown, where he'd come into the Hall of Fame on the first morning of our second visit, and rested in the car when I'd gone back to interview some people in the afternoon.
I remember one particular night months after that visit, when my father was still alive but not at home, probably at an AA meeting, when I spoke with my mother on the phone. I hadn't thought about the trip to Cooperstown – the second trip – for a while, but my mother had.
"You should have seen him when he got off the phone after you'd invited him to go with you," she said. "I didn't think he'd ever stop smiling."
This segment aired on October 24, 2015.