3 Stories You Should Know: Cubs, Mets And Bicycle Helmets
07:35
Play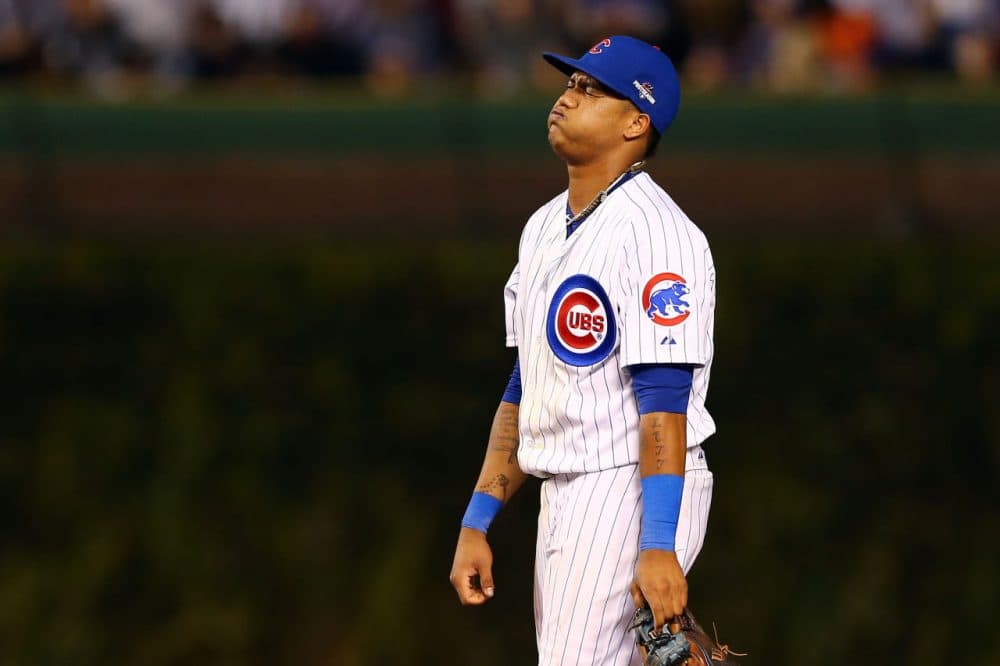 This article is more than 5 years old.
Despite the predictions of "Back To The Future Part II," the Chicago Cubs will not win the 2015 World Series. That's the first of this week's "3 Stories You Should Know." Bill's joined by by Fox Sport's Senior Baseball Editor Rob Neyer and the Wall Street Journal's Rachel Bachman.
1. The Cubs Really Need That DeLorean Time Machine
On Wednesday night, the New York Mets won the NLCS with an 8-3 blowout, leaving as pure fantasy Hollywood's prediction that the team's 107 year World Championship drought would finally be broken. Rob Neyer predicts that record won't make it to 112.
RN: I don't think that it's a huge fantasy to suggest that the Chicago Cubs are going to win a World Championship at some point in the next four or five years. I mean, they just got swept by the Mets in the National League Championship Series, which was a big disappointment for all their fans, obviously, but they are exceptionally well positioned. If I had to bet on one team to win the World Series within the next five years--just one team---it would be the Cubs.
2. A New Consecutive Post-Season Homer Record
The New York Mets' four-game sweep of the Cubs wasn't the only thing New Yorkers had to cheer about this week: Mets second baseman Daniel Murphy became the new owner of a major league record. Murphy has now homered in six back-to-back playoff games. Bill Littlefield thinks that, in this postseason, truth is better than fiction.
BL: What fictional character has homered in six consecutive post-season games? Joe Hardy of "Damn Yankees?" Roy Hobbs of "The Natural?" Shoeless Joe from "Field of Dreams?" None of them. Daniel Murphy would be life imitating art, except that he's life leaving art in the dust…and this doesn't happen in any sport except baseball.
3. Do Bike-Helmet Laws Do More Harm Than Good?
Wearing a helmet when bicycling has always been a good rule of thumb--and more recently has become the rule of law in some jurisdictions. Now some bicycling advocates want to move away from mandatory helmet laws, saying they reduce the number of overall riders and actually make cycling more dangerous. Rachel Bachman recently wrote about the issue for the Wall Street Journal.
RB: Well, this is a very polarizing issue, obviously. Some people say, you know, "You idiots, how could you not advocate helmet use." And other people are saying, "Look, there's a bigger picture here, and what we really should be focused on, as people who want to advocate for cycling, is creating more safe spaces to ride." That's what they have in Europe, and that's the reason so many Europeans have fewer injuries on bikes even though most of them are not wearing helmets. It's because there are better, safer places to ride.
More Stories You Should Know:
This segment aired on October 24, 2015.