3 Stories You Should Know: FIFA Arrests, Okafor's Troubles, Olympic Woes
08:10
Play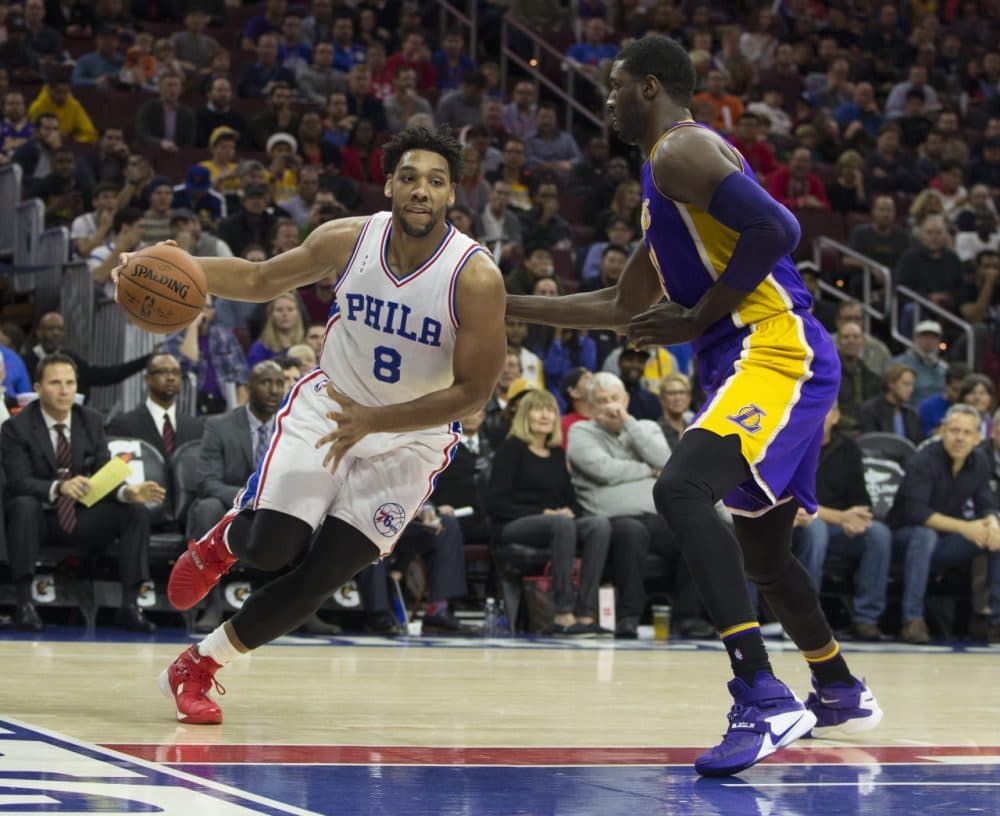 This article is more than 4 years old.
The slow disintegration of soccer's governing body doesn't seem to be nearing an end. This week, a new round of high-ranking FIFA officials are facing indictments in a widening corruption probe. What will be next for world soccer if FIFA doesn't survive? Also, NBA rookie Jahlil Okafor, not even halfway through his first season in the league, has been at the center of multiple off-court controversies, including a scuffle and a traffic stop for speeding.
In this week's "3 Stories You Should Know," sportswriter Erik Malinowski and Shira Springer of the Boston Globe join Bill Littlefield for these stories and a discussion on future of the Olympic Games.
1. FIFA's Slow Death?
On Thursday, the U.S. Department of Justice announced the indictments of 16 additional FIFA officials, which brings the total number of FIFA officials indicted, arrested or otherwise tripped up to not quite all of them. Yet. Among the latest indictees are the presidents of CONCACAF, the federation that includes the U.S., and the president of CONMEBOL, the federation that includes the South American nations. Bill Littlefield says there's reason to hope.
BL: This is good, right? People have been talking about FIFA and how corrupt it is for decades, and some people are finally taking the fall for this. Whatever comes next, it cannot be as corrupt as FIFA has been. I think FIFA is gone. I think the question remaining is: once a sports governing body has been completely dismantled, how does it get reconstituted?
2. Okafor's Trouble Off The Court
NBA rookie Jahlil Okafor has been getting in a lot of trouble lately. Two videos showed him getting into a scuffle on the streets of Boston. Then, there were reports of an incident where a heckler pointed a gun at Okafor at a Philadelphia club. And the Philadelphia Inquirer reported that Okafor was stopped going 108 mph on a Philadelphia bridge. On Wednesday, the 76ers suspended Okafor for two games. Shira Springer thinks the incidents warrant additional action.
SS: Everyone who knows him says he's a good guy, a good-character guy — bad driver, bad judgment. 76ers suspended him for two games. I think we really have to revisit the age limit because if you have a kid like Okafor — he's 19 years old and he's a superstar — he is just not prepared for what the NBA brings.
3. Are the Olympics Doomed?
Hamburg dropped out of the 2024 Olympics bidding this week, after voters rejected a referendum. Beijing, which is hosting the 2022 Winter Games, came under a blanket of thick smog. With so many debacles surrounding the hosting of Olympic Games, Erik Malinowski thinks we might be asking the wrong questions.
EM: The city of Rio de Janeiro, which itself is just about eight months away or so from hosting its own Summer Olympics, is looking at major budget overruns. Who here can host the Olympics? You know, how viable is this? I don't know. Are we going to see the end of the Olympics in our lifetimes?
More Stories You Should Know:
This segment aired on December 5, 2015.