3 Stories You Should Know: Youth Football, Coach Salaries, Artificial Turf
08:34
Play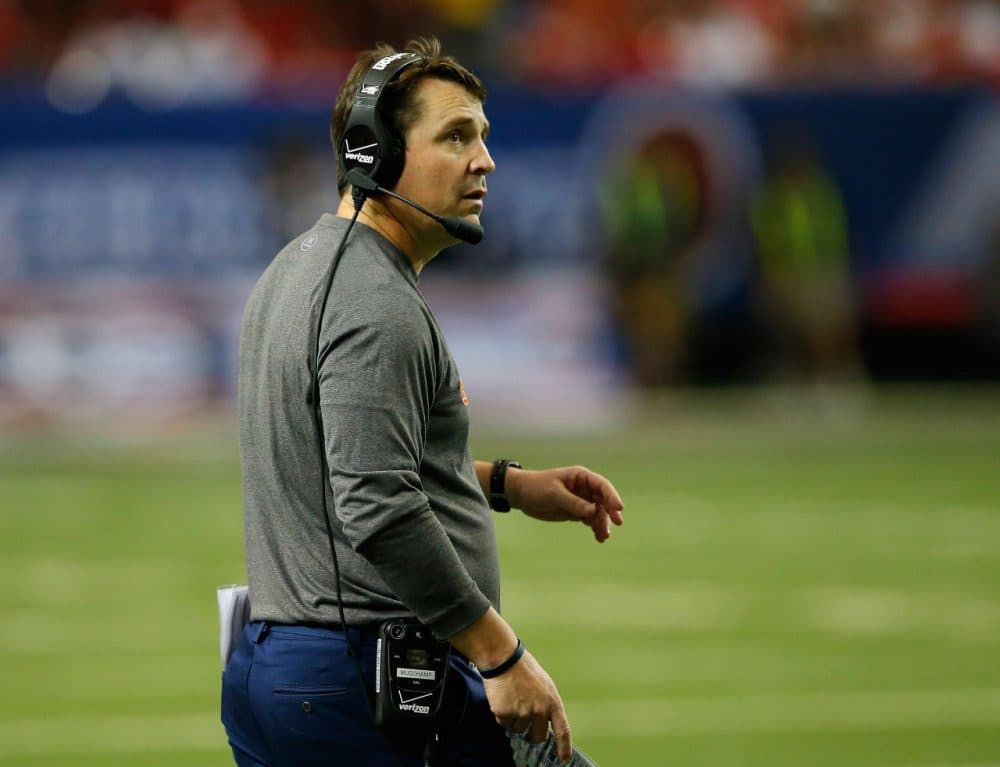 This article is more than 4 years old.
It's hardly a secret that repeated blows to the head while playing football and other contact sports have serious health consequences. Football has been associated with the chronic brain condition, Chronic Traumatic Encephalopathy (C.T.E.). So, do parents and coaches have a responsibility to prevent children from playing the game? And speaking of football, as the College Football Playoff and bowl games get set to kick off, coaches at top universities prepare for major payouts. And lately it's not just head coaches that bank on their teams' end-of-the-year success. Some assistant coaches are also looking forward to extra big paydays.
In this week's edition of "3 Stories You Should Know," Patrick Hruby of Vice Sports and Nancy Armour of USA Today join Bill Littlefield to discuss these stories and how the United States women's national soccer team is taking a stand against inequality on the pitch.
1. Keeping Kids Out Of Football
Dr. Bennet Omalu is the pathologist who discovered C.T.E., and he recently published an op-ed in the 'New York Times' calling for an end to youth football. He argues that the dangers of the game are well-known, and there is no justification for continuing to expose children to the risks. Omalu says we should treat tackle football like we treat alcohol and cigarettes, and he suggests that children shouldn't play the game until they're old enough to understand the risks. Patrick Hruby agrees.
PH: A lot of people reacted to this as, "that's crazy." Footballs and cigarettes — it's not asbestos. It's a wonderful, fun, rugged American game. But what fascinates me about Omalu's argument, if you look at this as a public health issue, we know that getting hit over and over can cause significant brain damage. We know that children's brains are still developing and in some ways are uniquely vulnerable to damage. Now at the same time, we also know the benefits of football — physical exercise, teamwork, camaraderie, having fun — are benefits that children can get from many other sports, and that includes flag football, by the way. So if you look at the risk versus reward here, I think what Omalu is arguing is actually a no-brainer.
2. College Football's Exorbitant Salaries
Nine assistant — yes, assistant — coaches at FBS college football programs made over $1 million this year, and many are eligible for big-time bonuses. These coaches all hail from popular programs that bring in huge sums of money, but Nancy Armour is interested considering these salaries in light of another recent controversy.
NA: One of the biggest topics that there has been in the last year or so is paying student-athletes, covering the full cost of tuition or full cost of attendance. And we have these schools that are crying poor, and yet they're paying assistants, some schools are paying assistants, more than $1 million a year. And if they're paying an assistant that much, you can only imagine what they're paying a head coach.
3. Turf War
The United States women's national soccer team was scheduled to face off against Trinidad and Tobago in Hawaii last Sunday, but that game didn't happen. The turf field at Aloha Stadium was in disrepair, and so the team told U.S. Soccer it wasn't going to play. Poor field conditions are something that the USWNT — and women's soccer teams around the world — faces time and time again. Bill Littlefield thinks this moment might help to bring more gender equality to the world of soccer.
BL: We've recently seen women officially welcomed into combat. The military says they're perfectly willing to let women go on the front lines and get shot at. We have yet to see women get the same consideration with regards to soccer fields that men get. Female soccer players — like females in all other lines of work — are underpaid, relatively. The men would never have been expected to play on a field like that one in Hawaii. They never even have to play on artificial turf when it's a game of any importance. Maybe that cancelled game is a wake-up call and gets people thinking about this issue in the way that the movement to get the World Cup shifted to grass didn't get people thinking about it.
More Stories You Should Know:
This segment aired on December 12, 2015.