3 Stories You Should Know: Rose Loses, Williams Wins, Wambach Retires
08:09
Play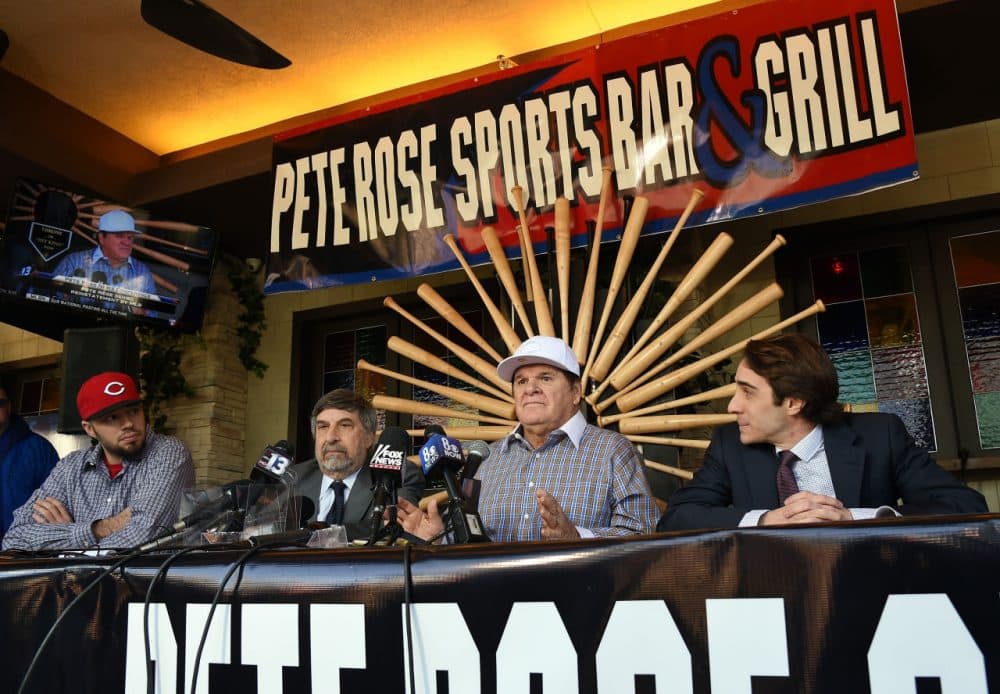 This article is more than 4 years old.
Three individuals topped the sports news this week: Pete Rose, Serena Williams and Abby Wambach. MLB commissioner Rob Manfred's decision to uphold Pete Rose's lifetime ban might be the most eye-catching of this week's stories. Then again, the Internet believes the 2015 winner of Sports Illustrated's Sportsperson of the Year should have been American Pharaoh instead of Serena Williams. At least we can all agree on the greatness of newly-retired U.S. women's soccer player Abby Wambach...right?
Sport's On Earth's Will Leitch and Only A Game's own Karen Given join Bill Littlefield to discuss this week's "3 Stories You Should Know."
1. Pete Rose Remains Banned
On Monday, MLB Commissioner Rob Manfred upheld Pete Rose's lifetime ban from baseball. Rose was banned in 1989 for betting on ball games while managing the Cincinnati Reds. Will Leitch says Manfred's decision gives baseball fans some measure of closure.
WL: The one thing Manfred did with this is that he made it very definitive. There was no, 'Ehh, we'll discuss this in three or four years.' He was about as clear as he could be. Now, listen, I personally do not think Pete Rose should be allowed in baseball. Some people think he should. I understand we are different human beings, we see the world in different places. It's OK — life's rich pageant. It's totally fine. But the one thing I would love to talk with those people who think Pete Rose should be in the Hall of Fame is baseball. I'd love to talk with them about actual baseball again. It can't help but be a good thing for baseball that we may actually be able to move on from it.
2. Serena Williams vs. The Internet
Sports Illustrated selected women's tennis star Serena Williams as its 2015 Sportsperson of the Year this week. SI credits Williams for her 53-3 record and three major titles in 2015. But not everyone agreed with SI's choice. Online readers picked Triple Crown winner American Pharaoh as their favorite. The racehorse is the first Triple Crown winner in 37 years. Karen Given thinks the argument that a horse should have won over Williams points toward something a little more biting.
KG: I think also people don't like her because she has a reputation for not being nice. I don't know if she's nice or not, and, really, I don't care. What I know is that when John McEnroe was rude to the chair umpires, everyone thought it was terrific! They thought it was great fun. But when Serena does it, it's a scandal. And so I just think that we sort of need to hold that out there and say, 'You know what, if our male sports figures don't have to be nice, then maybe our female sports figures don't have to be nice either to be honored for the great things that they do on the field or on the court.'
3. Abby Wambach's Retirement
On Wednesday night, U.S. Women's soccer star and captain Abby Wambach walked off the field for the final time. Wambach's retirement comes after a 14-year career with the national team. She's now the highest scorer in both men's and women's soccer. So can we start saying Wambach is the greatest of all time? Bill Littlefield wonders how you're supposed to judge.
BL: How do you compare the greatest goal scorer with the greatest goal keeper? Or the person who's been great at delivering the ball to the greatest scorer who's knocked the ball into the net? Or the person who played 50 years ago, and today's champion, where the two games are completely different, and I'm not just talking about soccer.


WATCH: #USWNT's Abby Wambach subbed off, receives a terrific standing ovation from the Superdome crowd. #ThanksAbby https://t.co/0HFQtq2GEu
— FOX Soccer (@FOXSoccer) December 17, 2015
More Stories You Should Know:
This segment aired on December 19, 2015.